RELATIONSHIP QUOTES
quotations about relationships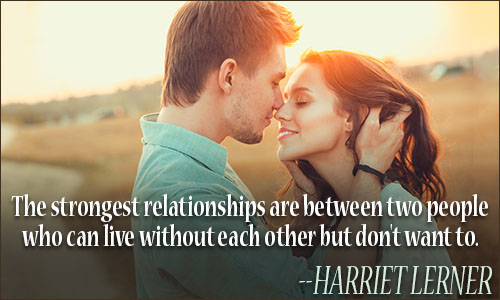 What I want is to be needed. What I need is to be indispensable to somebody. Who I need is somebody that will eat up all my free time, my ego, my attention. Somebody addicted to me. A mutual addiction.
CHUCK PALAHNIUK, Choke
3 likes
---
The present relationship existing between husband and wife, where one claims a command over the actions of the other, is nothing more than a remnant of the old leaven of slavery. It is necessarily destructive of refined love; for how can a man continue to regard as his type of the ideal a being whom he has, be denying an equality of privilege with himself, degraded to something below himself?
HERBERT SPENCER, An Autobiography
1 likes
---
A relationship isn't something that has to be created in a day or perfected in a day. Part of the game is to keep working on it. It's something that'll always be just a little flawed.
NORA ROBERTS, Summer Desserts
1 likes
---
The more you move in rhythm with someone, the closer you become with that person.
GEORGE LEONARD, The Silent Pulse
1 likes
---
A good relationship is a contest of love.
MATSHONA DHLIWAYO, attributed, goodreads
1 likes
---
In most breakups, neither person is awesome, and both are looking out the relationship window, sick with vertigo, ready to jump. Whoever jumps and pulls the ripcord first, wins. The prize is an intact ego.
HEIDI K. ISERN, "The responsibility to fall out of love is on you", Quartz, August 5, 2016
1 likes
---
It's important not to lose who you are in a relationship just because it's nice to cuddle with somebody.
SCARLETT JOHANSSON, Seventeen Magazine, May 2007
0 likes
---
No matter how successful a relationship may be, both sexually and emotionally, the lack of money can hamper and undermine, little by little, even the greatest passion.
LAURA ESQUIVEL, Swift as Desire
0 likes
---
Weddings are the biggest relationship killers out there. If you can survive the wedding, they say, the rest is a piece of cake.
NOAH HAWLEY, Other People's Weddings
0 likes
---
When a match has equal partners, then I fear not.
AESCHYLUS, Prometheus Bound
0 likes
---
I do think on some basic level we are animals and by instinct we kind of breed accordingly. But, as much as I believe that, I work really hard when I'm in a relationship to make it work in a monogamous way.
SCARLETT JOHANSSON, London Telegraph, December 10, 2006
0 likes
---
Almost all the time, you tell yourself you're loving somebody when you're just using them.
CHUCK PALAHNIUK, Invisible Monsters
0 likes
---
You don't want to have to be the man and the woman in the relationship. I always say you want a man who can fix the toilet.
PAMELA ANDERSON, attributed, Celebrity Hub
0 likes
---
It doesn't matter what kind of world we live in as long as we have each other.
WALTER WYKES, The Profession
0 likes
---
We live in a time when the deepest and most painful need of the human person is for intrinsic worth, unconditional acceptance that does not depend on being good, right, controlled, conformist, or on being pretty, young, successful, rich, employed. Or on being straight, white and male. But if people do not hear the word that says, 'yes, you are accepted' through the meaningful framework of faith; if they do not hear it through their belonging within an accepting community; if they do not hear it through their closeness to the land; then people increasingly and only seek and hope to hear it in their personal, and especially sexual, relationships.
KATHY GALLOWAY, introduction, Dreaming of Eden
0 likes
---
Good relationships make people happy, and happy people enjoy more and better relationships than unhappy people.... Conflicts in relationships--having an annoying office mate or roommate, or having chronic conflict with your spouse--is one of the surest ways to reduce your happiness. You never adapt to interpersonal conflict; it damages every day, even days when you don't see the other person but ruminate about the conflict nonetheless.
JONATHAN HAIDT, The Happiness Hypothesis
0 likes
---
Growing up human is uniquely a matter of social relations rather than biology. What we learn from connections within the family takes the place of instincts that program the behavior of animals; which raises the question, how good are these connections?
ELIZABETH JANEWAY, Ms., November 1981
0 likes
---
There is no compensation for the woman who feels that the chief relation of her life has been no more than a mistake. She has lost her crown. The deepest secret of human blessedness has half whispered itself to her, and then forever passed her by.
GEORGE ELIOT, Romola
0 likes
---
A happy marriage perhaps represents the ideal of human relationship--a setting in which each partner, while acknowledging the need of the other, feels free to be what he or she by nature is; a relationship in which instinct as well as intellect can find expression; in which giving and taking are equal; in which each accepts the other, and I confronts Thou.
ANTHONY STORK, The Integrity of Personality
0 likes
---
To get from people you had to give a piece of yourself, a real piece that mattered. Just being nice was not enough.
PETER ABRAHAMS, End of Story
0 likes
---