RESPONSIBILITY QUOTES
quotations about responsibility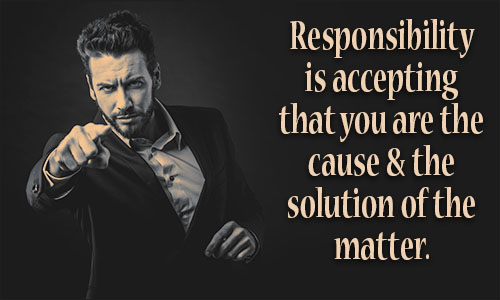 The best way to avoid responsibility is to say, "I've got responsibilities."
RICHARD BACH, Illusions
2 likes
---
You create everything that happens to you.... If you want to be really successful, and I know you do, then you will have to give up blaming and complaining and take total responsibility for your life--that means all your results, both your successes and your failures. That is the prerequisite for creating a life of success. It is only by acknowledging that you have created everything up until now that you can take charge of creating the future you want.
JACK CANFIELD, The Success Principles
2 likes
---
Liberty means responsibility. That is why most men dread it.
GEORGE BERNARD SHAW, Man and Superman
2 likes
---
We're gonna end your party
With some responsibility
TWISTED SISTER, "I'll Never Grow Up, Now!"
2 likes
---
There is a powerful craving in most of us to see ourselves as instruments in the hands of others and thus free ourselves from the responsibility for acts which are prompted by our own questionable inclinations and impulses. Both the strong and the weak grasp at this alibi. The latter hide their malevolence under the virtue of obedience: they acted dishonorably because they had to obey orders. The strong, too, claim absolution by proclaiming themselves the chosen instrument of a higher power -- God, history, fate, nation, or humanity.
BRUCE LEE, Striking Thoughts: Bruce Lee's Wisdom for Daily Living
1 likes
---
With great power there must also come ... great responsibility!
STAN LEE, Amazing Fantasy, #15, August 1962
1 likes
---
The Buck Stops Here.
HARRY S. TRUMAN, motto on his White House desk
1 likes
---
A prig always finds a last refuge in responsibility.
JEAN COCTEAU, preface, The Wedding on the Eiffel Tower
0 likes
---
Responsibility is accepting that you are the cause & the solution of the matter.
ANONYMOUS
0 likes
---
Your life begins to change the day you take responsibility for it.
STEVE MARABOLI, Unapologetically You
0 likes
---
Exercising responsibility is a matter of constant interpretation, individual discretion and judgement. In other words, responsibility is not a finalised notion but rather an open one, subject to additions and alterations that change with time and place. One may encounter as many views on responsibility as there are periods of history, contexts, conventions, religions, laws, interpretations, not to speak of a variety of interests and objectives.
EDITH SIZOO, Responsibility and Cultures of the World: Dialogue Around a Collective Challenge
0 likes
---
The disappearance of a sense of responsibility is the most far-reaching consequence of submission to authority.
STANLEY MILGRAM, Obedience to Authority: An Experimental View
0 likes
---
One of the annoying things about believing in free will and individual responsibility is the difficulty of finding somebody to blame your problems on. And when you do find somebody, it's remarkable how often his picture turns up on your driver's license.
P. J. O'ROURKE, Rolling Stone, November 30, 1989
0 likes
---
One of the older misunderstandings about responsibility is the idea that responsibility is a burden and that responsibility in business is largely a matter of liability for punishment. But responsibility is also a matter of pride and praise for a job well done. Responsibility is having a place in an organization and in a community as a full-fledged participant, and it is our responsibilities that also determine the perks and privileges of a position. There is nothing negative about responsibility--except when it is a responsibility unfulfilled or neglected.
ROBERT C. SOLOMON, It's Good Business: Ethics and Free Enterprise for the New Millennium
0 likes
---
Freedom is the will to be responsible for ourselves.
FRIEDRICH NIETZSCHE, Twilight of the Idols
0 likes
---
Most people do not really want freedom, because freedom involves responsibility, and most people are frightened of responsibility.
SIGMUND FREUD, Civilization and Its Discontents
0 likes
---
Character -- the willingness to accept responsibility for one's own life -- is the source from which self-respect springs.
JOAN DIDION, On Self-Respect
0 likes
---
What we call our destiny is truly our character and that character can be altered. The knowledge that we are responsible for our actions and attitudes does not need to be discouraging, because it also means that we are free to change this destiny. One is not in bondage to the past, which has shaped our feelings, to race, inheritance, background. All this can be altered if we have the courage to examine how it formed us. We can alter the chemistry provided we have the courage to dissect the elements.
ANAÏS NIN, The Diary of Anaïs Nin
0 likes
---
He who weighs his own responsibilities can bear them.
NEPOS, attributed, Day's Collacon
0 likes
---
"Responsibility" is a fundamental legal concept, a basic building block of legal thought and reasoning.
PETER CANE, Responsibility in Law and Morality
0 likes
---