REVOLUTION QUOTES
quotations about revolution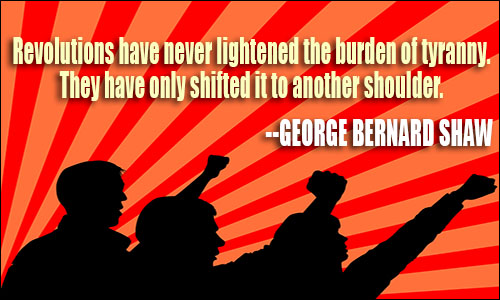 A little rebellion now and then is a good thing and as necessary in the political world as storms in the physical.
THOMAS JEFFERSON, letter to James Madison, January 30, 1787
22 likes
---
Any people anywhere being inclined and having the power have the right to rise up and shake off the existing government, and form a new one that suits them better.
ABRAHAM LINCOLN, speech in the United States House of Representatives, January 12, 1848
21 likes
---
The tree of liberty must be refreshed from time to time with the blood of patriots and tyrants. It is its natural manure.
THOMAS JEFFERSON, letter to W. S. Smith, November 13, 1787
15 likes
---
Revolutions are rarely the fault of the rebels. In every revolution if the ruling elite had not been so greedy, decadent, corrupt and vile, if they had not suppressed the people for so long, the revolutions would never have been necessary.
FR. DWIGHT LONGENECKER, "Why Are Young People Cheering for Socialism?", Patheos, February 11, 2016
14 likes
---
Prudence ... will dictate that Governments long established should not be changed for light and transient causes; and accordingly all experience hath shewn that mankind are more disposed to suffer, while evils are sufferable than to right themselves by abolishing the forms to which they are accustomed. But when a long train of abuses and usurpations, pursuing invariably the same Object evinces a design to reduce them under absolute Despotism, it is their right, it is their duty, to throw off such Government, and to provide new Guards for their future security.
THOMAS JEFFERSON, Declaration of Independence
8 likes
---
Revolutions have never lightened the burden of tyranny. They have only shifted it to another shoulder.
GEORGE BERNARD SHAW, Man and Superman
8 likes
---
A revolution is bloody. Revolution is hostile. Revolution knows no compromise. Revolution overturns and destroys everything that gets in its way. And you, sitting around here like a knot on the wall, saying, "I'm going to love these folks no matter how much they hate me." No, you need a revolution. Whoever heard of a revolution where they lock arms, as Reverend Cleage was pointing out beautifully, singing "We Shall Overcome"? Just tell me. You don't do that in a revolution. You don't do any singing; you're too busy swinging.
MALCOLM X, Message to the Grass Roots, November 10, 1963
8 likes
---
A revolution is coming -- a revolution which will be peaceful if we are wise enough; compassionate if we care enough; successful if we are fortunate enough -- but a revolution which is coming whether we will it or not. We can affect its character; we cannot alter its inevitability.
ROBERT F. KENNEDY, Report to the United States Senate on his trip to Latin America and the Alliance for Progress, May 9, 1966
7 likes
---
It's the well-behaved children ... that make the most formidable revolutionaries. They don't say a word, they don't hide under the table, they eat only one piece of chocolate at a time. But later on they make society pay dearly.
JEAN-PAUL SARTRE, Dirty Hands
5 likes
---
It is not difficult to be a revolutionary when revolution has already broken out and is in spate, when all people are joining the revolution just because they are carried away, because it is the vogue, and sometimes even from careerist motives. It is far more difficult--and far more precious--to be a revolutionary when the conditions for direct, open, really mass and really revolutionary struggle do not yet exist.
VLADIMIR LENIN, Left-Wing Communism: An Infantile Disorder
4 likes
---
A constitution imperiled justifies revolution.
EDWARD COUNSEL, Maxims
4 likes
---
You don't have a revolution in which you love your enemy, and you don't have a revolution in which you are begging the system of exploitation to integrate you into it. Revolutions overturn systems. Revolutions destroy systems.
MALCOLM X, speech at the Congress for Racial Equality in Detroit, Michigan, April 12, 1964
4 likes
---
Revolution that divests itself of ethical values thereby lays the foundation of injustice, deceit, and oppression for the future society.
EMMA GOLDMAN, My Disillusionment with Russia
4 likes
---
You cannot make a revolution in white gloves.
VLADIMIR LENIN, attributed, Not By Politics Alone
4 likes
---
A people contending for life and liberty are seldom disposed to look with a favorable eye upon either men or measures whose passions, interests or consequences will clash with those inestimable objects.
GEORGE WASHINGTON, letter to General Thomas, July 23, 1775
3 likes
---
Always beware of the fact, that the only thing hindering an all out revolution is your fear of losing the scraps they throw at you.
GORE VIDAL, Twitter post, July 29, 2012
3 likes
---
Revolutionary movements attract those who are not good enough for established institutions as well as those who are too good for them.
GEORGE BERNARD SHAW, Androcles and the Lion
3 likes
---
Revolutions are not stories. They are not poems. Revolutions are not texts nor are they primarily textual in nature. Revolutions are events. They are projects and processes, made and sustained by people insisting on living lives of dignity.
JACK SHENKER, The Egyptians: A Radical Story
3 likes
---
Make the Revolution a parent of settlement, and not a nursery of future revolutions.
EDMUND BURKE, Reflections on the Revolution in France
2 likes
---
No revolution can ever succeed as a factor of liberation unless the MEANS used to further it be identical in spirit and tendency with the PURPOSES to be achieved. Revolution is the negation of the existing, a violent protest against man's inhumanity to man with all the thousand and one slaveries it involves. It is the destroyer of dominant values upon which a complex system of injustice, oppression, and wrong has been built up by ignorance and brutality. It is the herald of NEW VALUES, ushering in a transformation of the basic relations of man to man, and of man to society.
EMMA GOLDMAN, My Disillusionment with Russia
2 likes
---