RIGHTEOUSNESS QUOTES
quotations about righteousness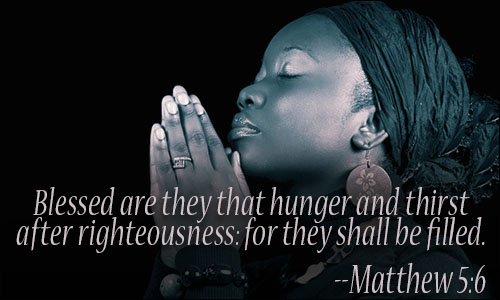 More evil gets done in the name of righteousness than any other way.
GLEN COOK, Dreams of Steel
8 likes
---
Blessed are they that hunger and thirst after righteousness: for they shall be filled.
JESUS, Matthew 5:6
7 likes
---
Righteousness is the God-given ability to stand in the presence of God without any sense of guilt, condemnation, shame, or unworthiness and to stand in the presence of Satan without any sense of inferiority, weakness, fear, or cowardice. Righteousness is to be legally brought into a right relationship and standing with God that will last forever. Righteousness is part of our salvation in Christ and rests upon God's act of justification, where he legally declared us free from the penalty of sin and judicially delivered us from everything that stands in the way of us being declared righteous.
TIMOTHY ROWE, The Magnificent Goodness of God and How It Will Transform Your Life
7 likes
---
Any Sodom could be saved by ten righteous men.
HORACE MANN, Thoughts
4 likes
---
If you don't have a righteous objective, eventually you will suffer. When you do the right thing for the right reason, the right result awaits.
CHIN-NING CHU, The Art of War for Women
2 likes
---
The humblest citizen in all the land, when clad in the armour of a righteous cause, is stronger than all the hosts of error.
JOHN DOS PASSOS, The 42nd Parallel
1 likes
---
We do not become righteous by doing righteous deed but, having been made righteous, we do righteous deeds.
MARTIN LUTHER, "Disputation against Scholastic Theology"
1 likes
---
If a man perfectly righteous should come upon earth, he would find so much opposition that he would be imprisoned, reviled, scourged, and in fine crucified by such, who, though they were extremely wicked, would yet pass for righteous men.
PLATO, Plato's Divine Dialogues
1 likes
---
Condemning others as bad or sinful is a way to feel righteous. Such a feeling is a powerful mood alteration and can become highly addictive.
JOHN BRADSHAW, Healing the Shame that Binds You
1 likes
---
Seeking Heaven through righteousness is not seeking righteousness, but something else;--it is not loving goodness for goodness' sake, but for its rewards.
E. H. CHAPIN, Living Words
0 likes
---
God imposeth no Law of Righteousness upon us which He doth not observe Himself.
BENJAMIN WHICHCOTE, Moral and Religious Aphorisms
0 likes
---
Men keep on the path of righteousness only because the road to the Devil is not yet paved.
ABRAHAM MILLER, Unmoral Maxims
0 likes
---
Many have been deceived by outward appearances and have proceeded to write and teach about good works and how they justify without even mentioning faith.... Wearying themselves with many works, they never come to righteousness.
MARTIN LUTHER, The Freedom of a Christian
0 likes
---
The unrighteous are condemned by themselves before they are condemned by God.
BENJAMIN WHICHCOTE, Moral and Religious Aphorisms
0 likes
---
In the case of man, righteousness is adjustment to God, and an articulation with man based upon that adjustment. Are you a righteous man? Am I a righteous man? Are you righteous? Then, if so, wherein does your righteousness consist? That your whole life is adjusted to God, and is moulded by that adjustment. This is righteousness.
G. CAMPBELL MORGAN, Winona Echoes: A Book of Sermons and Addresses
0 likes
---
A righteous man does not conceive of himself as righteous; he is "only doing what anyone else would do," except, of course, that no one else does it.
MARTIN BERMAN-GORVINE, 36
0 likes
---
He that doth righteousness; that is, righteousness which the gospel calleth so, is righteous; that is, precedent to, or before he doth that righteousness. For he doth not say, he shall make his person righteous by acts of righteousness that he shall do; for then an evil tree may bear good fruit, yea, and make itself good by doing so; but he saith, He that doth righteousness is righteous; as he saith, He that doth righteousness is born of him.
JOHN BUNYAN, The Pharisee and The Publican
0 likes
---
Righteousness is a word that is often misunderstood. We know that God is going to judge every act and deed of the flesh, whether it be good or bad, righteous or evil. It is with this thought in mind we take a look at our garments of righteousness. "Let us be glad and rejoice, and give honour to him: for the marriage of the Lamb is come and His wife hath made herself ready. And to her was granted that she should be arrayed in fine linen, clean and white: for the fine linen is the righteousness of saints." (Revelation 19:7-8) God initiates righteousness by His sovereign gift. Our sins are totally forgiven and have been wiped away. His gift of mercy through Jesus Christ has given us the ability to do what is right. St. Paul wrote, "Christ is the end of the law for righteousness." Thus, a man cannot be saved or become righteous by works alone; righteousness is maintained by his good deeds. Righteous simply means doing what is right, as God also does what is right.
ED CHIDESTER, The Daily Nugget
0 likes
---
The big problem with my own righteousness is that it is not good enough. The OT tells us that compared to the perfect righteousness God expects, our righteousness is like an unclean, filthy rag (Isa 64:6). That's not very impressive. When he wrote those words, Isaiah was speaking to a group of religious Jews, but the assessment applies to all of us. Compared to what God expects, our righteousness is at its best ugly, dirty, and stained.
DAVE EARLEY & DAVID WHEELER, Evangelism Is...
0 likes
---
Righteousness acts never in its own interest, but in the interest of fellow men.
THADDEUS OF VITOVNICA, Our Thoughts Determine Our Lives
0 likes
---