ROMANCE QUOTES
quotations about romance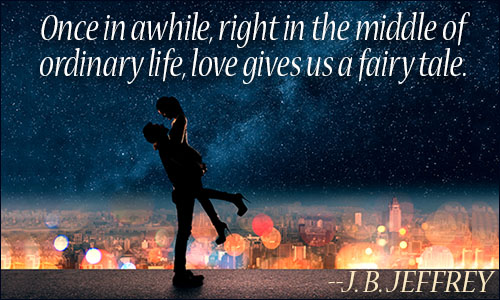 A true man doesn't need to romance a different girl every night, a true man romances the same girl for the rest of her life.
ANONYMOUS
5 likes
---
I don't think I am a traditional romantic who thinks about candlelight dinners and wonders if my husband is going to bring me flowers, though I'm delighted if he does. I'm more practical-minded. I find it incredibly romantic that my husband does the dishes.
NORA ROBERTS, Time Magazine, November 29, 2007
3 likes
---
A woman with romance in her life lived as grandly as a queen, because her heart was treasured.
NORA ROBERTS, Bed of Roses
3 likes
---
The essence of romance is an unshakable conviction that next time will be different.
GLEN COOK, Soldiers Live
2 likes
---
I am not a romantic. I am a domestic animal. I do not sigh and yearn for extravagant displays of passion, for the grand affair, the world well lost for love. I know all that, and know that it leaves you lonely. No, what I crave is the simplicity of routine. An evening walk, arm in arm, in fine weather. A game of cards. Time for idle talk. Preparing a meal together.
ANITA BROOKNER, Hotel du Lac
2 likes
---
Once in awhile, right in the middle of ordinary life, love gives us a fairy tale.
J. B. JEFFREY, Drip
2 likes
---
Twenty years of romance make a woman look like a ruin, but twenty years of marriage make her something like a public building.
OSCAR WILDE, A Woman of No Importance
2 likes
---
Romance is a state of mind. It is a way of looking at your partner, life and even the world in such a manner that allows you to savor whatever is good in your life.
TODD CREAGER, "What Is Romance?", The Good Men Project, October 2, 2017
2 likes
---
I remember romance
And laughing at the moon
Dancing at the rainbow's end
And losing her too soon
JOHN DENVER, "I Remember Romance"
2 likes
---
Summer romances end for all kinds of reasons. But when all is said and done, they have one thing in common: They are shooting stars--a spectacular moment of light in the heavens, a fleeting glimpse of eternity. And in a flash, they're gone.
NICHOLAS SPARKS, The Notebook
1 likes
---
Mom, romance is dead. It was acquired in a hostile takeover by Hallmark and Disney, homogenized, and sold off piece by piece.
LISA SIMPSON, "Another Simpsons Clip Show", The Simpsons
1 likes
---
I'm not sentimental--I'm as romantic as you are. The idea, you know, is that the sentimental person thinks things will last--the romantic person has a desperate confidence that they won't.
F. SCOTT FITZGERALD, This Side of Paradise
1 likes
---
Romance is the glamour which turns the dust of everyday life into a golden haze.
ELINOR GLYN, attributed, An Uncommon Scold
1 likes
---
In the meanest hut is a romance, if you knew the hearts there.
VARNHAGEN VONH ENSE, attributed, Day's Collacon
1 likes
---
My romance doesn't have to have a moon in the sky
My romance doesn't need a blue lagoon standing by
No month of May, no twinkling stars
No hide away, no softly guitars

My romance doesn't need a castle rising in Spain
Nor a dance to a constantly surprising refrain
Wide awake I can make my most fantastic dreams come true

My romance doesn't need a thing but you
ELLA FITZGERALD, "My Romance"
1 likes
---
She wanted something else, something different, something more. Passion and romance, perhaps, or maybe quiet conversations in candlelit rooms, or perhaps something as simple as not being second.
NICHOLAS SPARKS, The Notebook
1 likes
---
Perhaps, after all, romance did not come into one's life with pomp and blare, like a gay knight riding down; perhaps it crept to one's side like an old friend through quiet ways; perhaps ... perhaps ... love unfolded naturally out of a beautiful friendship, as a golden-hearted rose slipping from its green sheath.
L. M. MONTGOMERY, Anne of Avonlea
1 likes
---
Romance novels are birthday cake and life is often peanut butter and jelly. I think everyone should have lots of delicious romance novels lying around for those times when the peanut butter of life gets stuck to the roof of your mouth.
JANET EVANOVICH, Janet Evanovich: A Biography
1 likes
---
Romance is a prelude to sexlove, an opening gambit, an intense period of hope and despair, an invocation of higher powers: foreplay. As such, it always has a sequel, a next act: the crescendo culminates, and the music takes on a different tempo. The mistake of our age is to mistake the prelude for the symphony.
M. C. DILLON, Beyond Romance
1 likes
---
Romance is like fireworks in the dark night, thrilling but inevitably transitory. We are lucky if we can simply get along.
STEPHEN A. MITCHELL, Can Love Last?
1 likes
---