ROME QUOTES
quotations about Rome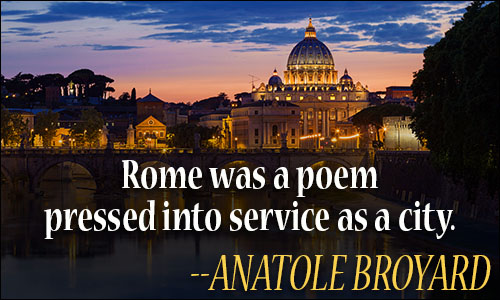 Men did not love Rome because she was great. She was great because they had loved her.
G. K. CHESTERTON, Orthodoxy
3 likes
---
Rome: the city of visible history, where the past of a whole hemisphere seems moving in funeral procession with strange ancestral images and trophies gathered from afar.
GEORGE ELIOT, Middlemarch
2 likes
---
Rome was a poem pressed into service as a city.
ANATOLE BROYARD, New York Times, March 24, 1974
2 likes
---
All roads lead to Rome.
ROMAN PROVERB
2 likes
---
Rome wasn't built in a day.
JOHN HEYWOOD, A Dialogue Containing the Number in Effect of all the Proverbs in the English Tongue
2 likes
---
For someone who has never seen Rome, it is hard to believe how beautiful life can be.
ANONYMOUS
2 likes
---
I have not been three days at Rome. How charming are the Italian women! Nature seems here to have concentrated all her beauties. In other countries she has bestow'd only one feature; but in Rome the countenance is perfect. There she has given souls without bodies; here they both exist in the same being.
WASHINGTON ALLSTON, letter from Rome, October 1800
1 likes
---
Rome is a very loony city in every respect. One needs but spend an hour or two there to realize that Fellini makes documentaries.
FRAN LEBOWITZ, Metropolitan Life
1 likes
---
When in Rome, live as the Romans do; when elsewhere, live as they live elsewhere.
SAINT AMBROSE, attributed, Les Bon Mots
1 likes
---
Rome has spoken; the case is concluded.
SAINT AUGUSTINE, attributed, The Oxford Dictionary of Quotations
1 likes
---
Yes, I have finally arrived to this Capital of the World! I now see all the dreams of my youth coming to life... Only in Rome is it possible to understand Rome.
JOHANN WOLFGANG VON GOETHE, Italian Journey
1 likes
---
We like to imagine Roman civilization falling to sweaty barbarians storming the gates of the city and slaughtering the citizens while they took refuge in the temples of the gods, but it didn't happen like that. The Roman people, in the end, simply decided that they would rather have food than freedom.
PHILIP FREEMAN, "Rome Had Caesar. America Has Trump. The People Were and Are Desperate.", Huffington Post, November 10, 2016
1 likes
---
Rome was a civilization of haves and have-nots. It was a republic in which every male citizen could vote, but the elections were dominated by an aristocracy that routinely manipulated the process so that they kept power for themselves. The masses were bought off with promises of bread and circuses, while the wealthy dined at lavish banquets and ran the affairs of state.
PHILIP FREEMAN, "Rome Had Caesar. America Has Trump. The People Were and Are Desperate.", Huffington Post, November 10, 2016
1 likes
---
And I myself, in Rome, heard it said openly in the streets, "If there is a hell, then Rome is built on it."
MARTIN LUTHER, Against the Roman Papacy, An Institution of the Devil
0 likes
---
Rome has not seen a modern building in more than half a century. It is a city frozen in time.
RICHARD MEIER, attributed, The Ultimate Book of Quotations
0 likes
---
More imagination wanted at Rome than at home to appreciate the place.
HERMAN MELVILLE, Journal of a Visit to Europe and the Levant
0 likes
---
Rome has grown since its humble beginnings that it is now overwhelmed by its own greatness.
LIVY, attributed, Economics in Ancient Times
0 likes
---
I've seen Rome, and I shall go to bed a wiser man than I last rose--yesterday morning.
HENRY JAMES, letter to William James, October 30, 1869
0 likes
---
London is the epitome of our times, and the Rome of to-day.
RALPH WALDO EMERSON, Conduct of Life
0 likes
---
There's a power struggle going on across Europe these days. A few cities are competing against each other to see who shall emerge as the great 21st century European metropolis. Will it be London? Paris? Berlin? Zurich? Maybe Brussels, center of the young union? They all strive to outdo one another culturally, architecturally, politically, fiscally. But Rome, it should be said, has not bothered to join the race for status. Rome doesn't compete. Rome just watches all the fussing and striving, completely unfazed. I am inspired by the regal self-assurance of this city, so grounded and rounded, so amused and monumental, knowing she is held securely in the palm of history. I would like to be like Rome when I am an old lady.
ELIZABETH GILBERT, Eat, Pray, Love
0 likes
---