There comes a point in the game where you gotta make a play or you gotta do something to get your team over the hump, and when that time comes you gotta be able to do it.
TONY ROMO, NBC interview, Jan. 6, 2007
We're just football guys 24/7. The more people you have like that on your team, usually the better off your team is.
TONY ROMO, USA Today, Nov. 29, 2006
You just go out there and every week and try to prepare the best you can and try to lead your team. I don't try to and look at myself from another perspective or anything like that ... You just do what you're asked to do.
TONY ROMO, DallasCowboys.com, Nov. 29, 2006
One of the reasons I'm lucky is to be around an owner like Jerry Jones. I'm not just saying it. The reality of it is the guy wants to win. As a quarterback, you need ownership and people in the front office and organization to help you win. If you don't get that help, you're always going to be fighting an uphill battle. You feel that, being a part of this organization with Jerry, that he's going to bring in people and sign people and want to improve this football team every year. It allows you to feel like, hey, we have a chance and I have a chance to do some special things around here.
TONY ROMO, ESPN interview, May 22, 2008
You try and work hard and get better each week. I play the game with passion. I enjoy the game. It's a lot of fun when I'm out there. That's the way I play. For some reason, people like that.
TONY ROMO, Dallas Morning News, Nov. 26, 2006
I don't think about it, 'Wow! I'm the quarterback of the Dallas Cowboys.' For me, this is my job. This is what I've been preparing to do. And I really want to win badly.
TONY ROMO, USA Today, Nov. 29, 2006
I appreciate how passionate people are about our game because if you guys aren't in here talking and everything the game's not as exciting as it is. This is a great game and we're all lucky enough to play and you guys are lucky enough to be around it as well. For me, I don't necessarily take that feeling home with me and get mad at people and frustrated because I know when I'm sitting watching the Olympics I say, 'Why'd that guy do that?' or 'Why didn't he do this?' We're all Monday morning quarterbacks. That's the way we all are. It's part of the fun-ness. Let's talk about this on the radio, let's have a little give and take here. And for me, I don't mind anymore when someone says something because it gets people debating and talking about it. I think sometimes people talking about it is good for the game.
TONY ROMO, Q & A, Aug. 26, 2008
It's about the process. It's about getting better. 'Let's execute on this play, let's execute on this drive.' You do those things, and over the course of the season you'll get better as a team and you'll get to a point where hopefully you're playing at a high level to win the games that really become at another level.
TONY ROMO, interview, Sep. 15, 2008
You know you are going to go through your ups and downs in this game.
TONY ROMO, ESPN post-game news conference, Jan. 6, 2007
I treat T.O. almost like he's Jerry Jones, and, you know, if you're like the owner of the team, he's like the owner of the wide-receivers, and, you know, he's kind of like the Godfather of the group ... at the end of the day, you want him to know that you're on his side.
TONY ROMO, CBS interview, Aug. 22, 2008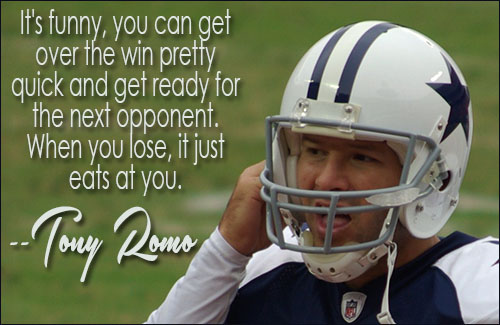 I think some guys have the ability to learn from themselves and get better. Those are the guys that last a long time and continue to improve in this league and in sports in general.
TONY ROMO, ESPN interview, May 22, 2008
If something in sports is the worst thing that ever happens to you, you've lived a pretty good life.
TONY ROMO, USA Today, Jul. 27, 2007
I've played long enough to know that certain games are certain ways. You're gonna throw it less in others, more in others, and just look at what the team needs that day to win a football game.
TONY ROMO, postgame press conference, Oct. 6, 2013
I think people just like rooting. If they like you, they're going to want to root for you and you're one of theirs. And if they don't like you? It doesn't matter.
TONY ROMO, "Tony Romo talks about life in Dallas with wife Candice Crawford," SporsDayDFW, Dallas Morning News, Dec. 9, 2013
Everyone runs their own race.
TONY ROMO, "Why Ya Gotta Hate?", Sports Illustrated, Dec. 2, 2013
We're continuing to evolve into what we think we can do, and you know that takes a little bit of times sometimes to figure out what you're really good at and what you can hang her hat on per se, and I think we're learning that each week that goes by.
TONY ROMO, postgame press conference, Oct. 6, 2013
Work hard, do things the right way, and things will go your way.
TONY ROMO, interview, NFLrush
Not trying to be rude, but you guys [the sports media] just don't matter. I know you guys all have a job to do, and it helps grow the game and there's a lot of talk about the game, and it's a wonderful aspect of it, but good/bad, none of it matters. It's going to be played out on the field. No matter what, we're going to have to open up the football season against the New York Giants, and whether you said great things or whether you guys may have said the Cowboys are whatever – the best ever, the worst ever, they can't ever, they can – it doesn't matter. You've still got to show up, and you've got to play.
TONY ROMO, remarks to Dallas media, Jun. 11, 2013
I would have loved to have had the start that Tom Brady did, won a couple of Super Bowls early, but I wasn't good enough at the time. I have to get better. You start to understand that all the talk and noise really don't matter. Every quarterback goes through the same thing. You have to keep getting better; your team will keep getting better—and you'll have a chance.
TONY ROMO, "Why Ya Gotta Hate?", Sports Illustrated, Dec. 2, 2013
It's funny, you can get over the win pretty quick and get ready for the next opponent. When you lose, it just eats at you.... What could we have done? What should I have done? All those things. Just part of playing professional sports and sports in general.
TONY ROMO, postgame press conference, Oct. 6, 2013
You just work at it. You just keep grinding away, keep trying to get better, and if you got the ability, one day you have a chance.
TONY ROMO, interview, NFLrush
That's the whole thing I didn't understand when I first got in the NFL. Most quarterbacks if a guy comes free, gets to the edge and it breaks down, they let the guy run by and still throw in rhythm. I've never had the ability ...… A guy comes free, the ball is coming out. I'm going somewhere because that's what you do in a game. I'm not saying that's right or wrong, but my brain is telling me this guy, I feel him, he's going to hit me, it just feels the same. Now maybe that was a benefit for me to allow me to play better quicker when I was younger. I just felt that I was able to play at a tempo like you're playing games. When it happens in a game, it's not a brand new thing, not a random act. It felt the same.
TONY ROMO, Q & A, Aug. 26, 2008
Fame is fleeting. That stuff comes and goes. You know, as soon as I play poorly ... you won't be doing this interview--you'll be interviewing the next guy.
TONY ROMO, CBS interview, Aug. 22, 2008