ROSE QUOTES
quotations about roses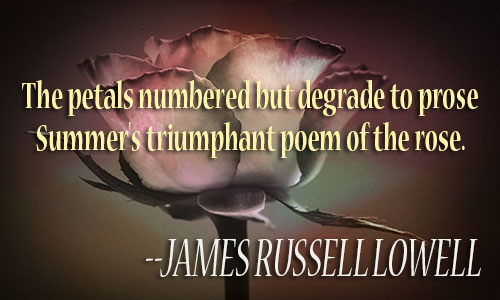 When the night has been too lonely
And the road has been too long,
And you think that love is only
For the lucky and the strong,
Just remember in the winter
Far beneath the bitter snows
Lies the seed that with the sun's love
In the spring becomes the rose.
BETTE MIDLER, "The Rose"
5 likes
---
Oh, no man knows
Through what wild centuries
Roves back the rose.
WALTER DE LA MARE, All That's Past
4 likes
---
That which we call a rose, by any other name would smell as sweet.
WILLIAM SHAKESPEARE, Romeo and Juliet
4 likes
---
There is more hope in a heather rose than in all the tons of Teutonic philosophy.
LIN YUTANG, preface, Between Tears and Laughter
3 likes
---
Wild roses are fairest, and nature a better gardener than art.
LOUISA MAY ALCOTT, A Long Fatal Love Chase
3 likes
---
Everybody loves roses: they are the symbol of virtually everywhere, from England to North Dakota. They are an international icon for innocence, and beauty, and rugby; the knee-jerk favorite of politicians, poets, and other enemies of civilization. Recently, the Democratic Socialists of America have given the rose emoji a boost on social media. Rose prints, meanwhile, seem to be having a moment in the fashion world, and we shouldn't be surprised. Have you ever seen a tattoo of a forsythia? Are any rock stars or famous songs named after hydrangeas? Exactly.
CHARLOTTE MENDELSON, "Let's Ban Roses", The New Yorker, June 21, 2017
3 likes
---
It is the time you have wasted for your rose that makes your rose so important.
ANTOINE DE SAINT-EXUPÉRY, The Little Prince
2 likes
---
Every rose has its thorn
Just like every night has its dawn
Just like every cowboy sings his sad, sad song.
Every rose has its thorn.
POISON, "Every Rose Has Its Thorn", Open Up and Say ... Ahh
2 likes
---
But he that dares not grasp the thorn
Should never crave the rose.
ANNE BRONTË, "The Narrow Way"
2 likes
---
This desert rose
Each of her veils, a secret promise
This desert flower
No sweet perfume ever tortured me more than this
STING, "Desert Rose"
2 likes
---
I, Woman, am that wonder-breathing rose
That blossoms in the garden of the King.
ELSA BARKER, The Mystic Rose
1 likes
---
Summer of roses! O empress of flowers!
You are all I care to know: you and your many sisters.
FRANCIS JAMMES, "Summer of Roses"
1 likes
---
And once I knew a meditative rose
That never raised its head from bowing down,
Yet drew its inspiration from the stars.
It bloomed and faded here beside the road,
And, being a poet, wrote on empty air
With fragrance all the beauty of its soul.
HENRY ABBEY, "A Morning Pastoral", We taste the fragrance of the rose.
1 likes
---
Since Eden's freshness and man's fall, no rose has been original.
THOMAS BAILEY ALDRICH, "Originality"
1 likes
---
Did you hear about the rose that grew from a crack in the concrete? Proving nature's laws wrong, it learned to walk without having feet. Funny, it seems to by keeping it's dreams; it learned to breathe fresh air. Long live the rose that grew from concrete when no one else even cared.
TUPAC SHAKUR, The Rose That Grew from Concrete
1 likes
---
Any nose
May ravage with impunity a rose.
ROBERT BROWNING, "Sordello"
1 likes
---
There is a rose in Spanish Harlem
A red rose up in Spanish Harlem
With eyes as black as coal
That look down in my soul
And start a fire there and then I lose control
I have to beg your pardon
I'm gonna pick that rose
And watch her as she grows in my garden
THE MAMAS & THE PAPAS, "Spanish Harlem"
1 likes
---
Each Morn a thousand Roses brings, you say;
Yes, but where leaves the Rose of Yesterday?
EDWARD FITZGERALD, Rubáiyát of Omar Khayyám
0 likes
---
We taste the fragrance of the rose.
MARK AKENSIDE, The Pleasures of Imagination
0 likes
---
A rose by any other name would smell as sweet, but would not cost half as much during the winter months.
GEORGE ADE, "The Fable of the Old Fox and the Young Fox", True Bills
0 likes
---