RUMOR QUOTES
quotations about rumors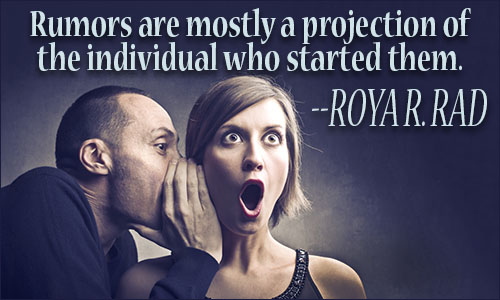 Always remember ... rumors are carried by haters, spread by fools, and accepted by idiots.
ZIAD K. ABDELNOUR, Economic Warfare: Secrets of Wealth Creation in the Age of Welfare Politics
29 likes
---
People who spread rumors are like walking infections. The lying words from their mouths spread like disease from person to person. The only way to stop the disease is to keep your mouth shut.
JOYCE HANSEN, One True Friend
15 likes
---
I like rumors. I find out so much about me that I didn't even know!
ANONYMOUS
13 likes
---
Fake friends believe in rumors. Real friends believe in you.
ANONYMOUS
9 likes
---
Rumors are mostly a projection of the individual who started them.
ROYA R. RAD, Therapy Dialogue
6 likes
---
Rumors are like songbirds; they sound filling but make a poor feast.
W. MICHAEL GEAR & KATHLEEN O'NEAL GEAR, People of the Nightland
5 likes
---
Those who feed on rumors are small, suspicious souls.
CHARLES R. SWINDOLL, Growing Strong in the Seasons of Life
4 likes
---
I have a strict policy. I will not and do not publicize unsubstantiated rumors about anyone -- unless they're very funny.
JIMMY KIMMEL, Jimmy Kimmel Live!, November 2, 2011
4 likes
---
Rumors generally grow deformed as they travel.
EDWARD COUNSEL, Maxims
3 likes
---
Serious misfortunes, originating in misrepresentation, frequently flow and spread before they can be dissipated by truth.
GEORGE WASHINGTON, letter to John Jay, May 8, 1796
3 likes
---
There is only one thing in the world worse than being talked about, and that is not being talked about.
OSCAR WILDE, The Picture of Dorian Gray
3 likes
---
Rumors are seen as crimes committed by third parties. They are perfect crimes and leave not the slightest trace and require no weapons whatsoever--the defense is left without a leg to stand on.
JEAN-NOEL KAPFERER, Rumors: Uses, Interpretations, and Images
3 likes
---
Be hospitable to rumors, for however grotesque they are, they always have some reason for existence.
CHRISTOPHER MORLEY, "As To Rumors", Mince Pie: Adventures on the Sunny Side of Grub Street
3 likes
---
Buy the rumor, sell the fact.
BOB WISNER, Farmer's Digest, 1976
3 likes
---
Rumors are like ripples in a cornfield. They are ephemeral, but they do indicate which way the wind is blowing.
SUSAN J. PALMER, Aliens Adored
2 likes
---
Rumors have wings.
AESCHYLUS, Agamemnon
2 likes
---
You know what rumors are like--like a jar full of moths. Once they escape, they're all over the place.
RHYS BOWEN, Oh Danny Boy
1 likes
---
Rumors are like a flame blown by the wind.
NELLIE MAE BATSON, Skeet Apples
1 likes
---
Rumors are hearsay; they are told, believed, and passed on not because of the weight of evidence but because of the expectations by tellers that they are true in the first place.
ERICH GOODE & NACHMAN BEN-YEHUDA, Moral Panics
1 likes
---
Rumors are found wherever circumstances are ambiguous, issues are important, and critical ability is low.
GARY ALAN FINE & BILL ELLIS, The Global Grapevine
1 likes
---