SCIENCE FICTION QUOTES
quotations about science fiction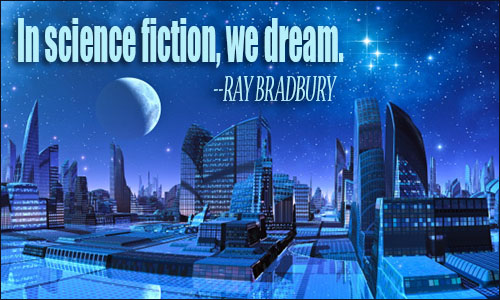 In science fiction, we dream. In order to colonize in space, to rebuild our cities, which are so far out of whack, to tackle any number of problems, we must imagine the future, including the new technologies that are required.
RAY BRADBURY, Playboy, 1996
7 likes
---
When I was a young writer if you went to a party and told somebody you were a science-fiction writer you would be insulted. They would call you Flash Gordon all evening, or Buck Rogers.
RAY BRADBURY, The Paris Review, spring 2010
4 likes
---
The science fiction method is dissection and reconstruction. You look at the world around you, and you take it apart into all its components. Then you take some of those components, throw them away, and plug in different ones, start it up and see what happens. That's the method: restructure the world we live in in some way, then see what happens.
FREDERIK POHL, Locus Magazine, October 2000
3 likes
---
I miss the hopeful side of science fiction, which really goes back to the roots of the genre, and that is: What can we achieve if we put our minds to it?
SETH MACFARLANE, "'Star Trek: Discovery' continues familiar but vital mission: comforting earthlings", Minneapolis Star Tribune, September 20, 2017
3 likes
---
Individual science fiction stories may seem as trivial as ever to the blinder critics and philosophers of today -- but the core of science fiction, its essence, the concept around which it revolves, has become crucial to our salvation if we are to be saved at all.
ISAAC ASIMOV, "My Own View", The Encyclopedia of Science Fiction
2 likes
---
That's all science fiction was ever about. Hating the way things are, wanting to make things different.
RAY BRADBURY, "No News, or, What Killed the Dog?"
2 likes
---
The power of science fiction, and what's positive about it, is that you're able to experience the worst-case scenario without actually having to live it.
RYAN GOSLING, "The Replicant: Inside the Dark Future of Blade Runner 2049", Wired, September 19, 2017
2 likes
---
Historically, I guess that's how science fiction works: you start by using aliens to think the unthinkable -- and then, eventually, another writer, having grown a little more comfortable with the earlier notion, brings it into the human.
SAMUEL R. DELANY, interview, Nerve, June 14, 2001
1 likes
---
Some writers are still blindly enamored with science and gadgetry, but I don't think it's as prevalent as it once was. Almost everybody these days pays lip service to literary value; some people talk the talk without walking the walk, but I do believe that most SF/fantasy writers are aiming above the least common denominator.
JAMES ALAN GARDNER, Strange Horizons, January 7, 2002
1 likes
---
One of the biggest roles of science fiction is to prepare people to accept the future without pain and to encourage a flexibility of mind. Politicians should read science fiction, not westerns and detective stories. Two-thirds of 2001 is realistic -- hardware and technology -- to establish background for the metaphysical, philosophical, and religious meanings later.
ARTHUR C. CLARKE, attributed, The Making of Kubrick's 2001
1 likes
---
Science fiction is any idea that occurs in the head and doesn't exist yet, but soon will, and will change everything for everybody, and nothing will ever be the same again. As soon as you have an idea that changes some small part of the world you are writing science fiction. It is always the art of the possible, never the impossible.
RAY BRADBURY, The Paris Review, spring 2010
1 likes
---
Everything is becoming science fiction. From the margins of an almost invisible literature has sprung the intact reality of the 20th century.
J. G. BALLARD, "Fictions of Every Kind"
1 likes
---
It's not speculation, it's true! Mobile phones, laptops, tablets, the Internet, all were predicted and dreamed up in science fiction first. Science fiction writers speculate when they write. I don't just make random things up. I consider the world around me. I live in it. I experience it. I love it. I hate it. I worry about it. Then I imagine what's to come.
NNEDI OKOROAFOR, "Exclusive Interview with Nigerian Science Fiction Writer, Nnedi Okoroafor", Ventures Africa, September 23, 2015
1 likes
---
Erase myself from the human race
All aboard this rocket into space
I'll die Sci-Fi
And kiss the earth goodbye
WEDNESDAY 13, "Die Sci Fi"
1 likes
---
At some point, every science fiction and fantasy story must challenge the reader's experience and learning. That's much of the reason why the genre is so open to experimentation and innovation that other genres reject--strangeness is our bread and butter. Spread it thick or slice it thin, it's still our staff of life.
ORSON SCOTT CARD, How to Write Science Fiction and Fantasy
0 likes
---
Science fiction is often described, and even defined, as extrapolative. The science fiction writer is supposed to take a trend or phenomenon of the here-and-now, purify and intensify it for dramatic effect, and extend it into the future. "If this goes on, this is what will happen." A prediction is made. Method and results much resemble those of a scientist who feeds large doses of purified and concentrated food additive to mice, in order to predict what may happen to people who eat it in small quantities for a long time. The outcome seems almost inevitably to be cancer. So does the outcome of extrapolation. Strictly extrapolative works of science fiction generally arrive about where the Club of Rome arrives: somewhere between the gradual extinction of human liberty and the total extinction of terrestrial life.
URSULA K. LE GUIN, introduction, The Left Hand of Darkness
0 likes
---
As science fiction writers began to get their first glimmerings of the kind of power that computers might someday control, their immediate reaction was one of panic. Even through the 1960s, this view of computers as powerful gods did not change; it only became more sophisticated. For instance, Arthur C. Clarke wrote a short story that began with every telephone on earth ringing at the same time. Over the course of the next few hours, there were an extraordinary number of plane crashes and accidents. The punch line of the story was that the communications network that linked every machine on the planet into one vast consciousness had finally "awakened." The ringing of the phones was the birth cry of the baby and the crash of the planes was its first attempt to play. And so on. The idea was this: When the consciousness wakes up, watch out.
DAVID GERROLD, InfoWorld, July 5, 1982
0 likes
---
I often use the metaphor of Perseus and the head of Medusa when I speak of science fiction. Instead of looking into the face of truth, you look over your shoulder into the bronze surface of a reflecting shield. Then you reach back with your sword and cut off the head of Medusa. Science fiction pretends to look into the future but it's really looking at a reflection of what is already in front of us. So you have a ricochet vision, a ricochet that enables you to have fun with it, instead of being self-conscious and superintellectual.
RAY BRADBURY, The Paris Review, spring 2010
0 likes
---
Many of the early greats of sf -- Hugo Gernsback (publisher of Amazing Stories) in particular -- saw themselves as educators. The didactic thrust of science fiction got the genre initially pegged as children's fare. It was seen, at its best, as an extension of school and, at its worst, as teenage wish fulfillment.
SAMUEL R. DELANY, interview, Nerve, June 14, 2001
0 likes
---
I ... wanted science fiction to be more naturalistic. There had been a poverty of description in much of it. The technology depicted was so slick and clean that it was practically invisible. What would any given SF favorite look like if we could crank up the resolution? As it was then, much of it was like video games before the invention of fractal dirt. I wanted to see dirt in the corners.
WILLIAM GIBSON, The Paris Review, summer 2011
0 likes
---