SCIENCE QUOTES
quotations about science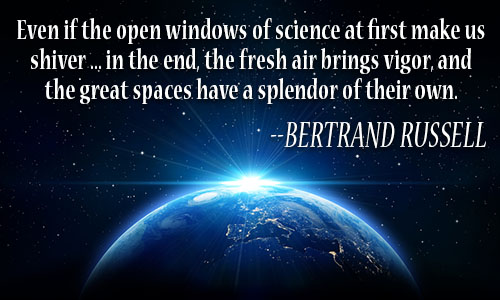 Science and Religion are not at odds. Science is simply too young to understand.
DAN BROWN, Angels & Demons
9 likes
---
As all truth is from God, it necessarily follows that true science and true religion can never be at variance.
HORACE MANN, Thoughts
6 likes
---
The greater the scientific advance, the more primitive the fear.
DON DELILLO, White Noise
6 likes
---
It is the chief characteristic of the religion of science that it works.
ISAAC ASIMOV, Foundation
6 likes
---
Science is truth with her wings clipped.
AUSTIN O'MALLEY, Keystones of Thought
2 likes
---
Science ... is organized common sense.
JOSEPH ALEXANDER LEIGHTON, The Field of Philosophy
1 likes
---
Human beings are infinitely fallible, completely unreliable. Science is not. Science is absolute. Under strict principles, if you do A and B, then C will occur. This rarely happens if you inject the inefficiences of humanity into the process.
DAVID BALDACCI, The Winner
1 likes
---
Let science extend the domain of actual knowledge, and lay bare as it may the secrets of the material world. It only exposes more and more the proportions of the great cathedral, and shows us the lamps of God's glory, and the infinite recesses of his love. It only wafts us on through the ever-rolling harmonies of the universe, until we pause before that awful veil of mystery in which he hides the essence of his being and the counsels of his thought.
E. H. CHAPIN, Living Words
1 likes
---
Ah, it is the fault of our science that it wants to explain all; and if it explain not, then it says there is nothing to explain.
BRAM STOKER, Dracula
1 likes
---
Science may be weird and incomprehensible--more weird and less comprehensible than any theology--but science works. It gets results. It can fly you to Saturn, slingshotting you around Venus and Jupiter on the way. We may not understand quantum theory (heaven knows, I don't), but a theory that predicts the real world to ten decimal places cannot in any straightforward sense be wrong.
RICHARD DAWKINS, afterward, A Universe from Nothing
1 likes
---
Science has an important part to play in our everyday existence, and there is far too much neglect of science; but its intention is to supplement not to supplant the familiar outlook.
ARTHUR EDDINGTON, Science and the Unseen World
1 likes
---
Even if the open windows of science at first make us shiver ... in the end, the fresh air brings vigor, and the great spaces have a splendor of their own.
BERTRAND RUSSELL, What I Believe
0 likes
---
Scientific truth is always paradox, if judged by everyday experience, which catches only the delusive appearance of things.
KARL MARX, Value, Price, and Profit
0 likes
---
Doubtless it is true that while consciousness is occupied in the scientific interpretation of a thing, which is now and again "a thing of beauty," it is not occupied in the aesthetic appreciation of it. But it is no less true that the same consciousness may at another time be so wholly possessed by the aesthetic appreciation as to exclude all thought of the scientific interpretation. The inability of a man of science to take the poetic view simply shows his mental limitation; as the mental limitation of a poet is shown by his inability to take the scientific view. The broader mind can take both.
HERBERT SPENCER, An Autobiography
0 likes
---
The best scientist is open to experience and begins with romance -- the idea that anything is possible.
RAY BRADBURY, Los Angeles Times, August 9, 1976
0 likes
---
Scientific theory is a contrived foothold in the chaos of living phenomena.
WILHELM REICH, The Function of the Organism
0 likes
---
Although I was first drawn to math and science by the certainty they promised, today I find the unanswered questions and the unexpected connections at least as attractive.
LISA RANDALL, Warped Passages
0 likes
---
Science helps us before all things in this, that it somewhat lightens the feeling of wonder with which Nature fills us; then, however, as life becomes more and more complex, it creates new facilities for the avoidance of what would do us harm and the promotion of what will do us good.
JOHANN WOLFGANG VON GOETHE, The Maxims and Reflections of Goethe
0 likes
---
One of the chief interests in Science is its bearing on [the] great questions: the light it throws on our own nature and the nature of the Universe; and the humility it teaches by everywhere leaving us in presence of the inscrutable. The dull world outside thinks of Science as nothing but a matter of chemical analyses, calculations of distance and times, labeling of species, physiological experiments, and the like; but among the initiated, those of higher type, while seeking scientific knowledge for its proximate value, have an ever-increasing consciousness of its ultimate value as a transfiguration of things, which, marvellous enough within the limits of the knowable, suggests a profounder marvel that cannot be known.
HERBERT SPENCER, An Autobiography
0 likes
---
Science is the process of trying to understand the nature of reality. And it's a fundamental of science that we believe reality exists, instead of having it be a human construct or all a matter of relative point of view. There isn't another side of the story in science. There are the right and wrong answers, and you do a better or worse job of understanding that reality, but we do believe reality is there. That's fundamental to what we're doing.
LUCY JONES, Newsweek, October 15, 2007
0 likes
---