SCIENCE QUOTES
quotations about science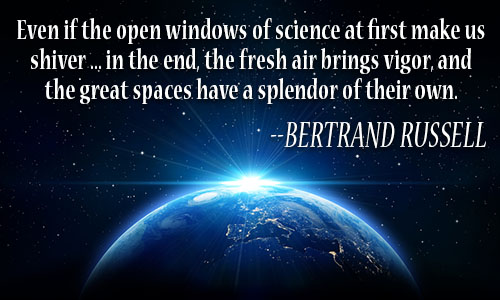 Science and Religion are not at odds. Science is simply too young to understand.
DAN BROWN, Angels & Demons
10 likes
---
It is the chief characteristic of the religion of science that it works.
ISAAC ASIMOV, Foundation
8 likes
---
The greater the scientific advance, the more primitive the fear.
DON DELILLO, White Noise
7 likes
---
Even if the open windows of science at first make us shiver ... in the end, the fresh air brings vigor, and the great spaces have a splendor of their own.
BERTRAND RUSSELL, What I Believe
6 likes
---
Human beings are infinitely fallible, completely unreliable. Science is not. Science is absolute. Under strict principles, if you do A and B, then C will occur. This rarely happens if you inject the inefficiences of humanity into the process.
DAVID BALDACCI, The Winner
6 likes
---
As all truth is from God, it necessarily follows that true science and true religion can never be at variance.
HORACE MANN, Thoughts
6 likes
---
All of science is nothing more than the refinement of everyday thinking.
ALBERT EINSTEIN, Journal of the Franklin Institute, March 1936
4 likes
---
Science has made us gods even before we are worthy of being men.
JEAN ROSTAND, Thoughts of a Biologist
3 likes
---
Science is truth with her wings clipped.
AUSTIN O'MALLEY, Keystones of Thought
2 likes
---
Science ... is organized common sense.
JOSEPH ALEXANDER LEIGHTON, The Field of Philosophy
1 likes
---
Let science extend the domain of actual knowledge, and lay bare as it may the secrets of the material world. It only exposes more and more the proportions of the great cathedral, and shows us the lamps of God's glory, and the infinite recesses of his love. It only wafts us on through the ever-rolling harmonies of the universe, until we pause before that awful veil of mystery in which he hides the essence of his being and the counsels of his thought.
E. H. CHAPIN, Living Words
1 likes
---
Science is magic that works.
KURT VONNEGUT, Cat's Cradle
1 likes
---
The whole history of science has been the gradual realization that events do not happen in an arbitrary manner, but that they reflect a certain underlying order, which may or may not be divinely inspired.
STEPHEN HAWKING, A Brief History of Time
1 likes
---
The only thing not worth destroying is science. That would be useless. Science is unchangeable, and if you destroyed it today, it would rise up again the same as before.
LEONID ANDREYEV, Savva
1 likes
---
Ah, it is the fault of our science that it wants to explain all; and if it explain not, then it says there is nothing to explain.
BRAM STOKER, Dracula
1 likes
---
Science may be weird and incomprehensible--more weird and less comprehensible than any theology--but science works. It gets results. It can fly you to Saturn, slingshotting you around Venus and Jupiter on the way. We may not understand quantum theory (heaven knows, I don't), but a theory that predicts the real world to ten decimal places cannot in any straightforward sense be wrong.
RICHARD DAWKINS, afterward, A Universe from Nothing
1 likes
---
Why does this magnificent applied science which saves work and makes life easier bring us so little happiness? The simple answer runs: Because we have not yet learned to make sensible use of it. In war it serves that we may poison and mutilate each other. In peace it has made our lives hurried and uncertain. Instead of freeing us in great measure from spiritually exhausting labor, it has made men into slaves of machinery, who for the most part complete their monotonous long day's work with disgust and must continually tremble for their poor rations. ... It is not enough that you should understand about applied science in order that your work may increase man's blessings. Concern for the man himself and his fate must always form the chief interest of all technical endeavours; concern for the great unsolved problems of the organization of labor and the distribution of goods in order that the creations of our mind shall be a blessing and not a curse to mankind. Never forget this in the midst of your diagrams and equations.
ALBERT EINSTEIN, speech at California Institute of Technology, The New York Times, February 16, 1931
1 likes
---
Science has an important part to play in our everyday existence, and there is far too much neglect of science; but its intention is to supplement not to supplant the familiar outlook.
ARTHUR EDDINGTON, Science and the Unseen World
1 likes
---
Scientific truth is always paradox, if judged by everyday experience, which catches only the delusive appearance of things.
KARL MARX, Value, Price, and Profit
0 likes
---
Doubtless it is true that while consciousness is occupied in the scientific interpretation of a thing, which is now and again "a thing of beauty," it is not occupied in the aesthetic appreciation of it. But it is no less true that the same consciousness may at another time be so wholly possessed by the aesthetic appreciation as to exclude all thought of the scientific interpretation. The inability of a man of science to take the poetic view simply shows his mental limitation; as the mental limitation of a poet is shown by his inability to take the scientific view. The broader mind can take both.
HERBERT SPENCER, An Autobiography
0 likes
---