SCIENCE QUOTES
quotations about science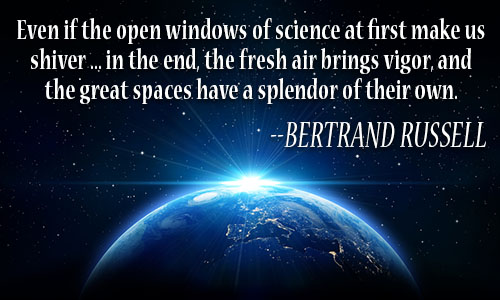 Science and Religion are not at odds. Science is simply too young to understand.
DAN BROWN, Angels & Demons
17 likes
---
The good thing about science is that it's true whether or not you believe in it.
NEIL DEGRASSE TYSON, Real Time with Bill Maher, February 4, 2011
16 likes
---
As all truth is from God, it necessarily follows that true science and true religion can never be at variance.
HORACE MANN, Thoughts
10 likes
---
It is the chief characteristic of the religion of science that it works.
ISAAC ASIMOV, Foundation
10 likes
---
Even if the open windows of science at first make us shiver ... in the end, the fresh air brings vigor, and the great spaces have a splendor of their own.
BERTRAND RUSSELL, What I Believe
9 likes
---
The greater the scientific advance, the more primitive the fear.
DON DELILLO, White Noise
7 likes
---
Human beings are infinitely fallible, completely unreliable. Science is not. Science is absolute. Under strict principles, if you do A and B, then C will occur. This rarely happens if you inject the inefficiences of humanity into the process.
DAVID BALDACCI, The Winner
6 likes
---
Science has made us gods even before we are worthy of being men.
JEAN ROSTAND, Thoughts of a Biologist
6 likes
---
Without science, everything is a miracle.
LAWRENCE M. KRAUSS, A Universe from Nothing
5 likes
---
Science flies you to the moon. Religion flies you into buildings.
VICTOR J. STENGER, The New Atheism: Taking a Stand for Science and Reason
5 likes
---
All of science is nothing more than the refinement of everyday thinking.
ALBERT EINSTEIN, Journal of the Franklin Institute, March 1936
4 likes
---
People keep saying "science doesn't know everything!" Well, science "knows" it doesn't know everything; otherwise it would stop.
DARA O BRIAIN, Dara O Briain: Live at the Theatre Royal
3 likes
---
Science is truth with her wings clipped.
AUSTIN O'MALLEY, Keystones of Thought
2 likes
---
It is the tension between creativity and skepticism that has produced the stunning and unexpected findings of science.
CARL SAGAN, Broca's Brain: Reflections on the Romance of Science
2 likes
---
The radical novelty of modern science lies precisely in the rejection of the belief, which is at the heart of all popular religion, that the forces which move the stars and atoms are contingent upon the preferences of the human heart.
WALTER LIPPMANN, A Preface to Morals
2 likes
---
Science may be weird and incomprehensible--more weird and less comprehensible than any theology--but science works. It gets results. It can fly you to Saturn, slingshotting you around Venus and Jupiter on the way. We may not understand quantum theory (heaven knows, I don't), but a theory that predicts the real world to ten decimal places cannot in any straightforward sense be wrong.
RICHARD DAWKINS, afterward, A Universe from Nothing
2 likes
---
The history of science can be viewed as the recasting of phenomena that were once thought to be accidents as phenomena that can be understood in terms of fundamental causes and principles.
ALAN LIGHTMAN, "The Accidental Universe: Science's Crisis of Faith", Harper's Magazine, December 2011
2 likes
---
Science, my lad, is made up of mistakes, but they are mistakes which it is useful to make, because they lead little by little to the truth.
JULES VERNE, A Journey to the Center of the Earth
2 likes
---
Science mines nature for truth of a different order -- it is our mightiest means of communing with reality, probing its mysteries, and gleaning from them some sense of belonging, of locating ourselves in the universe, understanding our place in it, and liberating ourselves from delusion.
MARIA POPOVA, "Poetry as Protest and Sanctuary", brainpickings, April 18, 2017
2 likes
---
Scientific truth is always paradox, if judged by everyday experience, which catches only the delusive appearance of things.
KARL MARX, Value, Price, and Profit
1 likes
---