SECRETS QUOTES
quotations about secrets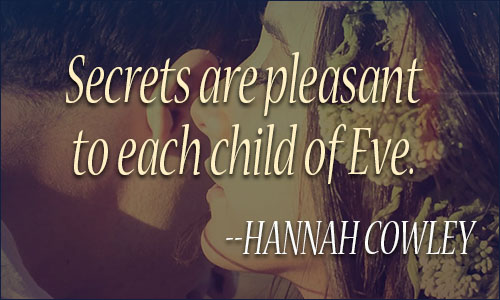 He who cannot keep his own secret ought not to complain if another tells it.
ELIZA COOK, Diamond Dust
11 likes
---
They often say woman cannot keep a secret, but every woman in the world, like every man, has a hundred secrets in her own soul which she hides from even herself. The more respectable she is, the more certain it is the secrets exist.
AUSTIN O'MALLEY, Keystones of Thought
6 likes
---
Sometimes it's our secrets that define us.
BRITNEY SPEARS, interview, August 25, 2011
6 likes
---
A wise man is he who keeps his own secrets.
WILLIAM SCOTT DOWNEY, Proverbs
5 likes
---
Those who cannot keep their own secrets ought not to be entrusted with the secrets of others.
WILLIAM SCOTT DOWNEY, Proverbs
5 likes
---
Love ceases to be a pleasure, when it ceases to be a secret.
APHRA BEHN, The Lover's Watch, Four o'clock
4 likes
---
A secret is most valuable when it remains a secret.
BRIAN HERBERT & KEVEN J. ANDERSON, Dune: House Corrino
4 likes
---
The man who can keep a secret may be wise, but he is not half as wise as the man with no secrets to keep.
EDGAR WATSON HOWE, Country Town Sayings
4 likes
---
He that has eyes to see and ears to hear may convince himself that no mortal can keep a secret. If his lips are silent, he chatters with his fingertips; betrayal oozes out of him at every pore.
SIGMUND FREUD, Dora: An Analysis of a Case of Hysteria
3 likes
---
A secret's worth depends on the people from whom it must be kept.
CARLOS RUIZ ZAFON, The Shadow of the Wind
3 likes
---
Secrets are pleasant to each child of Eve.
HANNAH COWLEY, The Runaway
1 likes
---
Old secrets are like old wounds; they fester.
PAUL CHRISTOPHER, The Lucifer Gospel
1 likes
---
To know that one has a secret is to know half the secret itself.
HENRY WARD BEECHER, Proverbs from Plymouth Pulpit
1 likes
---
Secrecy is the cement of friendship.
WELLINS CALCOTT, Thoughts Moral and Divine
1 likes
---
There are no secrets except the secrets that keep themselves.
GEORGE BERNARD SHAW, Back to Methuselah
1 likes
---
He that publisheth his friend's secrets, doth publish his own shame.
THOMAS WATSON, attributed, Holy Thoughts on Holy Things
1 likes
---
Some secrets are too delicious not to share.
SUZANNE COLLINS, Mockingjay
1 likes
---
To keep your own secrets is wisdom; but to expect others to keep them is folly.
WILLIAM SCOTT DOWNEY, Proverbs
0 likes
---
Three may keep a secret, if two of them are dead.
BENJAMIN FRANKLIN, Poor Richard's Almanac, July 1735
0 likes
---
A secret is a kind of promise.... It can also be a prison.
JENNIFER LEE CARRELL, Interred With Their Bones
0 likes
---