SECRETS QUOTES
quotations about secrets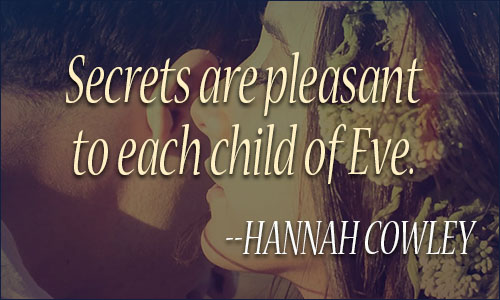 He who cannot keep his own secret ought not to complain if another tells it.
ELIZA COOK, Diamond Dust
13 likes
---
They often say woman cannot keep a secret, but every woman in the world, like every man, has a hundred secrets in her own soul which she hides from even herself. The more respectable she is, the more certain it is the secrets exist.
AUSTIN O'MALLEY, Keystones of Thought
8 likes
---
Sometimes it's our secrets that define us.
BRITNEY SPEARS, interview, August 25, 2011
7 likes
---
Those who cannot keep their own secrets ought not to be entrusted with the secrets of others.
WILLIAM SCOTT DOWNEY, Proverbs
6 likes
---
A wise man is he who keeps his own secrets.
WILLIAM SCOTT DOWNEY, Proverbs
5 likes
---
Love ceases to be a pleasure, when it ceases to be a secret.
APHRA BEHN, The Lover's Watch, Four o'clock
4 likes
---
A secret is most valuable when it remains a secret.
BRIAN HERBERT & KEVEN J. ANDERSON, Dune: House Corrino
4 likes
---
The man who can keep a secret may be wise, but he is not half as wise as the man with no secrets to keep.
EDGAR WATSON HOWE, Country Town Sayings
4 likes
---
He that has eyes to see and ears to hear may convince himself that no mortal can keep a secret. If his lips are silent, he chatters with his fingertips; betrayal oozes out of him at every pore.
SIGMUND FREUD, Dora: An Analysis of a Case of Hysteria
3 likes
---
A secret's worth depends on the people from whom it must be kept.
CARLOS RUIZ ZAFON, The Shadow of the Wind
3 likes
---
Secrets are pleasant to each child of Eve.
HANNAH COWLEY, The Runaway
1 likes
---
Old secrets are like old wounds; they fester.
PAUL CHRISTOPHER, The Lucifer Gospel
1 likes
---
To know that one has a secret is to know half the secret itself.
HENRY WARD BEECHER, Proverbs from Plymouth Pulpit
1 likes
---
Some men are tempted to violate secrecy from the uneasiness secrecy gives them, and others, merely to impress you with the extent of their confidence.
NORMAN MACDONALD, Maxims and Moral Reflections
1 likes
---
Secrecy is the cement of friendship.
WELLINS CALCOTT, Thoughts Moral and Divine
1 likes
---
Confidences are always risky: a secret entrusted to a stranger make him less of one. You've given away something of yourself, given him the advantage.
STEFAN ZWEIG, The Post Office Girl
1 likes
---
There are no secrets except the secrets that keep themselves.
GEORGE BERNARD SHAW, Back to Methuselah
1 likes
---
He that publisheth his friend's secrets, doth publish his own shame.
THOMAS WATSON, attributed, Holy Thoughts on Holy Things
1 likes
---
Secrets are a mortgage on friendships.
H. W. SHAW, attributed, Day's Collacon
1 likes
---
Some secrets are too delicious not to share.
SUZANNE COLLINS, Mockingjay
1 likes
---