SEEING QUOTES
quotations about seeing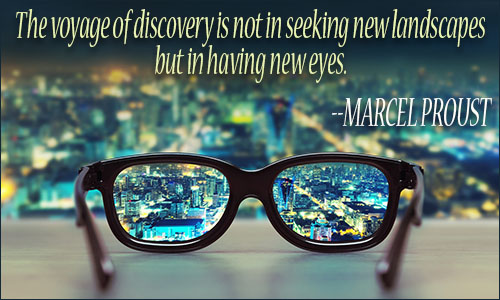 The voyage of discovery is not in seeking new landscapes but in having new eyes.
MARCEL PROUST, "The Captive", Remembrance of Things Past
4 likes
---
All that we see or seem
Is but a dream within a dream.
EDGAR ALLAN POE, A Dream Within a Dream
4 likes
---
The fellow that can only see a week ahead is always the popular fellow, for he is looking with the crowd. But the one that can see years ahead, he has a telescope but he can't make anybody believe that he has it.
WILL ROGERS, The Autobiography of Will Rogers
3 likes
---
It's hubris to think that the way we see things is everything there is.
LISA RANDALL, Discover Magazine, July 2006
3 likes
---
Two men look out through the same bars:
One sees the mud, and one the stars.
FREDERICK LANGBRIDGE, In A Cluster of Quiet Thoughts
3 likes
---
The common eye sees only the outside of things, and judges by that, but the seeing eye pierces through and reads the heart and the soul, finding there capacities which the outside didn't indicate or promise, and which the other kind couldn't detect.
MARK TWAIN, Joan of Arc
2 likes
---
Sometimes not seeing things can be a blessing.
AUGUST STRINDBERG, The Dance of Death
2 likes
---
To see a thing clearly in the mind makes it begin to take form.
HENRY FORD, Theosophist Magazine, February 1930
2 likes
---
I'm looking through you, where did you go?
I thought I knew you, what did I know?
You don't look different, but you have changed
I'm looking through you, you're not the same
THE BEATLES, "I'm Looking Through You"
2 likes
---
Many are the things that man seeing must understand. Not seeing, how shall he know what lies in the hand of time to come?
SOPHOCLES, Ajax
1 likes
---
The eye sees only what the mind is prepared to comprehend.
ROBERTSON DAVIES, attributed, The Wordsworth Dictionary of Quotes
1 likes
---
The man who perceives life only with his eye, his ear, his hand, and his tongue, is but little higher than the ox or an intelligent dog; but he who has imagination sees things around and above him, as the angels see them.
HENRY WARD BEECHER, Proverbs from Plymouth Pulpit
1 likes
---
Close both eyes
to see with the other eye.
RUMI, Essential Rumi
1 likes
---
He that lives by the sight of the eye may grow blind.
HENRY WARD BEECHER, Proverbs from Plymouth Pulpit
1 likes
---
Impression is, after all, largely an illusion. What is real lies in our minds and in our hearts. And this reality we can make beautiful or ugly according to the attitude we take toward the rest of the world. Haven't you ever noticed how some things seen at a certain angle seem hideous, and how the same things seen at another angle seem beautiful?
JOHN DANIEL BARRY, "Seeing", Intimations
1 likes
---
Almost nothing need be said when you have eyes.
TARJEI VESAAS, The Boat in the Evening
1 likes
---
We must always tell what we see. Above all, and this is more difficult, we must always see what we see.
CHARLES PEGUY, attributed, Geary's Guide to the World's Great Aphorists
1 likes
---
Most people think of "seeing" and "observing" directly with their senses. But for physicists, these words refer to much more indirect measurements involving a train of theoretical logic by which we can interpret what is "seen."
LISA RANDALL, New York Times, September 18, 2005
0 likes
---
None is so blind as he who sees too much.
PHILIP MOELLER, Helena's Husband
0 likes
---
Better see rightly on a pound a week than squint on a million.
GEORGE BERNARD SHAW, preface, Plays Unpleasant
0 likes
---