SELF-ESTEEM QUOTES
quotations about self-esteem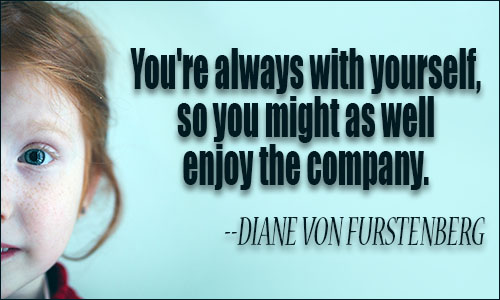 Self-respect cannot be hunted. It cannot be purchased. It is never for sale. It cannot be fabricated out of public relations. It comes to us when we are alone, in quiet moments, in quiet places, when we suddenly realize that, knowing the good, we have done it; knowing the beautiful, we have served it; knowing the truth, we have spoken it.
ALFRED WHITNEY GRISWOLD, Address at Yale University, New Haven, Connecticut, June 9, 1957
1 likes
---
The difference between loving yourself and vanity is when you love yourself you forgive your imperfections, but when you're vain, you don't even know you have them.
MARILYN VOS SAVANT, attributed, Provocative and Contemplative Quotations: With author comments and observations
1 likes
---
The most terrifying thing is to accept oneself completely.
CARL JUNG, attributed, The Little Zen Companion
1 likes
---
As long as you look for someone else to validate who you are by seeking their approval, you are setting yourself up for disaster. You have to be whole and complete in yourself. No one can give you that.
NIC SHEFF, Tweak: Growing Up on Crystal Meth
1 likes
---
People who project negativity typically have low self-esteem. They feel badly about themselves, and their negativity is simply a reflection of those feelings.
HENDRIE WEISINGER, The Power of Positive Criticism
0 likes
---
As long as the mind is enslaved, the body can never be free. Psychological freedom, a firm sense of self-esteem, is the most powerful weapon against the long night of physical slavery.
MARTIN LUTHER KING, JR., speech, August 16, 1967
0 likes
---
Ofttimes nothing profits more
Than self-esteem, grounded on just and right
Well managed.
JOHN MILTON, Paradise Lost
0 likes
---
Self-esteem and self-contempt have specific odors; they can be smelled.
ERIC HOFFER, The Passionate State of Mind
0 likes
---
Outstanding leaders go out of their way to boost the self-esteem of their personnel. If people believe in themselves, it's amazing what they can accomplish.
SAM WALTON, attributed, The 101 Greatest Business Principles of All Time
0 likes
---
So the secret to good self-esteem is to lower your expectations to the point where they're already met?
BILL WATTERSON, The Days are Just Packed
0 likes
---
At this point in history, the most radical, pervasive, and earth-shaking transformation would occur simply if everybody truly evolved to a mature, rational, and responsible ego, capable of freely participating in the open exchange of mutual self-esteem. There is the 'edge of history.' There would be a real New Age.
KEN WILBER, Up From Eden
0 likes
---
Self-esteem is the real magic wand that can form a child's future. A child's self-esteem affects every area of her existence, from friends she chooses, to how well she does academically in school, to what kind of job she gets, to even the person she chooses to marry.
STEPHANIE MARTSON, The Magic of Encouragement
0 likes
---
Self-esteem is as important to our well-being as legs are to a table. It is essential for physical and mental health and for happiness.
LOUISE HART, The Winning Family
0 likes
---
Self-esteem is an inner feeling: Sometimes it corresponds with outer reality, and sometimes it doesn't.
STANLEY I. GREENSPAN, Playground Politics
0 likes
---
Honor is self-esteem made visible in action.
AYN RAND, The Ayn Rand Letter, January 14, 1974
0 likes
---
No one can make you feel inferior without your consent.
ELEANOR ROOSEVELT, attributed, Eleanor Roosevelt: First Lady, Humanitarian, and World Citizen
0 likes
---
I prefer to be true to myself, even at the hazard of incurring the ridicule of others, rather than to be false, and to incur my own abhorrence.
FREDERICK DOUGLASS, Narrative of the Life of Frederick Douglass
0 likes
---
You're always with yourself, so you might as well enjoy the company.
DIANE VON FURSTENBERG, attributed, 1001 Pearls of Wisdom to Build Confidence: Advice and Guidance to Inspire
0 likes
---
Nothing builds self-esteem and self-confidence like accomplishment.
THOMAS CARLYLE, attributed, 1001 Pearls of Wisdom to Build Confidence: Advice and Guidance to Inspire
0 likes
---
I care for myself. The more solitary, the more friendless, the more unsustained I am, the more I will respect myself.
CHARLOTTE BRONTË, Jane Eyre
0 likes
---