SENILITY QUOTES
quotations about senility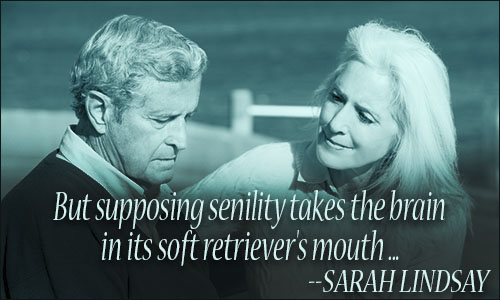 I would like to believe in the myth that we grow wiser with age. In a sense my disbelief is wisdom. Those of a middle generation, if charitable or sentimental, subscribe to the wisdom myth, while the callous see us as dispensable objects, like broken furniture or dead flowers. For the young we scarcely exist unless we are unavoidable members of the same family, farting, slobbering, perpetually mislaying teeth and bifocals.
PATRICK WHITE, Three Uneasy Pieces
2 likes
---
But supposing senility
takes the brain in its soft retriever's mouth
and carries it to be gutted, supposing all
the recent layers plucked away and memory's microscope doors flung wide
for the oldest to come forth: Would third-grade Ruth be missing
and unmissed, or Mary or Brenda, with random trivial comrades,
or would the whole host stagger out, one missing legs, another clothes,
with synthetic pearls for eyes or carrot noses?
Or would each corridor dead-end on a scaly tinfoil mirror
showing nothing but the scowling smear
of some old unfamiliar woman's face?
SARAH LINDSAY, "Aluminum Chlorohydrate"
1 likes
---
I am ... in the prime of senility.
JOEL CHANDLER HARRIS, The Life and Letters of Joel Chandler Harris
1 likes
---
There are three signs of senility. The first sign is that a man forgets his theorems. The second sign is that he forgets to zip up. The third sign is that he forgets to zip down.
STANISLAW ULAM, attributed, The Man Who Loved Only Numbers: The Story of Paul Erdos and the Search for Mathematical Truth
1 likes
---
We'll be friends until we're old and senile, then we'll be new friends.
ANONYMOUS
1 likes
---
The first sign of senility is loss of memory. I forget the other two.
ANONYMOUS
1 likes
---
Senility is not a true medical diagnosis, but a wastebasket term for a range of symptoms.
CHARLES ZASTROW & KAREN KIRST-ASHMAN, Understanding Human Behavior and the Social Environment
1 likes
---
Good students of the aging brain must, therefore, transcend the stereotype with which most Westerners were raised: that senility is inevitable; that anyone who lives long enough will eventually lose his memory, his wit, his mind.
ROBIN MARANTZ HENIG, The Myth of Senility: The Truth About the Brain and Aging
1 likes
---
One advantage of senility is you get to hide your own Easter eggs.
ANONYMOUS
1 likes
---
Hear that lonesome whistle blow
No direction to be known
In a senile revelry
A tearful gaze turns away
Emoting cold and grey
Scented eunuchs
Clothe our wretchedness
Looking back at some dead world
That looks so new
BECK, "Diamond Bollocks"
1 likes
---
I can't wait to be old growing senile together
Holding hands and both completely out of our heads
We won't notice when we're dead
We'll be too busy dreaming too busy dreaming
OF MONTREAL, "An Ode to the Nocturnal Muse"
1 likes
---
Embrace the senile genius
Watch him reinvent the wheel
PAVEMENT, "Old to Begin"
1 likes
---
Sometimes her senility is amusing; we watch her get up and go into the other room and then she forgets why she got up in the first place. We call her name from five feet away and she stares at the wall. It's silly, and we chuckle and go to her and shower love. Other times it is far from amusing, when I realize that the connection we've shared for 14.5 years is slowly being frayed, chewed apart by the senility monster who has no qualms with destroying our heart line.
MARIA BURNHAM, "Life With an Aging Dog", Huffington Post, May 4, 2017
1 likes
---
Young men have a passion for regarding their elders as senile.
HENRY ADAMS, The Education of Henry Adams
0 likes
---
Senility from the perspective of an individual who has prepared for it consciously ... is an altered state of consciousness, which when accepted as a phenomenal opportunity, becomes a school of learning that leads to Physical Immortality and Life Everlasting.
TONI DELGADO, Dancing with Death Thru Senility Into Eternality
0 likes
---
I've decided if I don't go senile when I'm older, I'll just fake it.
ANONYMOUS
0 likes
---
It used to be called "senility" -- the mental deterioration that older people underwent -- as though all old people suffered from it. But that changed. It changed for the realistic reason that elderly people differed greatly in how disoriented they became as they aged. And it changed for the pragmatic reason that, with the graying of America, older Americans didn't want to believe they were destined to lose their ability to function. And, so, what was called senility, a function simply of growing old, was redefined as a disease--dementia. Then it was further refined as Alzheimer's Disease. At first, Alzheimer's was regarded as a subcategory of dementia. But, more and more, the label came to apply to ALL older people who "lost their wits," as the experience used to be described. And, with the greater diseasification, came the hope--the belief--that senility was on the verge of being cured.
STANTON PEELE, "Will We Cure Alzheimer's?", Psychology Today, October 25, 2011
0 likes
---
I don't believe in "senility"--what is frequently called "senility" is actually a dehumanization and depersonalization that is inflicted on people led to believe all their lives that the old get "senile"--and so they become ready victims when presented with such problems as loss of spouse or job, retirement, lessened ability to work, a stroke or heart attack.
JAMES FOLSOM, attributed, Guide to Alzheimer's Disease
0 likes
---
Trying not to look at the jam on his chin, I asked him if there was a cure for senility.
MARY DOWNING HAHN, Daphne's Book
0 likes
---
Senility is an overworked diagnosis.
WALLACE CLAUS MATSEN, Old Is Not a Dirty Word
0 likes
---