SHOPPING QUOTES
quotations about shopping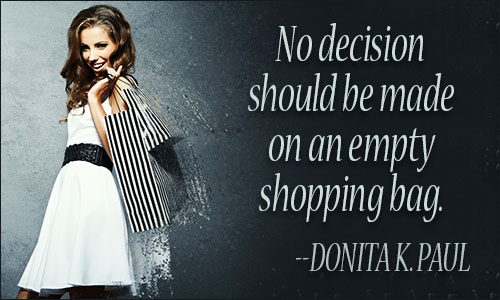 For some, shopping is an art; for others, it's a sport. It can be a vice and it can be a cause. Some love it. Some hate it. Rarely is someone indifferent.
PAMELA KLAFFKE, Spree
4 likes
---
The thing about shopping is that you never know exactly what you are going to find. A shopping experience can be filled with joyous surprises or unexpected pitfalls. No matter how hard you try, you cannot plan every detail of a shopping trip, and you never know exactly how it will end up.
AMANDA FORD, Retail Therapy
3 likes
---
The odds of going to the store for a loaf of bread and coming out with only a loaf of bread are three billion to one.
ERMA BOMBECK, attributed, Women Know Everything!
2 likes
---
Shopping is cheaper than therapy.
ANONYMOUS
2 likes
---
I rationalize shop. I buy a dress because I need change for gum.
RITA RUDNER, official website
1 likes
---
Americans are fascinated by their own love of shopping. This does not make them unique. It's just that they have more to buy than most other people on the planet. And it's also an affirmation of faith in their country, its prosperity and limitless bounty. They have shops the way that lesser countries have statues.
SIMON HOGGART, America: A User's Guide
0 likes
---
Three things to remember about shopping are location, location, location.
MELINDA ADAMS, The Shopping Concierge Las Vegas
0 likes
---
Shopping involves more than just economic considerations like the relationship between material quality and price. There are social, ethical, and political issues embedded in shopping decisions as well. Yet most of us do not give a lot of conscious thought to what can be called the politics of a product.
MICHELE MICHELETTI, Political Virtue and Shopping
0 likes
---
Shopping is often unwittingly used as a technique to bring the self into sharper focus. It is fueled by the belief that the perfect shirt, belt, shoes or sofa will finally supply the answer to who the shopper is and will increase her worth ... Most women are not aware of this latent meaning of shopping, and as a result, they shop unconsciously. This leads to further confusion without getting them the result they are seeking, which is not about the shoes, the shirt or the paint color per se, but about their identities.
EVE ELIOT, Attention Shoppers
0 likes
---
Shopping figures as the antithesis of property in this sense, in that it represents a pure mobility of selves and objects. One moment you are this, have this; the next you move on. In this slide from the compulsory to the compulsive, there are no duties, no continuities, no consequences and no history, only a succession of shopping instants.
RACHEL BOWLBY, Carried Away
0 likes
---
Is there more to life than shopping?
AMANDA FORD, Retail Therapy
0 likes
---
On your deathbed, will you wish you'd spent more prime weekend hours grocery shopping or walking in the woods with your kids?
LOUISE LAGUE, The Working Mom's Book of Hints, Tips, and Everyday Wisdom
0 likes
---
Shopping is better than sex. If you're not satisfied after shopping, you can exchange it for something you really like.
ADRIENNE GUSOFF, attributed, Lipshtick
0 likes
---
I hate to shop. I consider it one of life's necessary evils, like brussels sprouts and high-heeled shoes.
LAURELL K. HAMILTON, Guilty Pleasures
0 likes
---
Men go shopping just as men go out fishing or hunting, to see how large a fish may be caught with the smallest hook.
HENRY WARD BEECHER, Proverbs from Plymouth Pulpit
0 likes
---
When the going gets tough, the tough go shopping!
ANONYMOUS
0 likes
---
I still believe in the Holy Trinity, except now it's Target, Trader Joe's, and IKEA.
JEN LANCASTER, Bright Lights, Big Ass: A Self-Indulgent, Surly, Ex-Sorority Girl's Guide to Why It Often Sucks in the City
0 likes
---
Anyone who believes the competitive spirit in America is dead has never been in a supermarket when the cashier opens another checkout line.
ANN LANDERS, attributed, Quotable Business
0 likes
---
Online shopping: because it's frowned upon to be in a store with no bra, sweatpants and a glass of wine.
ANONYMOUS
0 likes
---
Most guys have about 73 calories of shopping energy, and once these calories are gone, they're gone for the day -- if not the week -- and can't be regenerated simply by having an Orange Julius at the Food Fair.
DOUGLAS COUPLAND, Microserfs
0 likes
---