SHOPPING QUOTES
quotations about shopping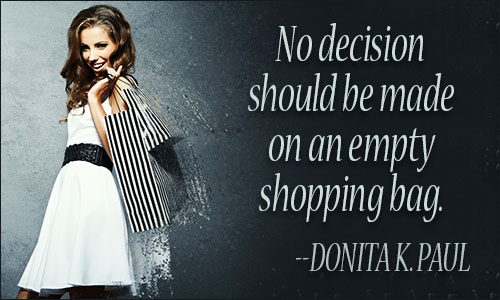 For some, shopping is an art; for others, it's a sport. It can be a vice and it can be a cause. Some love it. Some hate it. Rarely is someone indifferent.
PAMELA KLAFFKE, Spree
6 likes
---
The odds of going to the store for a loaf of bread and coming out with only a loaf of bread are three billion to one.
ERMA BOMBECK, attributed, Women Know Everything!
4 likes
---
The thing about shopping is that you never know exactly what you are going to find. A shopping experience can be filled with joyous surprises or unexpected pitfalls. No matter how hard you try, you cannot plan every detail of a shopping trip, and you never know exactly how it will end up.
AMANDA FORD, Retail Therapy
4 likes
---
Shopping is better than sex. If you're not satisfied after shopping, you can exchange it for something you really like.
ADRIENNE GUSOFF, attributed, Lipshtick
3 likes
---
I rationalize shop. I buy a dress because I need change for gum.
RITA RUDNER, official website
3 likes
---
Take all your problems
And rip 'em apart
Oh oh oh
Carry them off
In a shopping cart
THE WHITE STRIPES, "Little Acorns"
3 likes
---
I went shopping
With a list from A to Z
Everything I needed
For a happy family
Walked through the doors
Give the box boy a smile
Grabbed a silver buggy
And I boogied down the aisle
TONI BASIL, "Shoppin' From A to Z"
3 likes
---
Too many people spend money they haven't earned, to buy things they don't want, to impress people they don't like.
WILL ROGERS, attributed, The Great Entertainers
2 likes
---
No decision should be made on an empty shopping bag.
DONITA K. PAUL, One Realm Beyond
2 likes
---
I've been shopping all my life and still have nothing to wear.
SALLY POPLIN, attributed, The Biteback Dictionary of Humorous Business Quotations
2 likes
---
Shopping is cheaper than therapy.
ANONYMOUS
2 likes
---
Three things to remember about shopping are location, location, location.
MELINDA ADAMS, The Shopping Concierge Las Vegas
1 likes
---
I hate to shop. I consider it one of life's necessary evils, like brussels sprouts and high-heeled shoes.
LAURELL K. HAMILTON, Guilty Pleasures
1 likes
---
I still believe in the Holy Trinity, except now it's Target, Trader Joe's, and IKEA.
JEN LANCASTER, Bright Lights, Big Ass: A Self-Indulgent, Surly, Ex-Sorority Girl's Guide to Why It Often Sucks in the City
1 likes
---
Anyone who believes the competitive spirit in America is dead has never been in a supermarket when the cashier opens another checkout line.
ANN LANDERS, attributed, Quotable Business
1 likes
---
Buy buy says the sign in the shop window
Why why says the in junk in the yard
PAUL MCCARTNEY, "Junk", McCartney
1 likes
---
If men liked shopping, they'd call it research.
CYNTHIA NELMS, attributed, Consumer Behavior: Women and Shopping
1 likes
---
If shopping doesn't make you happy, then you're in the wrong shop.
ANONYMOUS
1 likes
---
I already know what my addiction is
I be looking for labels, I ain't looking for love
I shop for purses while I walk out the door
Don't cry, buy a bag and then get over it
FERGIE, "Labels Or Love"
1 likes
---
My idea of shopping is asking the lovely yet formidable Marcia to pick something up for me while she's out. It never works. "I am not picking out underwear again for you," is her usual response, which is why I have underwear older than my kids.
ANDY HELLER, "Anything but shopping", Daily Press, August 10, 2017
1 likes
---