SILENCE QUOTES
quotations about silence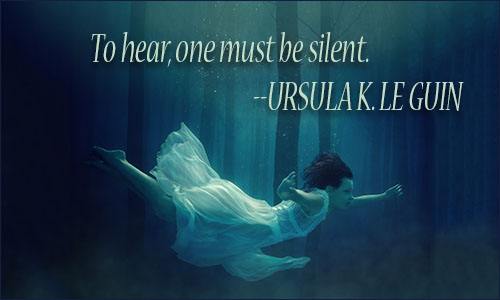 God is the friend of silence. See how nature--trees, flowers, grass--grows in silence; see the stars, the moon, and the sun, how they move in silence.
MOTHER TERESA, A Gift for God
58 likes
---
Silence speaks when words can't.
ANONYMOUS
44 likes
---
Silence is the most powerful scream.
ANONYMOUS
30 likes
---
When you have nothing to say, say nothing.
CHARLES CALEB COLTON, Lacon
26 likes
---
Silence is like a river of grace inviting us to leap unafraid into its beckoning depths. It is dark and mysterious in the waters of grace. Yet in the silent darkness we are given new eyes. In the heart of the divine we can see more clearly who we are. We are renewed and cleansed in this river of silence. There are those among you who fear the Great Silence. It is a foreign land to you. Sometimes it is good to leap into the unknown. Practice leaping.
MACRINA WIEDERKEHR, Seven Sacred Pauses
25 likes
---
If silence is good for the wise, how much better is it for the foolish!
IVAN PANIN, Thoughts
25 likes
---
When the teeth are shut the tongue is at home.
ROBERT LOUIS STEVENSON, "The Touchstone", Fables
21 likes
---
Silence is the speech of love,
The music of the spheres above.
RICHARD HENRY STODDARD, Speech of Love
19 likes
---
Silence about a thing just magnifies it.
TENNESSEE WILLIAMS, Cat on a Hot Tin Roof
14 likes
---
Silence is a great peacemaker.
HENRY WADSWORTH LONGFELLOW, Table-Talk
13 likes
---
Silence: the most beautiful voice.
ANONYMOUS
12 likes
---
When people refuse to speak out for too long, it's like water that's stagnant and starts to rot!
AUGUST STRINDBERG, The Ghost Sonata
10 likes
---
When you become aware of silence, immediately there is that state of inner still alertness. You are present. You have stepped out of thousands of years of collective human conditioning.
ECKHART TOLLE, Stillness Speaks
9 likes
---
To sin by silence, when we should protest,
Makes cowards out of men.
ELLA WHEELER WILCOX, "Protest", Poems of Problems
9 likes
---
Silence is the mother of Truth.
BENJAMIN DISRAELI, Tancred
9 likes
---
Words like violence
Break the silence
Come crashing in
Into my little world
DEPECHE MODE, "Enjoy the Silence"
8 likes
---
Silence is deep as Eternity; speech is shallow as Time.
THOMAS CARLYLE, Critical and Miscellaneous Essays
7 likes
---
Few people can endure silence for long. They must have some expression outside themselves that corresponds to the unrest of the spirit.
JOHN DANIEL BARRY, "Silence", Reactions and Other Essays
7 likes
---
Silence is the virtue of fools.
FRANCIS BACON, De Augmentis Scientiarum
6 likes
---
Silence never betrays you.
JOHN BOYLE O'REILLY, "Rules of the Road"
6 likes
---