SIN QUOTES
quotations about sin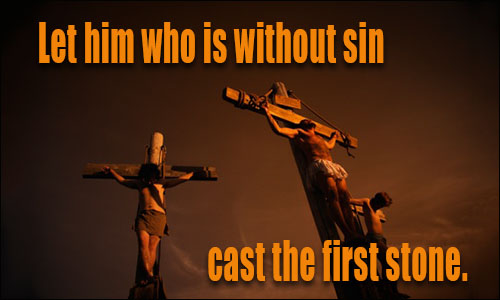 When we love our sin then we are damned indeed.
GRAHAM GREENE, The Power and the Glory
4 likes
---
Liberals and conservatives disagree over what are the most important sins. For conservatives, the sins that matter are personal irresponsibility, the flight from family life, sexual permissiveness, the failure of individuals to work hard. For liberals, the gravest sins are intolerance, a lack of generosity toward the needy, narrow-mindedness toward social and racial minorities.
E.J. DIONNE, JR., The War Against Public Life
3 likes
---
Is it a small thing for sin thus to affect the whole creation? The garden of Gethsemane knows, and Calvary can tell, how sin hath affected even the great Creator. Bread of life, why wast thou hungry? Fountain of life, why wast thou thirsty? Why wast thou a man of sorrows, O thou Consolation of Israel? Thou glory of the human race, wherefore wast thou a reproach of men, and despised of the people? The visage was more marred than any man, and thy form than the sons of men. Sin nailed thee to the cross; sin stabbed thee to the heart; sin, like a thick impenetrable cloud, eclipsed thy Father's countenance to thy disconsolate soul; sin laid thee in a grave, O thou resurrection and the life!
WILLIAM MCEWEN, "On the Great Evil of Sin", Select Essays, Doctrinal & Practical on a Variety of the Most Important and Interesting Subjects in Divinity
3 likes
---
One leak will sink a ship, and one sin will destroy a sinner.
JOHN BUNYAN, The Pilgrim's Progress
2 likes
---
There is no good on earth; and sin is but a name. Come, devil; for to thee is this world given.
NATHANIEL HAWTHORNE, Young Goodman Brown
2 likes
---
Counting other people's sins does not make you a saint.
ANONYMOUS
2 likes
---
They say the devil's water, it ain't so sweet
You don't have to drink right now
But you can dip your feet
Every once in a little while
THE KILLERS, "When You Were Young", Sam's Town
2 likes
---
Repentance is but want of power to sin.
JOHN DRYDEN, Palamon and Arcite
1 likes
---
By the sympathy of your human hearts for sin ye shall scent out all the places -- whether in church, bedchamber, street, field, or forest -- where crime has been committed, and shall exult to behold the whole earth one stain of guilt, one mighty blood spot.
NATHANIEL HAWTHORNE, Young Goodman Brown
1 likes
---
The only way to get rid of a temptation is to yield to it.
OSCAR WILDE, The Picture of Dorian Gray
1 likes
---
Think gently of the erring:
Oh! do not thou forget,
However darkly stained by sin
He is thy brother yet.
JULIA CARNEY, "Think Gently of the Erring"
1 likes
---
Sometimes we keep the sin in our lives well protected, guarded, covered over with lies. Sometimes we are not free enough to own our sin, so we cannot be healed of it. An unacknowledged wound cannot be healed.
MACRINA WIEDERKEHR, Seasons of Your Heart
1 likes
---
Like hairs on the head, mortal man is joined to Jesus Christ, the head of all, but they are full of transgressions and sins because of man's delight in the flesh. But the Church regenerates and purifies these from the unclean stench and filth of sin by penitence and confession, just as hair is cleansed from dew and drops, and as dust is shaken out and cleansed from wool.
HILDEGARD OF BINDEN, letter to the Abbot, c. 1166
1 likes
---
And when I fall, the first time especially, what a light I have on myself! I thought I was strong, that gross temptation would not move me, that I would be faithful in all sorts of environment. I am down--in the dirt--I know myself now! But I know God, too, as I did not before, now I know the radiance of the shadowless light, I know now what sin is.
CARYLL HOUSELANDER, This War is the Passion
1 likes
---
Sin is its own punishment, devouring you from the inside.
WM. PAUL YOUNG, The Shack
1 likes
---
Let him who is without sin cast the first stone.
BIBLE, John 8:7
1 likes
---
Our justification from sins takes place at the point of saving faith, not at the point of water baptism, which usually occurs later. But if a person is already justified and has sins forgiven eternally at the point of saving faith, then baptism is not necessary for forgiveness of sins nor for the bestowal of new spiritual life. Baptism, then, is not necessary for salvation. But it is necessary if we are to be obedient to Christ, for he commanded baptism for all who believe in him.
WAYNE GRUDEM, Bible Doctrine
0 likes
---
Really to sin you have to be serious about it.
HENRIK IBSEN, Peer Gynt
0 likes
---
There are worse things than a lie ... I have found ... that it may be well to choose one sin in order that another may be shunned.
ANTHONY TROLLOPE, Doctor Wortle's School
0 likes
---
Pleasure's a sin, and sometimes sin's a pleasure.
LORD BYRON, Don Juan
0 likes
---