SINGING QUOTES
quotations about singing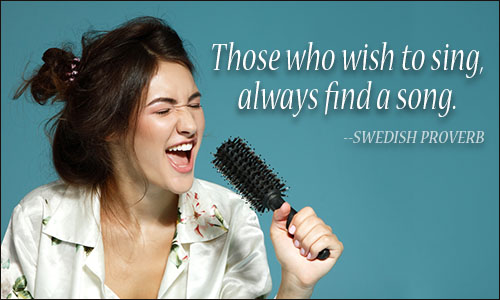 Singing is one of the most organic forms of humanity.
JOE STEWART, "To hear a soul", Michigan City News-Dispatch, August 31, 2017
5 likes
---
I'm singing in the rain
Just singin' in the rain
What a glorious feeling
I'm happy again
ARTHUR FREED, "Singin' in the Rain"
5 likes
---
Those who wish to sing, always find a song.
SWEDISH PROVERB
4 likes
---
And all meet in singing, which braids together the different knowings into a wide and subtle music, the music of living.
ALISON CROGGON, The Naming
3 likes
---
If I cannot fly,
Let me sing.
STEPHEN SONDHEIM, Sweeney Todd
2 likes
---
I'd like to teach the world to sing
In perfect harmony, that's the song I hear
BILL BACKER, BILLY DAVIS, ROGER COOK & ROGER GREENAWAY, "I'd Like to Teach the World to Sing"
2 likes
---
Singing is a natural outgrowth of time spent in revelry.
ADAM REINWALD, "Like singing? Like beer? St. Paul's own Beer Choir is brewing", Twin Cities Pioneer Press, December 22, 2017
2 likes
---
God respects me when I work, but he loves me when I sing.
RABINDRANATH TAGORE, attributed, Splendors of the Pearl
1 likes
---
Sing, sing a song
Make it simple to last
Your whole life long
Don't worry that it's not
Good enough for anyone
Else to hear
Just sing, sing a song.
JOE RAPOSO, "Sing"
1 likes
---
God sent his Singers upon earth
With songs of sadness and of mirth,
That they might touch the hearts of men,
And bring them back to heaven again.
HENRY WADSWORTH LONGFELLOW, The Singers
1 likes
---
Then the singing enveloped me. It was furry and resonant, coming from everyone's very heart. There was no sense of performance or judgment, only that the music was breath and food.
ANNE LAMOTT, Traveling Mercies: Some Thoughts on Faith
1 likes
---
His tongue is now a stringless instrument.
WILLIAM SHAKESPEARE, Richard II
1 likes
---
As long as I'm singing,
There's a bell up in my brain that's ringing,
Makin' a crazy 'ding dong'.
And if this band don't desert me,
Then there's nothin' in the world can hurt me,
Long as I'm singing my song.
WAYNE NEWTON, "As Long As I'm Singing"
1 likes
---
Singing is a rough business. Every vocal performance involves hundreds of thousands of micro-collisions in the throat.
USAMA RASHEED, "Bits 'N' Pieces", The International News, September 1, 2017
1 likes
---
Singing is a beautiful art, don't make it ugly.
TONY BENNETT, "Tony Bennett: I left my heart all over the world, not just San Francisco!", The Sunday Post, August 4, 2017
1 likes
---
It is the best of all trades, to make songs, and the second best to sing them.
HILAIRE BELLOC, On Everything
0 likes
---
Not to say that music today doesn't have heart, but it's really few and far between because technology has advanced itself so much that anybody can be a singer. Back in the day, you had to know how to sing.
CHRISTINA AGUILERA, People Magazine Online, July 21, 2006
0 likes
---
For me the visual is just as important as the music. I would never record without my red lipstick. It was my way of getting into character, sort of like Method singing.
CHRISTINA AGUILERA, International Herald Tribune, July 28, 2006
0 likes
---
A song can be more than words and music ... when sung with soul a song carries you to another world, to a place where no matter how much pain you feel, you are never alone.
CLAY AIKEN, Learning to Sing: Hearing the Music in Your Life
0 likes
---
He who sings prays twice.
ST. AUGUSTINE, Sermons
0 likes
---