SINGING QUOTES
quotations about singing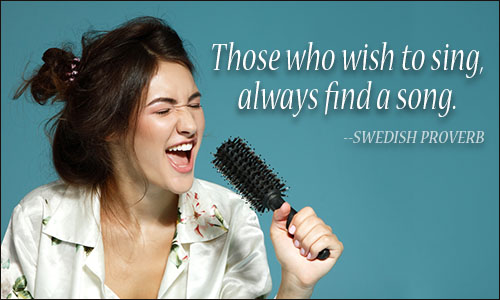 If I cannot fly,
Let me sing.
STEPHEN SONDHEIM, Sweeney Todd
1 likes
---
It is the best of all trades, to make songs, and the second best to sing them.
HILAIRE BELLOC, On Everything
0 likes
---
Those who wish to sing, always find a song.
SWEDISH PROVERB
0 likes
---
Not to say that music today doesn't have heart, but it's really few and far between because technology has advanced itself so much that anybody can be a singer. Back in the day, you had to know how to sing.
CHRISTINA AGUILERA, People Magazine Online, July 21, 2006
0 likes
---
For me the visual is just as important as the music. I would never record without my red lipstick. It was my way of getting into character, sort of like Method singing.
CHRISTINA AGUILERA, International Herald Tribune, July 28, 2006
0 likes
---
A song can be more than words and music ... when sung with soul a song carries you to another world, to a place where no matter how much pain you feel, you are never alone.
CLAY AIKEN, Learning to Sing: Hearing the Music in Your Life
0 likes
---
God respects me when I work, but he loves me when I sing.
RABINDRANATH TAGORE, attributed, Splendors of the Pearl
0 likes
---
He who sings prays twice.
ST. AUGUSTINE, Sermons
0 likes
---
Singing lessons are like body building for your larynx.
BERNADETTE PETERS, New York Times, September 20, 1985
0 likes
---
Such a price
The Gods exact for song;
To become what we sing.
MATTHEW ARNOLD, "The Strayed Reveller to Ulysses"
0 likes
---
Sing, sing a song
Make it simple to last
Your whole life long
Don't worry that it's not
Good enough for anyone
Else to hear
Just sing, sing a song.
JOE RAPOSO, "Sing"
0 likes
---
The softer you sing, the louder you're heard.
DONOVAN, Rolling Stone, November 9, 1967
0 likes
---
It doesn't matter if your days are long (Sing!)
It doesn't matter if your night's gone wrong (Sing!)
Just clap your hands and stomp your feet and sing it (Whoa, sing!)
It doesn't matter if he let you go (Sing!)
It doesn't matter if she hurt you so (Sing!)
Get up and dance, just feel that beat and sing it (Whoa, sing!)
PENTATONIX, "Sing"
0 likes
---
This is for us who sing, write, dance, act, study, run and love and this is for doing it even if no one will ever know because the beauty is in the act of doing it, not in what it can lead to.
CHARLOTTE ERIKSSON, FaceBook post, September 17, 2015
0 likes
---
I'd like to teach the world to sing
In perfect harmony, that's the song I hear
BILL BACKER, BILLY DAVIS, ROGER COOK & ROGER GREENAWAY, "I'd Like to Teach the World to Sing"
0 likes
---
God sent his Singers upon earth
With songs of sadness and of mirth,
That they might touch the hearts of men,
And bring them back to heaven again.
HENRY WADSWORTH LONGFELLOW, The Singers
0 likes
---
So she poured out the liquid music of her voice to quench the thirst of his spirit.
NATHANIEL HAWTHORNE, Mosses from an Old Manse
0 likes
---
He who sings scares away his woes.
MIGUEL DE CERVANTES, The Ingenious Gentleman Don Quixote of La Mancha
0 likes
---
For the love you bring won't mean a thing
Unless you sing, sing, sing, sing
TRAVIS, "Sing", The Invisible Band
0 likes
---
Sing, I tell you And all the angels will sing with you!
SUZY KASSEM, "The Four Heavenly Fountains", Rise Up and Salute the Sun
0 likes
---