SKYDIVING QUOTES
quotations about skydiving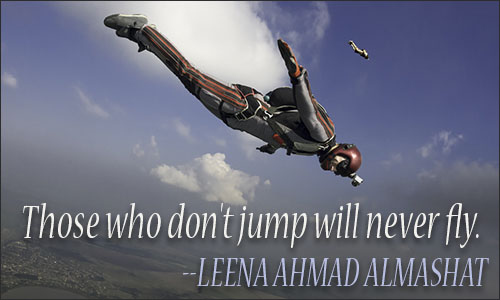 I've never been skydiving, but I have zoomed-in on Google Earth really fast.
ANONYMOUS
4 likes
---
To the skydiver, "flying" in a plane is akin to "swimming" in a boat; they live for the wind whipping past as they plummet toward the earth during freefall, and the thrill of floating on the air currents once their 'chutes are safely open. They live on the edge, though not in danger -- amid the elements, but not at their mercy.
RAY BANGS & CHRIS BECKER, 52 Great Weekend Escapes in Southern California
4 likes
---
Any idiot can fly a plane, but it takes a special kind of idiot to jump out of one.
ANONYMOUS
3 likes
---
If at first you don't succeed, skydiving is not for you.
ANONYMOUS
3 likes
---
You swallow hard, thinking to yourself, 'It must be all right, thousands of people have done it before.' Then... 'But this time it's me -- that's the difference!'
CHARLES SHEA-SIMONDS, Sport Parachuting
2 likes
---
How does a blind parachutist know when to open his chute? When the lead on his guide dog goes slack.
ANONYMOUS
2 likes
---
You know what they say about skydivers, right? There are old skydivers and bold skydivers, but there are no old, bold skydivers.
JEFF WUORIO, How to Buy and Sell Just About Everything
1 likes
---
If skydiving were safe, the parachute center would not require you to sign a waiver.
DAN POYNTER, Expert Witness Handbook
1 likes
---
The skydiving experience isn't without a myriad of perks: you'll receive a photograph of yourself taken upon mid-air exit of the aircraft, with your face hideously contorted into a look of abject horror. You'll also get a personal logbook completed by your instructor charting the details of each jump, and you'll be presented with a much-deserved certificate of achievement. A video service is available too, but best of all, you'll have a sensational reserve of cocktail chatter for months to come!
MATT MARANIAN, L.A. Bizzaro!
1 likes
---
In skydiving, it is the fear response that gradually weakens. During the precipitous descent, the amply tested parachutist can savor the thrill rather than endure the panic.
DEAN KEITH SIMONTON, Greatness
1 likes
---
There is an art ... or rather, a knack to flying. The knack lies in learning how to throw yourself at the ground and miss.
DOUGLAS ADAMS, Life, the Universe and Everything
1 likes
---
Out of ten thousand feet of fall, always remember that the last half inch hurts the most.
CHARLES W. PURCELL, "How to Jump from a Spinning Ship", Flying Magazine, June 1931
1 likes
---
Skydiving is a cheap sport to begin, but once it takes hold of you, you'll be spending 20 percent of your income.
ANONYMOUS
1 likes
---
I suspected skydiving was dangerous when they asked me to sign a waiver. They confirmed my suspicions when they asked me to pay in advance.
ANONYMOUS
1 likes
---
You know you're a skydiver when ... every time someone's beeper goes off you look at your watch to see if it's break-off altitude.
ANONYMOUS
1 likes
---
Those who don't jump will never fly.
LEENA AHMAD ALMASHAT, attributed, Triathlon: Swim, Bike, Ride
1 likes
---
Some guy once told me that skydiving is like cutting your throat and seeing if you can get to the doctor before you bleed to death.
BROCK YATES, Sunday Driver
0 likes
---
Skydiving changed my mindset. I went home and told our children they could do anything and do it well.
BONNIE ROSS-PARKER, Walk in My Boots
0 likes
---
If I could stand in an open airplane doorway two-and-a-half miles above the ground and will myself to step into empty space, then I could do anything.
DAVE STEIN, How Winners Sell
0 likes
---
Skydivers: good to the last drop.
ANONYMOUS
0 likes
---