SMILING QUOTES
quotations about smiles and smiling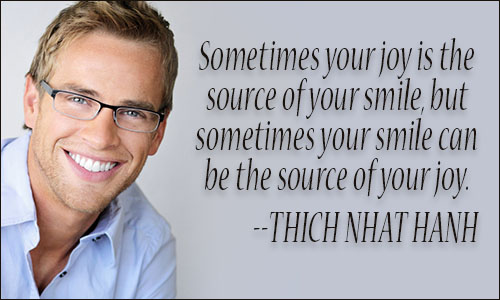 A smile is a curve that sets everything straight.
PHYLLIS DILLER, attributed, Laffirmations
3 likes
---
You're never fully dressed without a smile.
MARTIN CHARNIN, "You're Never Fully Dressed Without a Smile", Annie
3 likes
---
One may smile, and smile, and be a villain.
WILLIAM SHAKESPEARE, Hamlet
2 likes
---
If you smile when no one else is around, you really mean it.
ANDY ROONEY, "A Few Words from Andy Rooney: A Face of America Commentary"
2 likes
---
Sometimes your joy is the source of your smile, but sometimes your smile can be the source of your joy.
THICH NHAT HANH, attributed, The Reiki Teachers Guidebook
2 likes
---
Beauty is power; a smile is its sword.
CHARLES READE, White Lies
1 likes
---
If we smile at someone, he or she will smile back. And a smile costs nothing. We should plague everyone with joy.
SWAMI SATCHIDANANDA, The Yoga Sutras
1 likes
---
A man I knew who lived upon a smile,
And well it fed him; he look'd plump and fair
EDWARD YOUNG, Night Thoughts
1 likes
---
What sunshine is to flowers, smiles are to humanity. These are but trifles, to be sure; but scattered along life's pathway, the good they do is inconceivable.
JOSEPH ADDISON, attributed, Wisdom for the Soul: Five Millennia of Prescriptions for Spiritual Healing
1 likes
---
One smile has the power to ...
Calm fears.
Soften stone walls.
Warm a cold heart.
Invite a new friend.
Mimic a loving hug.
Beautify the bearer.
Lighten heavy loads.
Promote good deeds.
Brighten a gloomy day.
Comfort a grieving spirit.
Offer hope to the forlorn.
Send a message of caring.
Lift the downtrodden soul.
Patch up invisible wounds.
Weaken the hold of misery.
Act as medicine for suffering.
Attract the companionship of angels.
Fulfill the human need for recognition.
Who knew changing the world would prove so simple?
RICHELLE E. GOODRICH, Smile Anyway: Quotes, Verse, & Grumblings for Every Day of the Year
1 likes
---
The man who falls in love with a smile often makes the mistake of marrying the rest of the girl.
EVAN ESAR, 20,000 Quips & Quotes
1 likes
---
You can only hold a smile for so long, after that it's just teeth.
CHUCK PALAHNIUK, Invisible Monsters
1 likes
---
If laughter is the daylight of the soul, a smile is its twilight.
BENJAMIN BRANDRETH, attributed, Day's Collacon
1 likes
---
She smiled, and there it was again, that aching pressure in his chest. Love, or a heart attack. Kind of the same thing.
KRISTAN HIGGINS, Somebody to Love
1 likes
---
Anyone can smile on their best day. I like to meet a man who can smile on his WORST.
LAUREN GRAHAM, Someday, Someday, Maybe
1 likes
---
'Cause baby
You smile
I smile
Whoa
'Cause whenever
You smile
I smile
Hey, hey, hey
JUSTIN BIEBER, "U Smile"
1 likes
---
Smile for me
And I'll become the girl you want to see
No, there's nothing that I can't be
If you'll just smile for me
OLIVIA NEWTON JOHN, "Smile For Me"
1 likes
---
If we are not able to smile, then the world will not have peace.
THICH NHAT HANH, Being Peace
0 likes
---
Smile
As you find a rhythm
Working you, slow mile by mile,
Into your proper haunt.
SEAMUS HEANEY, Casualty
0 likes
---
I never smile when I have a bat in my hands. That's when you've got to be serious.
HANK AARON, attributed, Baseball's Greatest Quotations
0 likes
---