SMILING QUOTES
quotations about smiles and smiling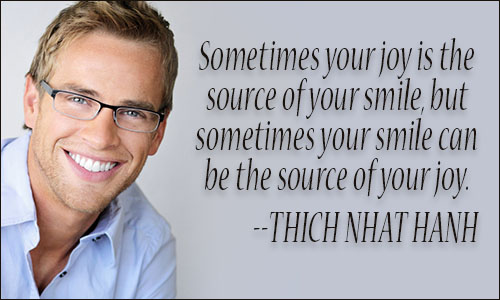 A smile is a curve that sets everything straight.
PHYLLIS DILLER, attributed, Laffirmations
1 likes
---
If we are not able to smile, then the world will not have peace.
THICH NHAT HANH, Being Peace
0 likes
---
One may smile, and smile, and be a villain.
WILLIAM SHAKESPEARE, Hamlet
0 likes
---
Smile
As you find a rhythm
Working you, slow mile by mile,
Into your proper haunt.
SEAMUS HEANEY, Casualty
0 likes
---
I never smile when I have a bat in my hands. That's when you've got to be serious.
HANK AARON, attributed, Baseball's Greatest Quotations
0 likes
---
A smile will gain you ten more years of life.
CHINESE PROVERB
0 likes
---
A good smile is the sunshine of wisdom.
HOSEA BALLOU, Treasury of Thought
0 likes
---
If you smile when no one else is around, you really mean it.
ANDY ROONEY, "A Few Words from Andy Rooney: A Face of America Commentary"
0 likes
---
Sometimes when you smile, it's not because you're happy. It's because you're strong.
PAMELA ANDERSON, speech at official launch of the Pamela Anderson Foundation, May 16, 2014
0 likes
---
When life gives you a hundred reasons to cry, show life that you have a thousand reasons to smile.
CARMELO ANTHONY, Twitter post, March 7, 2014
0 likes
---
Beauty is power; a smile is its sword.
CHARLES READE, White Lies
0 likes
---
Her smile was a bite, and I was its target.
YEVGENY ZAMYATIN, We
0 likes
---
We human beings are very proud of being the only animals that can smile. And yet we don't show a very proper appreciation of our gift. Though we may realize its magical qualities, we often fail at the critical moment to use them. For example, we may know that when we have to choose between smiling and frowning the consequences will greatly affect our own peace of mind. If we frown we shall be further involved in trouble. If we smile we may obviate the trouble.
JOHN DANIEL BARRY, "Smiling", Intimations
0 likes
---
For smiling, to do good, either to those who smile or to those who look on, must convey kindly feeling. There are those whose smiles are almost terrifying. They can express many kinds of ill feeling, including dislike, resentment, suspicion, cruelty. Then there are smiles that are puzzling, that sometimes create uneasiness. These smiles are often called "enigmatical." The smile on the face of the Mona Lisa is of this kind. It makes some people uncomfortable. And we all know the truth of Shakespeare's saying that a man may smile and smile and be a villain still. And yet we all believe that this kind of smiling is sure to betray itself. In it there can't be anything wholesome, anything that would help to uplift the spirit.
JOHN DANIEL BARRY, "Smiling", Intimations
0 likes
---
If we smile at someone, he or she will smile back. And a smile costs nothing. We should plague everyone with joy.
SWAMI SATCHIDANANDA, The Yoga Sutras
0 likes
---
A man I knew who lived upon a smile,
And well it fed him; he look'd plump and fair
EDWARD YOUNG, Night Thoughts
0 likes
---
A smile is a blanket that covers the face to keep it warm.
GREGORY WILSON, I Shall Sing and Dance in the Rain
0 likes
---
You're never fully dressed without a smile.
MARTIN CHARNIN, "You're Never Fully Dressed Without a Smile", Annie
0 likes
---
What sunshine is to flowers, smiles are to humanity. These are but trifles, to be sure; but scattered along life's pathway, the good they do is inconceivable.
JOSEPH ADDISON, attributed, Wisdom for the Soul: Five Millennia of Prescriptions for Spiritual Healing
0 likes
---
Smiles form the channels of a future tear.
LORD BYRON, Childe Harold's Pilgrimage
0 likes
---