SPONTANEITY QUOTES
quotations about spontaneity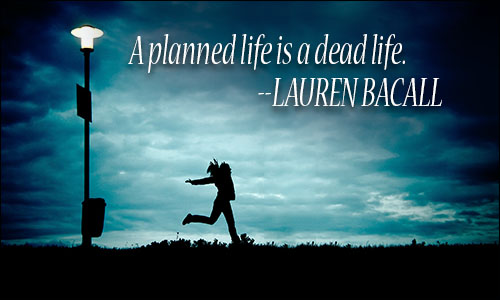 A planned life is a dead life.
LAUREN BACALL, interview, August 2005
1 likes
---
Being spontaneous at times is a must. Being spontaneous all the time is a crazy person.
RYAN HANSEN, attributed, IMDb
1 likes
---
Something just flashes into your mind, so exciting, and you must out with it. If you stop to think it over, you spoil it all.
LUCY MAUD MONTGOMERY, Anne of Green Gables
1 likes
---
No matter how many plans you make or how much in control you are, life is always winging it.
CARROLL BRYANT, blog post, September 19, 2012
1 likes
---
Whatsoever stirs the stagnant currents, setting these flowing in wholesome directions, promotes brisk spirits and productive thinking. The less of routine, the more of life.
AMOS BRONSON ALCOTT, Table Talk
0 likes
---
Lookin' for adventure
And whatever comes our way.
MARS BONFIRE, "Born to Be Wild"
0 likes
---
Why not seize the pleasure at once? -- How often is happiness destroyed by preparation, foolish preparation!
JANE AUSTEN, Emma
0 likes
---
Through spontaneity we are re-formed into ourselves.
VIOLA SPOLIN, Improvisation for the Theater
0 likes
---
It looks absurd and contradictory, because for you to be spontaneous many methods are needed to purify you, to make you innocent so that you can be spontaneous. Otherwise you cannot be spontaneous in anything.
OSHO, The Book of Secrets
0 likes
---
The quest for spontaneity is the process of allowing the uniquely personal features -- the cipher, the "I" -- to emerge in the personality, and this is a challenge that confronts all of us.
GEMMA CORRADI FIUMARA, Spontaneity: A Psychoanalytic Inquiry
0 likes
---
Wheels have been set in motion, and they have their own pace, to which we are ... condemned. Each move is dictated by the previous one -- that is the meaning of order. If we start being arbitrary it'll just be a shambles: at least, let us hope so. Because if we happened, just happened to discover, or even suspect, that our spontaneity was part of their order, we'd know that we were lost.
TOM STOPPARD, Rosencrantz and Guildenstern are Dead
0 likes
---
Spontaneity is one of the most important of human assets or skills. Without spontaneity we cannot love, communicate, make decisions, or be creative. Without spontaneity we cannot cope. We fail to recognize problems, to see alternatives, to make choices or to act on them. At times an inability to respond spontaneously can endanger survival. This is true on both the personal and societal level.
MARY W. NICHOLAS, Change in the Context of Group Therapy
0 likes
---
Spontaneity is not mere impulse ... undeliberated behavior and feeling.... Spontaneity is behavior, feeling and thought that is free of external constraint, of imposed restriction ... not an uncontrolled effluvium of passion and action.... Insofar as the individual removes the fetters of domination that have stifled her or his self-activity, she or he is acting, feeling and thinking spontaneously.
MURRAY BOOKCHIN, Liberation
0 likes
---
What does it matter whether we have free will or not as long as it feels as though we do? It may well be preordained when I sneeze but it will feel spontaneous, so, as far as I am concerned, spontaneous it will be.
TREVOR BAXTER, Lord Arthur Savile's Crime
0 likes
---
The growth of the intellect is spontaneous in every expansion; the mind that grows could not predict the time, the means, the mode of that spontaneity; God enters by a private door into every individual.
RALPH WALDO EMERSON, "Intellect", Essays
0 likes
---
Being spontaneous is being able to respond with confidence; calmly trusting that, whatever the outcome, you will have a positive if challenging experience that will lead to greater self-awareness and success.
SYLVIA CLARE, Trusting Your Intuition: Rediscover Your True Self to Achieve a Richer, More Rewarding Life
0 likes
---
Spontaneity, left to itself, can begin by excusing bad behavior and end by congratulating vice.
N. T. WRIGHT, After You Believe
0 likes
---
If you follow a recipe for life, spontaneity will be cooked.
KHANG KIJARRO NGUYEN, Caribbean College of Consciousness
0 likes
---
Creativity arises out of the tension between spontaneity and limitations, the latter (like the river banks) forcing the spontaneity into the various forms which are essential to the work of art.
ROLLO MAY, The Courage to Create
0 likes
---
Some of the most thrilling things in life are done on impulse.
SYRIE JAMES, The Missing Manuscript of Jane Austen
0 likes
---