SPRING QUOTES
quotations about spring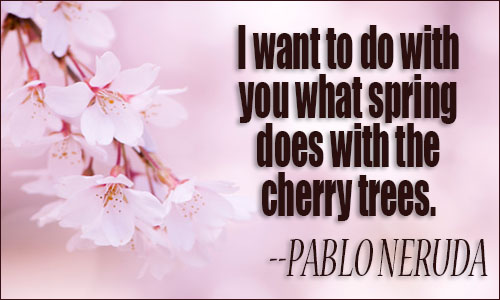 Spring is nature's way of saying, "Let's party!"
ROBIN WILLIAMS, Woman's Day Magazine, April 1, 2007
7 likes
---
Spring is when you feel like whistling even with a shoe full of slush.
DOUG LARSON, Woman's Day Magazine, April 1, 2007
4 likes
---
I want to do with you what spring does with the cherry trees.
PABLO NERUDA, "Every Day You Play"
4 likes
---
When spring came, even the false spring, there were no problems except where to be happiest.
ERNEST HEMINGWAY, A Moveable Feast
4 likes
---
You can never hold back spring
You can be sure
I will never stop believing
The blushing rose that will climb
Spring ahead or fall behind
Winter dreams the same dream every time
Baby you can never hold back spring
TOM WAITS, "You Can Never Hold Back Spring"
4 likes
---
always
it's
spring
and everyone's
in love and flowers pick themselves
e. e. cummings, Tulips & Chimneys
3 likes
---
Only to children children sing,
Only to youth will spring be spring.
RALPH WALDO EMERSON, The Harp
2 likes
---
Tantarrara! the joyous Book of Spring
Lies open, writ in blossoms.
WILLIAM ALLINGHAM, "Daffodil"
2 likes
---
The clamours of spring are the same old delicate noises,
The earth renews its magical youth at a breath.
ARTHUR SYMONS, "The Coming of Spring"
1 likes
---
Every April God rewrites the Book of Genesis.
AUSTIN O'MALLEY, Keystones of Thought
1 likes
---
Then the grass at your door grows into the color of the sprouting grain, and the buds upon the lilacs swell and burst. The peaches bloom upon the wall, and the plums wear bodices of white. The sparkling oriole picks string for his hammock on the sycamore, and the sparrows twitter in pairs. The old elms throw down their dingy flowers, and color their spray with green; and the brooks, where you throw your worm or the minnow, float down whole fleets of the crimson blossoms of the maple. Finally the oaks step into the opening quadrille of spring, with grayish tufts of a modest verdure, which by-and-by will be long and glossy leaves. The dogwood pitches his broad, white tent in the edge of the forest; the dandelions lie along the hillocks, like stars in a sky of green; and the wild cherry, growing in all the hedge-rows, without other culture than God's, lifts up to Him thankfully its tremulous white fingers.
DONALD G. MITCHELL, "Spring", Dream Life: A Fable of the Seasons
1 likes
---
Spring as concept raged in upon us, a somber tide of longing. Its advent roused the passions of those nameless multitudes fallen between the cracks of the city, sweeping them noiselessly toward the quicksands of futility.
HARUKI MURAKAMI, Dance, Dance, Dance
1 likes
---
The sparkling spring draws every day new colors, new insects, new flowers, out of the earth.
JOHANN PAUL RICHTER, attributed, Day's Collacon
1 likes
---
Once there was a thing called spring
When the world was writing verses like yours and mine
All the lads and girls would sing
When we sat at little tables and drank May wine
Now April, May, and June are sadly out of tune
Life has stuck a pin in the balloon
Spring is here! Why doesn't my heart go dancing?
Spring is here! Why isn't the waltz entrancing?
No desire, no ambition leads me
Maybe it's because nobody needs me?
Spring is here! Why doesn't the breeze delight me?
Stars appear! Why doesn't the night invite me?
Maybe it's because nobody loves me
Spring is here, I hear!
FRANK SINATRA, "Spring Is Here"
1 likes
---
In the spring,
at the end of the day,
you should smell like dirt.
MARGARET ATWOOD, Woman's Day Magazine, April 1, 2007
0 likes
---
If we had no winter, the spring would not be so pleasant: if we did not sometimes taste of adversity, prosperity would not be so welcome.
ANNE BRADSTREET, Meditations Divine and Moral
0 likes
---
Daughter of Heaven and Earth, coy Spring,
With sudden passion languishing,
Teaching Barren moors to smile,
Painting pictures mile on mile,
Holds a cup with cowslip-wreaths,
Whence a smokeless incense breathes.
RALPH WALDO EMERSON, May-Day
0 likes
---
All things seem mention of themselves
And the names which stem from them branch out to other referents.
Hugely, spring exists again.
JOHN ASHBERY, "Grand Galop"
0 likes
---
Spring is strong and virtuous,
Broad-sowing, cheerful, plenteous,
Quickening underneath the mould
Grains beyond the price of gold.
So deep and large her bounties are,
That one broad, long midsummer day
Shall to the planet overpay
The ravage of a year of war.
RALPH WALDO EMERSON, May-Day
0 likes
---
For thou, O Spring! canst renovate
All that high God did first create.
RALPH WALDO EMERSON, May-Day
0 likes
---