STAR QUOTES
quotations about stars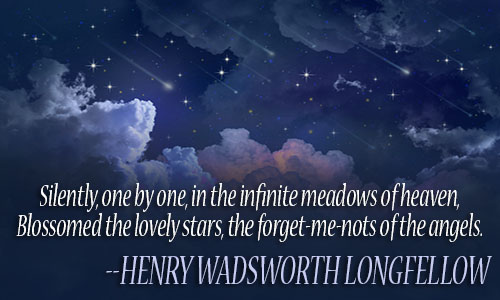 I have loved the stars too fondly to be fearful of the night.
SARAH WILLIAMS, Twilight Hours: A Legacy of Verse
6 likes
---
Silently, one by one, in the infinite meadows of heaven,
Blossomed the lovely stars, the forget-me-nots of the angels.
HENRY WADSWORTH LONGFELLOW, Evangeline
5 likes
---
One of the most poetic facts I know about the universe is that essentially every atom in your body was once inside a star that exploded. Moreover, the atoms in your left hand probably came from a different star than did those in your right hand. We are all, literally, star children, and our bodies made of stardust.
LAWRENCE M. KRAUSS, A Universe from Nothing
5 likes
---
Moon and stars, the draping light
Of the love-wreathed couch of night.
EDWIN LEIBFREED, "Diana"
3 likes
---
The stars know everything,
So we try to read their minds.
As distant as they are,
We choose to whisper in their presence.
CHARLES SIMIC, "autumn sky", The Voice at 3:00 A.M.
3 likes
---
The humblest star twinkles most in the darkest night.
JOHANN KASPAR LAVATER, Aphorisms on Man
3 likes
---
I looked up at the mass of signs and stars in the night sky and laid myself open for the first time to the benign indifference of the world.
ALBERT CAMUS, The Stranger
2 likes
---
There are stars, stars, scattered stars, blackness all between. They ripple and fold and bend, and they rush toward him, rush by him. Their colors are blazing and pure as angels' eyes.
ROGER ZELAZNY, Creatures of Light and Darkness
2 likes
---
What are ye orbs?
The words of God? the Scriptures of the skies?
PHILIP JAMES BAILEY, Festus
2 likes
---
To our eyes the stars seem small; but the littleness is not the fault of the stars, but of our eyes.
AL-MAARRI, attributed, Day's Collacon
2 likes
---
We are all creatures of the stars and their forces, they make us, we make them, we are part of a dance from which we by no means and not ever may consider ourselves separate.
DORIS LESSING, Shikasta
1 likes
---
PUMBAA: Hey, Timon, ever wonder what those sparkly dots are up there?
TIMON: Pumbaa, I don't wonder; I know.
PUMBAA: Oh. What are they?
TIMON: They're fireflies. Fireflies that, uh... got stuck up on that big bluish-black thing.
PUMBAA: Oh, gee. I always thought they were balls of gas burning billions of miles away.
TIMON: Pumbaa, with you, everything's gas.
LINDA WOOLVERTON, IRENE MECCHI & JONATHAN ROBERTS, The Lion King
1 likes
---
The nitrogen in our DNA, the calcium in our teeth, the iron in our blood, the carbon in our apple pies were made in the interiors of collapsing stars. We are made of starstuff.
CARL SAGAN, Cosmos
1 likes
---
There is no easy way from the earth to the stars.
LUCIUS ANNAEUS SENECA, Hercules Furens
1 likes
---
Underground, the stars are legend.
CATHERINE FISHER, Incarceron
1 likes
---
If the stars should appear one night in a thousand years, how would men believe and adore; and preserve for many generations the remembrance of the city of God which had been shown! But every night come out these envoys of beauty, and light the universe with their admonishing smile.
RALPH WALDO EMERSON, Nature and Selected Essays
1 likes
---
Many a night I saw the Pleiads, rising thro' the mellow shade,
Glitter like a swarm of fire-flies tangled in a silver braid.
ALFRED TENNYSON, Locksley Hall
1 likes
---
When I gaze into the stars, they look down upon me with pity from their serene and silent spaces, like eyes glistening with tears over the little lot of man; thousands of generations, all as noisy as our own, have been swallowed up by time, and there remains no record of them any more.
THOMAS CARLYLE, attributed, The Ladies Companion, 1853
1 likes
---
Moonlight drowns out all but the brightest stars.
J. R. R. TOLKIEN, The Lord of the Rings
1 likes
---
A broad and ample road, whose dust is gold,
And pavement stars.
JOHN MILTON, Paradise Lost
1 likes
---