STAR QUOTES
quotations about stars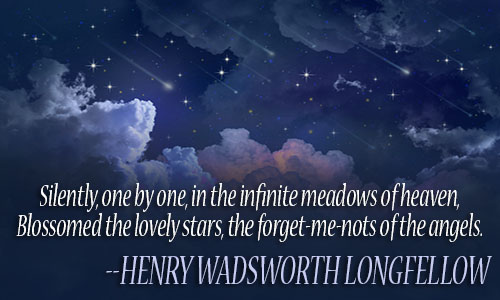 There are stars, stars, scattered stars, blackness all between. They ripple and fold and bend, and they rush toward him, rush by him. Their colors are blazing and pure as angels' eyes.
ROGER ZELAZNY, Creatures of Light and Darkness
1 likes
---
The humblest star twinkles most in the darkest night.
JOHANN KASPAR LAVATER, Aphorisms on Man
1 likes
---
If the stars should appear one night in a thousand years, how would men believe and adore; and preserve for many generations the remembrance of the city of God which had been shown! But every night come out these envoys of beauty, and light the universe with their admonishing smile.
RALPH WALDO EMERSON, Nature and Selected Essays
1 likes
---
Moonlight drowns out all but the brightest stars.
J. R. R. TOLKIEN, The Lord of the Rings
1 likes
---
Silently, one by one, in the infinite meadows of heaven,
Blossomed the lovely stars, the forget-me-nots of the angels.
HENRY WADSWORTH LONGFELLOW, Evangeline
0 likes
---
Moon and stars, the draping light
Of the love-wreathed couch of night.
EDWIN LEIBFREED, "Diana"
0 likes
---
The stars that roll in glory far above us, and that have stood out so long upon the firmament, like figures on the dial of eternity, shall fade and disappear. But we, who tremble at their greatness and thirst for their secrets, shall pass and live beyond them. Time has no mortgage on the human soul.
E. H. CHAPIN, Living Words
0 likes
---
Heaven's ebon vault,
Studded with stars unutterably bright,
Through which the moon's unclouded grandeur rolls,
Seems like a canopy which love has spread
To curtain her sleeping world.
PERCY BYSSHE SHELLEY, Queen Mab
0 likes
---
We are all creatures of the stars and their forces, they make us, we make them, we are part of a dance from which we by no means and not ever may consider ourselves separate.
DORIS LESSING, Shikasta
0 likes
---
I looked up at the mass of signs and stars in the night sky and laid myself open for the first time to the benign indifference of the world.
ALBERT CAMUS, The Stranger
0 likes
---
This is the excellent foppery of the world, that when we are sick in fortune (often the surfeits of our own behaviour) we make guilty of our disasters the sun, the moon, and stars: as if we were villains on necessity; fools by heavenly compulsion; knaves, thieves, and treacherous by spherical predominance; drunkards, liars, and adulterers by an enforced obedience of planetary influence; and all that we are evil in, by a divine thrusting on. An admirable evasion of whoremaster man, to lay his goatish disposition on the charge of a star!
WILLIAM SHAKESPEARE, King Lear
0 likes
---
The pale stars are gone!
For the sun, their swift shepherd,
To their folds them compelling,
In the depths of the dawn,
Hastes, in meteor-eclipsing array, and the flee
Beyond his blue dwelling,
As fawns flee the leopard.
PERCY BYSSHE SHELLEY, Prometheus Unbound
0 likes
---
One of the most poetic facts I know about the universe is that essentially every atom in your body was once inside a star that exploded. Moreover, the atoms in your left hand probably came from a different star than did those in your right hand. We are all, literally, star children, and our bodies made of stardust.
LAWRENCE M. KRAUSS, A Universe from Nothing
0 likes
---
The stars know everything,
So we try to read their minds.
As distant as they are,
We choose to whisper in their presence.
CHARLES SIMIC, "autumn sky", The Voice at 3:00 A.M.
0 likes
---
A starlit or a moonlit dome disdains
All that man is,
All mere complexities,
The fury and the mire of human veins.
WILLIAM BUTLER YEATS, "Byzantium", The Winding Stair and Other Poems
0 likes
---
Too low they build who build beneath the stars.
EDWARD YOUNG, Night Thoughts on Life, Death and Immortality
0 likes
---
Day's weary toil is o'er;
No worldly strife my heartfelt worship mars:
Beneath the mystery of the silent stars,
I tremble and adore.
ALBERT LAIGHTON, "The Midnight Voice"
0 likes
---
There is a little kind of star that drowns itself by hundreds in the river Thames--the many-rayed silver-white seed that makes journeys on all the winds up and down England and across it in the end of summer. It is a most expert traveller, turning a little wheel a-tiptoe wherever the wind lets it rest, and speeding on those pretty points when it is not flying. The streets of London are among its many highways, for it is fragile enough to go far in all sorts of weather. But it gets disabled if a rough gust tumbles it on the water so that its finely-feathered feet are wet. On gentle breezes it is able to cross dry-shod, walking the waters.
ALICE MEYNELL, "The Tethered Constellation", Ceres' Runaway & Other Essays
0 likes
---
I have loved the stars too fondly to be fearful of the night.
SARAH WILLIAMS, Twilight Hours: A Legacy of Verse
0 likes
---
I like the stars. It's the illusion of permanence, I think. I mean, they're always flaring up and caving in and going out. But from here, I can pretend ... I can pretend that things last.
NEIL GAIMAN, The Sandman, Vol. 7: Brief Lives
0 likes
---