STEALING QUOTES
quotations about stealing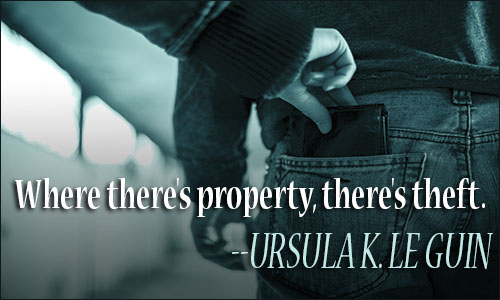 A person who steals just does not believe that God can provide for him. The person does not believe that God can prepare a table for him in the wilderness so he prepared his own table using his neighbour's property. Beloved, stealing is self preparation of such evil table and such tables do not last. A person who trusts God with all his heart will never steal.
D. K. OLUKOYA, The Tragedy of Stealing
15 likes
---
Thou shalt not steal.
BIBLE, Exodus 20:15
10 likes
---
Thieves are opportunists, whether they are amateurs or professionals. They endeavour to take advantage of any situation, which provides them a loophole. An opportunity to take what belongs to someone else. They are criminals who are indiscriminate and feel no immediate remorse when they hurt others. If the situation presents itself, a thief can get away with the act without much effort or planning because committing this type of crime is second nature to them.
DENISE N. FYFFE, Thieves in the Workplace
9 likes
---
Stealing, of course, is a crime, and a very impolite thing to do. But like most impolite things, it is excusable under certain circumstances. Stealing is not excusable if, for instance, you are in a museum and you decide that a certain painting would look better in your house, and you simply grab the painting and take it there. But if you were very, very hungry, and you had no way of obtaining money, it would be excusable to grab the painting, take it to your house, and eat it.
DANIEL HANDLER, (as Lemony Snicket), The Wide Window
6 likes
---
The sweets of pillage can be known
To no one but the thief,
Compassion for integrity
Is his divinest grief.
EMILY DICKINSON, "The sweets of pillage can be known"
6 likes
---
Thieves respect property; they merely wish the property to become their property that they may more perfectly respect it.
G. K. CHESTERTON, The Man Who Was Thursday
6 likes
---
The robb'd that smiles, steals something from the thief;
He robs himself that spends a bootless grief.
WILLIAM SHAKESPEARE, Othello
5 likes
---
Enter, stranger, but take heed
Of what awaits the sin of greed,
For those who take, but do not earn,
Must pay most dearly in their turn.
So if you seek beneath our floors
A treasure that was never yours,
Thief, you have been warned, beware
Of finding more than treasure there.
J. K. ROWLING, Harry Potter and the Sorcerer's Stone
4 likes
---
To want to be a thief is, at the least, to want that Society be divided into two irreducible groups: thieves and victims.
ALEXANDRE KOJEVE, Outline of a Phenomenology of Right
4 likes
---
Ever'day there's mo' death, and plus I'm dough-less
I'm seein' mo' reasons for me to proceed with thievin'
Scheme on the scheming and leave they peeps grieving
Cause ain't no bucks to stack up, my nuts is backed up
I'm bout to act up, go load the Mac up, now watch me klacka
2PAC, "Me Against the World"
4 likes
---
The petty thief is imprisoned but the big thief becomes a feudal lord.
ZHUANGZI, The Complete Works of Chuang Tzu
3 likes
---
The moment the idea is admitted into society, that property is not as sacred as the law of God, and that there is not a force of law and public justice to protect it, anarchy and tyranny commence. If "Thou shall not covet," and "Thou shall not steal," are not commandments of Heaven, they must be made inviolable precepts in every society, before it can be civilized or made free.
JOHN ADAMS, A Defence of the Constitutions of Government
3 likes
---
The real reason why Robin Hood robbed only the rich was that the poor had no money.
EVAN ESAR, 20,000 Quips & Quotes
3 likes
---
A thief has three characteristics: first, a thief is not recognized by you as being a thief; second, he robs you of what you have without your realizing it at the time; and third, a thief leaves you feeling very foolish after you have been robbed.
N. RAVICHANDRAN, Success is a Thief
3 likes
---
Stealers, keepers.
LLONA ANDREWS, Fate's Edge
2 likes
---
From my perspective, stealing is also an attempt to rewrite or get outside those laws that create a sense of normalcy in society. A society that allows certain children access to the healthiest foods, that underpays and therefore undermines the work of certain people, and that holds competition and economic inequality as givens, rather than culturally constructed ways of life. It comes over me when I think about the endless turnover of paper, the endless struggle we all undergo every day, just to get dinner on the table.
AMANDA MONTEI, "Kleptomania and a mother's love: The five-finger discount is my personal rebellion against inequality", Salon, February 4, 2017
2 likes
---
Everybody steals from everybody, that's Hollywood.
JON FAVREAU, Swingers
1 likes
---
It's not the goods that matter. It's the theft itself. That's what counts.
WALTER WYKES, Fading Joy
1 likes
---
The hands and fingers have a good deal to do with stealing; and the history of many a man's life is written by his ten fingers.
MIGUEL DE CERVANTES, attributed, Day's Collacon
1 likes
---
Where there's property, there's theft.
URSULA K. LE GUIN, The Dispossessed
0 likes
---