SUFFERING QUOTES
quotations about suffering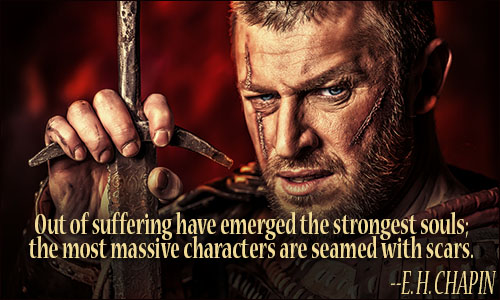 When suffering knocks at your door and you say there is no seat for him, he tells you not to worry because he has brought his own stool.
CHINUA ACHEBE, attributed, Chinua Achebe: A Celebration
18 likes
---
Suffering is part of the human condition, and it comes to us all. The key is how we react to it, either turning away from God in anger and bitterness or growing closer to Him in trust and confidence.
BILLY GRAHAM, Just As I Am
16 likes
---
Wisdom comes only through suffering.
AESCHYLUS, Agamemnon
8 likes
---
All suffering is caused by being in the wrong place. If you're unhappy where you are, MOVE.
TIMOTHY LEARY, Evolutionary Agents
8 likes
---
We need to be aware of the suffering, but retain our clarity, calmness and strength so we can help transform the situation.
THICH NHAT HANH, Teachings on Love
7 likes
---
It is an easy thing for one whose foot is on the outside of calamity to give advice and to rebuke the sufferer.
AESCHYLUS, Prometheus Bound
6 likes
---
To hurt is as human as to breathe.
J. K. ROWLING, The Tales of Beedle the Bard
6 likes
---
I marvel now that it was not obvious how inextricable suffering and fear are. It was not until fear left that I noticed, slowly, how it seemed to have taken suffering with it. It took a while to figure out that (for me, anyhow) suffering is mostly caused by fear--not by the circumstances themselves, but by my response to them.
JAN FRAZIER, When Fear Falls Away
6 likes
---
To be most fertile, the soil must first be torn up; and shall not thy soul accept suffering for the sake of better growth?
IVAN PANIN, Thoughts
5 likes
---
In misery it is great comfort to have a companion.
JOHN LYLY, Euphues
4 likes
---
The more a human creature has tasted of bitter things the more it hungers after the sweet things of life.
MAXIM GORKY, Her Lover
4 likes
---
There is an elasticity in the human mind, capable of bearing much, but which will not show itself, until a certain weight of affliction be put upon it; its powers may be compared to those vehicles whose springs are so contrived that they get on smoothly enough when loaded, but jolt confoundedly when they have nothing to bear.
CHARLES CALEB COLTON, Lacon
4 likes
---
We've got to live, no matter how many skies have fallen.
D. H. LAWRENCE, Lady Chatterley's Lover
4 likes
---
Wherefore, though good and bad men suffer alike, we must not suppose that there is no difference between the men themselves, because there is no difference in what they both suffer. For even in the likeness of the sufferings, there remains an unlikeness in the sufferers; and though exposed to the same anguish, virtue and vice are not the same thing. For as the same fire causes gold to glow brightly, and chaff to smoke; and under the same flail the straw is beaten small, while the grain is cleansed; and as the lees are not mixed with the oil, though squeezed out of the vat by the same pressure, so the same violence of affliction proves, purges, clarifies the good, but damns, ruins, exterminates the wicked. And thus it is that in the same affliction the wicked detest God and blaspheme, while the good pray and praise. So material a difference does it make, not what ills are suffered, but what kind of man suffers them. For, stirred up with the same movement, mud exhales a horrible stench, and ointment emits a fragrant odor.
ST. AUGUSTINE, City of God
4 likes
---
If your basic outlook is that suffering is negative and must be avoided at all costs, this will add anxiety and intolerance when you encounter difficult circumstances. On the other hand, if your basic outlook accepts that suffering is a natural part of existence, this will make you more tolerant towards the adversities of life.
DALAI LAMA, The Art of Happiness
4 likes
---
When our life is a continuous trial, the moments of respite seem only to substitute the heaviness of dread for the heaviness of actual suffering; the curtain of cloud seems parted an instant only that we may measure all its horror as it hangs low, black, and imminent, in contrast with the transient brightness; the waterdrops that visit the parched lips in the desert bear with them only the keen imagination of thirst.
GEORGE ELIOT, Janet's Repentance
3 likes
---
Tears are the Soul's baptism of cleansing.
EDWIN LEIBFREED, "The Song of the Soul"
3 likes
---
Suffering is an inevitable part of human life, but it is not the endpoint of life. The endpoint is redemption.
PIA MATTHEWS, "Holiness Gone Wild", National Review, June 24, 2017
3 likes
---
Listen to the blackbird sadly sing
For you, for me
Look at all the pointless suffering
Humanity

I am dreaming of a garden
And I see the midnight flight
Of a blackbird, through my vision
To the light
To the light
STEVE MILLER BAND, "Journey From Eden"
3 likes
---
There would be far less suffering amongst mankind, if men -- and God knows why they are so fashioned -- did not employ their imaginations so assiduously in recalling the memory of past sorrow, instead of bearing their present lot with equanimity.
JOHANN WOLFGANG VON GOETHE, The Sorrows of Young Werther
2 likes
---