SUICIDE QUOTES
quotations about suicide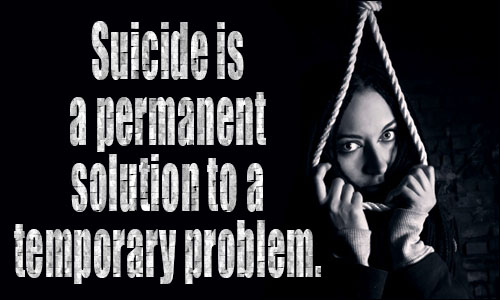 Suicide is a permanent solution to a temporary problem.
PHIL DONAHUE, NBC TV, May 23, 1984
24 likes
---
When your principles seem to be demanding suicide, clearly it's time to check your premises.
NATHANIEL BRANDEN, The Free Radical, October 2004
18 likes
---
People pontificate, "Suicide is selfishness." Career churchmen like Pater go a step further and call in a cowardly assault on the living. Oafs argue this specious line for varying reason: to evade fingers of blame, to impress one's audience with one's mental fiber, to vent anger, or just because one lacks the necessary suffering to sympathize. Cowardice is nothing to do with it - suicide takes considerable courage. Japanese have the right idea. No, what's selfish is to demand another to endure an intolerable existence, just to spare families, friends, and enemies a bit of soul-searching.
DAVID MITCHELL, Cloud Atlas
16 likes
---
Even if those who take their own lives feel they have no choice--indeed, they often tragically believe their family and friends will be better off without them--the death rarely appears inevitable to those left behind. Feelings of anger and guilt and abandonment invade them, as if love should or could have prevented what happened. Survivors relive, over and over, the last days and months, even years, before the suicide, seeing now the signs that were missed, which they believe they should have recognized.
SUSAN STERLING, "The Quilt People"
13 likes
---
The thought of suicide is a great consolation: by means of it one gets successfully through many a bad night.
FRIEDRICH NIETZSCHE, Beyond Good and Evil
9 likes
---
Suicide is the dumbest possible way of getting revenge. Why is that? Because the people you want to strike back at are the very same folks who won't even remember you a week after you're gone, while the people you want to spare most -- the people who love you -- are the ones who will have to live with the pain of your suicide for the rest of their lives.
DAVID J. LIEBERMAN, Instant Analysis
9 likes
---
If I commit suicide, it will not be to destroy myself but to put myself back together again. Suicide will be for me only one means of violently reconquering myself, of brutally invading my being, of anticipating the unpredictable approaches of God. By suicide, I reintroduce my design in nature, I shall for the first time give things the shape of my will.
ANTONIN ARTAUD, "On Suicide"
7 likes
---
The obsession with suicide is characteristic of the man who can neither live nor die, and whose attention never swerves from this double impossibility.
EMILE CIORAN, The New Gods
7 likes
---
We cannot tear out a single page from our life, but we can throw the whole book into the fire.
GEORGE SAND, Mauprat
7 likes
---
As soon as suicide is taken as a serious alternative, a curious thing happens. To be or not to be becomes a true choice, where before you were stuck with to be.
WALKER PERCY, Lost in the Cosmos
6 likes
---
I'm a suicide. I walked right spang over the edge of life and disappeared. Splash! Bubble-bubble! There goes nothing.
SAMUEL HOPKINS ADAMS, Our Square and the People In It
5 likes
---
Suicide may also be regarded as an experiment -- a question which man puts to Nature, trying to force her to answer. The question is this: What change will death produce in a man's existence and in his insight into the nature of things? It is a clumsy experiment to make; for it involves the destruction of the very consciousness which puts the question and awaits the answer.
ARTHUR SCHOPENHAUER, Parerga and Paralipomena
4 likes
---
I'm not disparaging suicides when I call them weak, I'm pointing out that anybody who would consider doing a thing like that needs help. I don't think a normal, mentally healthy person commits suicide.
JESSE VENTURA, I Ain't Got Time to Bleed
4 likes
---
To be, or not to be: that is the question:
Whether 'tis nobler in the mind to suffer
The slings and arrows of outrageous fortune,
Or to take arms against a sea of troubles,
And by opposing end them? To die: to sleep;
No more; and by a sleep to say we end
The heart-ache and the thousand natural shocks
That flesh is heir to, 'tis a consummation
Devoutly to be wish'd. To die, to sleep;
To sleep: perchance to dream: ay, there's the rub;
For in that sleep of death what dreams may come
When we have shuffled off this mortal coil.
WILLIAM SHAKESPEARE, Hamlet
4 likes
---
I'm the girl nobody knows until she commits suicide. Then suddenly everyone had a class with her.
TOM LEVEEN, Party
4 likes
---
We commit crimes, sins and mistakes. Unfortunately, we also "commit" suicide. When we use the term, there's an inherent assumption that suicide is a wrongdoing. It's implied that the person has committed a crime or sin, unworthy of empathy. Similarly, We should avoid terms like "succeeded" and "failed" when it comes to suicide. How can one be successful when the result is death, or fail at an attempt when the outcome is survival? The paradoxical language leads to confusion, and perpetuate the stigma.
NITIKA GUPTA, "Sensitising the language of suicide", The Asian Age, July 8, 2017
4 likes
---
In most cases, suicide is a solitary event and yet it has often far-reaching repercussions for many others. It is rather like throwing a stone into a pond; the ripples spread and spread.
ALISON WERTHEIMER, A Special Scar
3 likes
---
If a person with multiple personalities threatens suicide, is that considered a hostage situation?
STEVEN WRIGHT, stand-up routine
3 likes
---
Christopher O'Malley
Went out on a bridge
Down in Chehalis
And clutching his bible
And a letter from her
Fell into the river
Pity no one was there
No angels in the air
And the morning paper ran
One more suicide
His mama stayed by
The river side
Down in Chehalis
And clutching her bible
And a letter from him
Fell into crying
Pity no one was there
No angels in the air
And the morning paper ran
One more suicide
Pity no one was there
No angels in the air
And the morning paper ran
One more suicide
One more suicide
One more suicide
MARCY PLAYGROUND, "One More Suicide"
3 likes
---
There is but one truly serious philosophical problem, and that is suicide. Judging whether life is or is not worth living amounts to answering the fundamental question of philosophy. All the rest -- whether or not the world has three dimensions, whether the mind has nine or twelve categories -- comes afterward. These are games; one must first answer.
ALBERT CAMUS, An Absurd Reasoning
2 likes
---