SUMMER QUOTES
quotations about summer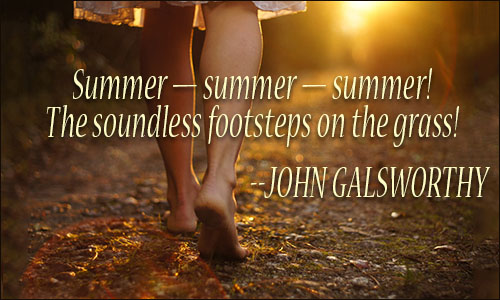 A perfect summer day is when the sun is shining, the birds are singing ... and the lawn mower is broken.
JAMES DENT, Good Housekeeping, August 2009
5 likes
---
Summer is the annual permission slip to be lazy. To do nothing and have it count for something.
REGINA BRETT, attributed, Grief One Day at a Time
4 likes
---
It's funny how one summer can change everything. It must be something about the heat and the smell of chlorine, fresh-cut grass and honeysuckle, asphalt sizzling after late-day thunderstorms, the steam rising while everything drips around it. Something about long, lazy days and whirring air conditioners and bright plastic flip-flops from the drugstore thwacking down the street. Something about fall being so close, another year, another Christmas, another beginning. So much in one summer, stirring up like the storms that crest at the end of each day, blowing out all the heat and dirt to leave everything gasping and cool. Everyone can reach back to one summer and lay a finger to it, finding the exact point when everything changed.
SARAH DESSEN, That Summer
2 likes
---
Summer breeze makes me feel fine
Blowing through the jasmine in my mind
THE ISLEY BROTHERS, "Summer Breeze"
2 likes
---
Summer is a despicable season. Don't argue with me, I'm right. It's awful. Awful and dreadful and wretched and vile and I hate it. If summer was a person, I would stare at it menacingly. If it was a business, I would write a blistering Yelp review, and I'd probably ruin my laptop doing so because my hands would be slimy with sunscreen and bug repellant, which are two additional reasons I loathe summer.
REX HUPPKE, "The Unbearable Dreadfulness of Summer", Chicago Tribune, July 5, 2017
2 likes
---
Summer of roses! O empress of flowers!
You are all I care to know: you and your many sisters.
FRANCIS JAMMES, "Summer of Roses"
1 likes
---
One swallow maketh not summer.
JOHN HEYWOOD, Proverbs
1 likes
---
Summer -- summer -- summer! The soundless footsteps on the grass!
JOHN GALSWORTHY, Indian Summer of a Forsyte
1 likes
---
It's summertime and the living is easy
Fish are jumping and the cotton is high
Your daddy's rich and your mama's good looking
Hush little baby
Don't you cry
SAM COOKE, "Summertime"
1 likes
---
Hot town, summer in the city
Back of my neck getting dirty and gritty
Been down, isn't it a pity
Doesn't seem to be a shadow in the city

All around, people looking half dead
Walking on the sidewalk, hotter than a match head

But at night it's a different world
Go out and find a girl
Come-on come-on and dance all night
Despite the heat it'll be alright
THE LOVIN' SPOONFUL, "Summer in the City"
1 likes
---
Summer's morning wakes with a ring of birds, and everything is as distinctly cut as if it stood in heaven and not on earth.
HENRY WARD BEECHER, attributed, Day's Collacon
1 likes
---
Summer is also the time of being ganged up on by the twins terrors of heat and humidity. It is a time when playground equipment is too hot to play on, a time when grief counselors are standing by as you open your electric bill.
ANONYMOUS, "Summer is here: What are we going to do about it?", The Commercial Dispatch, July 6, 2017
1 likes
---
You thought it was a falling leaf we heard:
I knew it was the Summer's gypsy feet.
KARLE WILSON BAKER, "Rondel for September", Blue Smoke
1 likes
---
For mouldering columns still look gay
When summer sunbeams o'er them shine.
ROSA VERTNER JEFFREY, "Hopes and Fears"
0 likes
---
Perhaps there is no time in a summer's day more cheering, than when the warmth of the sun is just beginning to triumph over the freshness of the morning--when there is just a lingering hint of early coolness to keep off languor under the delicious influence of warmth.
GEORGE ELIOT, Adam Bede
0 likes
---
What good is the warmth of summer, without the cold of winter to give it sweetness.
JOHN STEINBECK, Travels with Charley: In Search of America
0 likes
---
A summer romance is something special, because it blazes like a comet across the sky and then fades out. The thing that makes it special--that makes everything move so fast--is that a summer romance is doomed to end.
JOHN VORNHOLT, Coyote Moon
0 likes
---
The Indian Summer, the dead Summer's soul,
Comes back with more than the first loveliness--
The all I've lost, the more I never found
Haunting her beauty, while for me she weaves
Of color, odor, sound, her perfect days.
MARY CLEMMER AMES, "Presence"
0 likes
---
I let my summer days pass idly on.
GEORGE ARNOLD, "Drift"
0 likes
---
It is beautiful, all, in its going,
This wonderful, sweet summer time;
The leaflets glide down through the sunshine,
As poets thoughts glide into rhyme.
Sweet Summer looks over her shoulder,
And whispers once more her farewells--
I wonder if Peace will come with her
When her feet are again on the hills.
MARY T. LATHRAP, "The Parting with Summer"
0 likes
---