SUMMER QUOTES
quotations about summer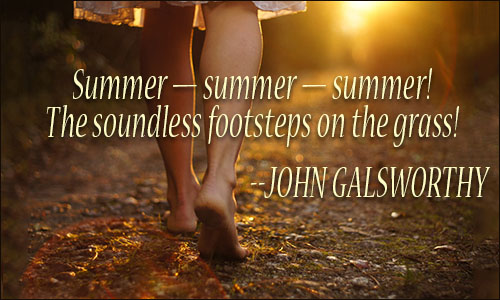 A perfect summer day is when the sun is shining, the birds are singing ... and the lawn mower is broken.
JAMES DENT, Good Housekeeping, August 2009
1 likes
---
Summer of roses! O empress of flowers!
You are all I care to know: you and your many sisters.
FRANCIS JAMMES, "Summer of Roses"
0 likes
---
For mouldering columns still look gay
When summer sunbeams o'er them shine.
ROSA VERTNER JEFFREY, "Hopes and Fears"
0 likes
---
One swallow maketh not summer.
JOHN HEYWOOD, Proverbs
0 likes
---
Perhaps there is no time in a summer's day more cheering, than when the warmth of the sun is just beginning to triumph over the freshness of the morning--when there is just a lingering hint of early coolness to keep off languor under the delicious influence of warmth.
GEORGE ELIOT, Adam Bede
0 likes
---
Summer -- summer -- summer! The soundless footsteps on the grass!
JOHN GALSWORTHY, Indian Summer of a Forsyte
0 likes
---
What good is the warmth of summer, without the cold of winter to give it sweetness.
JOHN STEINBECK, Travels with Charley: In Search of America
0 likes
---
A summer romance is something special, because it blazes like a comet across the sky and then fades out. The thing that makes it special--that makes everything move so fast--is that a summer romance is doomed to end.
JOHN VORNHOLT, Coyote Moon
0 likes
---
It's funny how one summer can change everything. It must be something about the heat and the smell of chlorine, fresh-cut grass and honeysuckle, asphalt sizzling after late-day thunderstorms, the steam rising while everything drips around it. Something about long, lazy days and whirring air conditioners and bright plastic flip-flops from the drugstore thwacking down the street. Something about fall being so close, another year, another Christmas, another beginning. So much in one summer, stirring up like the storms that crest at the end of each day, blowing out all the heat and dirt to leave everything gasping and cool. Everyone can reach back to one summer and lay a finger to it, finding the exact point when everything changed.
SARAH DESSEN, That Summer
0 likes
---
The Indian Summer, the dead Summer's soul,
Comes back with more than the first loveliness--
The all I've lost, the more I never found
Haunting her beauty, while for me she weaves
Of color, odor, sound, her perfect days.
MARY CLEMMER AMES, "Presence"
0 likes
---
I let my summer days pass idly on.
GEORGE ARNOLD, "Drift"
0 likes
---
It is beautiful, all, in its going,
This wonderful, sweet summer time;
The leaflets glide down through the sunshine,
As poets thoughts glide into rhyme.
Sweet Summer looks over her shoulder,
And whispers once more her farewells--
I wonder if Peace will come with her
When her feet are again on the hills.
MARY T. LATHRAP, "The Parting with Summer"
0 likes
---
SUMMER, season of beauty and of full-blown rosy warmth, when earth is clad in its grandest and most gorgeous attire; and nature is in all the majesty of adult splendour; at early dawn weeping gladness, at noon cheering alike the sad hearts and the joyous, and at the vesper hour casting a halo of sanctified and happy rest on all God's creatures here below. Who has not felt the first warmth of a summer's sun drive from his heart every desponding fear, and wake to new life and strength the last glimmering rays of his feeble faith. Hear, now the merry song of the haymakers, as with light hearts and lighter steps, intoxicated as it were by the healthful aroma of new-mown hay, each tries to outstrip the other in industry and activity. Here may be seen the horny-handed, sun-burnt son of toil, whom three-score years have left with ardour yet undaunted; there the comely matron, and close by her side blushing sixteen. 'Tis in the summer evening, 'mid the flowery lanes of his native country, that the honest rustic, with the maiden of his choice, plants the first pure and holy kiss on her young, trusting and rosy lips, and there, unseen or unheard by all but high Heaven above, swears to love, honour, and protect her as long as his manly heart beats in his breast, and hers revibrates in her woman's bosom. Summer wakes to new life and birth all earth and its inhabitants; the ice-bound arctic and antarctic circles, the stormy cold regions of the north and south, the mild climes of the temperate zone, and the sunny lands of the tropics. Summer brings joy and gladness to the uttermost parts of earth, and animated nature, the rocks and the hills, the deserts and the table lands, don the bright garb of summer.
T. AUGUSTUS FORBES LEITH, "On Summer", Short Essays
0 likes
---
Summer breeze makes me feel fine
Blowing through the jasmine in my mind
THE ISLEY BROTHERS, "Summer Breeze"
0 likes
---
I know I am but summer to your heart, and not the full four seasons of the year.
EDNA ST. VINCENT MILLAY, Poems
0 likes
---
It happened one summer
It happened one time
It happened forever
For a short time
A place for a moment
An end to dream
Forever I loved you
Forever it seemed
THE MOTELS, "Suddenly Last Summer"
0 likes
---
Summers had a logic all their own and they always brought something out in me. Summer was supposed to be about freedom and youth and no school and possibilities and adventure and exploration. Summer was a book of hope.
BENJAMIN ALIRE SAENZ, Aristotle and Dante Discover the Secrets of the Universe
0 likes
---
Summer is unclothed, and bears a wheaten garland.
OVID, attributed, Day's Collacon
0 likes
---
It was summer time,
And summer laid its glory on the sea
And lit the gorgeous shores that hemmed us up
And locked us in enchantment.
J. A. HEWITT, "Zilla", Summer Songs and Other Poems
0 likes
---
But I can see you--
Your brown skin shinin' in the sun
You got your hair combed back and your sunglasses on, baby
And I can tell you my love for you will still be strong
After the boys of summer have gone
DON HENLEY, "The Boys of Summer"
0 likes
---