SURREALISM QUOTES
quotations about surrealism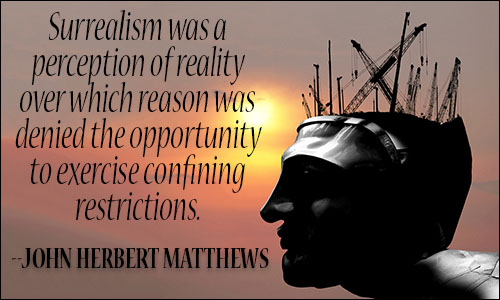 Surrealism is destructive, but it destroys only what it considers to be shackles limiting our vision.
SALVADOR DALI, Declaration, 1929
3 likes
---
Surrealism is ersatz thought for idiots; the gaudy vestibule of a house that isn't there.
HUGO RIFKIND, "In 1991 we marvelled at the oddity. Now we just check our phones", The Times, May 27, 2017
3 likes
---
Surrealism is not a school of poetry but a movement of liberation ... a way of rediscovering the language of innocence, a renewal of the primordial pact, poetry is the basic text, the foundation of the human order. Surrealism is revolutionary because it is a return to the beginning of all beginnings.
OCTAVIO PAZ, Alternating Current
2 likes
---
Surrealism was a perception of reality over which reason was denied the opportunity to exercise confining restrictions.
JOHN HERBERT MATTHEWS, The Surrealist Mind
2 likes
---
I believe in the future resolution of these two states, dream and reality, which are seemingly so contradictory, into a kind of absolute reality, a surreality, if one may so speak.
ANDRÉ BRETON, Manifestoes of Surrealism
2 likes
---
Surrealist Tip # 7: Sleep through numbers 1-6. Write down your dreams while you sleep, sleep as fast as you can, but try not to get a ticket--and don't let the honking of other drivers wake you up.
JAROD KINTZ, This Book is Not For Sale
2 likes
---
Surrealism, which fizzled as an autonomous doctrine, as a specific method, does not exist. But it remains an historical fact, a fire that illuminates the intellectual landscape of the horizon.
PAUL NOUGE, Histoire de ne pas rire
1 likes
---
Art that revels in the muck of the unconscious, as surrealism tries to do, should risk at least a few of us saying, "F*** this."
K. AUSTIN COLLINS, "David Lynch's Heartbreaking Gift to Laura Palmer", The Ringer, May 17, 2017
1 likes
---
The simplest act of surrealism is to fire randomly into a crowd.
ANDRE BRETON, attributed, "China Mieville's counterfactual novel is a chilling, surreal caprice", The Spectator, February 25, 2017
1 likes
---
The vice named surrealism is the immoderate and impassioned use of the stupefacient image or rather of the uncontrolled provocation of the image for its own sake and for the element of unpredictable perturbation and of metamorphosis which it introduces into the domain of representation; for each image on each occasion forces you to revise the entire Universe.
LOUIS ARAGON, Paris Peasant
0 likes
---
Surrealism ... wills itself to be a philosophy, but a "philosophy of life," a way of living and thinking, a madness of living and thinking which, refusing the world as it is--since the "real" is often only habit--proposes both to "transform the world" (Marx) and to "change life" (Rimbaud), in a political and poetical rebellion.
JAQUELINE CHÉNIEUX-GENDRON, Surrealism
0 likes
---
Surrealism! What is Surrealism? In my opinion, it is above all a reawakening of the poetic idea in art, the reintroduction of the subject but in a very particular sense, that of the strange and illogical.
PAUL DELVAUX, lecture, 1966
0 likes
---
Surrealism in painting amounted to little more than the contents of a meagerly stocked dream world: a few witty fantasies, mostly wet dreams and agoraphobic nightmares.
SUSAN SONTAG, On Photography
0 likes
---
Surrealism is born of a consciousness of the derisory condition allotted to the individual and his thought, and a refusal to accommodate oneself to it.
JEAN-LOUIS BÉDOUIN, attributed, Surrealism, 1961
0 likes
---
Surrealism is merely the reflection of the death process. It is one of the manifestations of a life becoming extinct, a virus which quickens the inevitable end.
HENRY MILLER, The Cosmological Eye
0 likes
---
For its adherents, Surrealism was a way of life, a kind of existence that left room for playfulness and creativity. It was about living for the moment, with spontaneity and internal intellectual freedom and a lack of materialism, all of which were completely opposed to the values of the bourgeoisie.
CATHRIN KLINGSÖHR-LEROY, Surrealism
0 likes
---
Instead of stubbornly attempting to use surrealism for purposes of subversion, it is necessary to try to make of surrealism something as solid, complete and classic as the works of museums.
SALVADOR DALI, The Secret Life of Salvador Dali
0 likes
---
Among those who do not comprehend surrealism are people who look upon the real as verifiable, as something to be checked against past experience or observation. These individuals fail to see that for the surrealist the dimensions of the real cannot be gauged by reference to the familiar. So far as the real appears to have limits, they are foisted upon it by the mental, emotional, and imaginative limitations of spectators accustomed to measure the possible by the already known. For this reason, surrealism and many of its contemporary opponents remained inevitably at loggerheads. The one group insisted on estimating the scope of reality by its possibilities. The other condemned the real to be repetitive of what the past had shown them.
JOHN HERBERT MATTHEWS, The Surrealist Mind
0 likes
---
Surrealism can only deliver a reactionary judgment; can make out of history only an accumulation of oddities, a joke, a death trip.
SUSAN SONTAG, On Photography
0 likes
---
Surrealism negates everything implied by the divisions and prohibitions on which the majority cultural structure is founded: negating ready-made "orders," denying the pertinence of codes (social, but also stylistic, linguistic, and even logical). Surrealists therefore suspect everything that organizes the sense of things, the direction of things, in space and time, especially any kind of taxonomy and any presentation of evidence that has signification for us.
JAQUELINE CHÉNIEUX-GENDRON, Surrealism
0 likes
---