SURVIVAL QUOTES
quotations about survival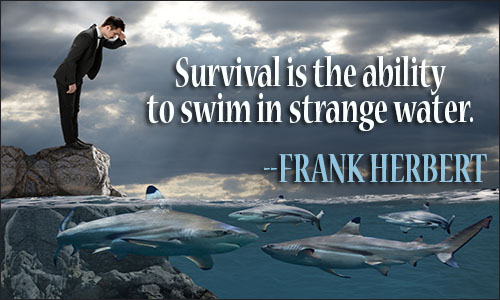 Whatever gets you through the night.
It's alright. It's alright.
JOHN LENNON, Whatever Gets You Through the Night
5 likes
---
Survival is the ability to swim in strange water.
FRANK HERBERT, Dune
4 likes
---
On a long enough timeline, the survival rate for everyone drops to zero.
CHUCK PALAHNIUK, Fight Club
3 likes
---
Survival often feels like an indignity.
GUILLERMO DEL TORO & CHUCK HOGAN, The Fall
3 likes
---
There are as many ways to survive as there are survivors.
AMANDA ROBB, Good Housekeeping, April 2009
2 likes
---
I'll never be an angel
I'll never be a saint, it's true
I'm too busy surviving
MADONNA, "Survival"
2 likes
---
I survived, but my friends didn't. It wasn't until days later that a sense of dread and guilt set in. Was it my fault? Could I have saved Juan and Drew? And what of my place as a survivor? There I stood, uninjured, but broken. I had no outward sign of suffering -- I didn't walk with a limp or need physical therapy. But somehow, I was still hurting. I kept asking myself: as a physically unscarred survivor, did I even deserve a voice at all?
BRANDON J. WOLF, "Pulse victim: How I learned the meaning of survival", CNN, June 11, 2017
2 likes
---
We are survival machines -- robot vehicles blindly programmed to preserve the selfish molecules known as genes.
RICHARD DAWKINS, The Selfish Gene
1 likes
---
Spending practically every minute of your day on pure survival is an absolutely boring life.
SAMUEL R. DELANY, Neverÿon
1 likes
---
One observes the survivors and learns from them.
BRIAN HERBERT & KEVIN J. ANDERSON, Dune: House Atreides
1 likes
---
Live on, survive, for the earth gives forth wonders. It may swallow your heart, but the wonders keep on coming. You stand before them bareheaded, shriven. What is expected of you is attention.
SALMAN RUSHDIE, The Ground Beneath Her Feet
1 likes
---
The duty of the survivor is to bear testimony to what happened ... You have to warn people that these things can happen, that evil can be unleashed. Race hatred, violence, idolatries--they still flourish.
ELIE WIESEL, "Will Hatred Ever End?", The Watchtower, June 15, 1995
1 likes
---
Survivors can't always choose their methods.
PATRICIA BRIGGS, Dragon Blood
1 likes
---
You finally reached the shore, survived the storm
Now you're bare and cold, the sea was warm
METALLICA, "Poor Twisted Me"
1 likes
---
The problem with survival of the fittest is the corpse at your feet.
WATERDOWN, "Corporate Identity"
1 likes
---
In the greater part of humankind there resides an instinct for survival. It is this which can clutch at straws and effect a rescue from them. It is this which can, now and then, outwit fate.
TANITH LEE, "A House on Fire", Haunts: Reliquaries of the Dead
0 likes
---
There's more to life than just surviving ... but ... sometimes just surviving is all you get.
CHARLES DE LINT, The Onion Girl
0 likes
---
Survival ... is an infinite capacity for suspicion.
JOHN LE CARRÉ, Tinker, Tailor, Soldier, Spy
0 likes
---
Survival is a dying art.
BARRY DAVIES, Survival Is a Dying Art
0 likes
---
Preparation is what we have left when the plan falls apart. Acquiring the skills necessary for survival is a part of this preparation. However, it takes much more than the knowledge and skills to build shelters, find food, make fires and travel without the aid of standard navigational devices to live successfully through a survival or evasion situation. Some people with little or no survival training have managed to survive life-threatening circumstances. Some people with survival training have not used their skills and have died. A key ingredient in any survival situation is the mental attitude of the people involved. Having survival skills and proper preparation are important. Having the will to survive is essential.
U. S. ARMY CORPS, NAVY, AND AIR FORCE, U.S. Military Pocket Survival Guide: Plus Evasion & Recovery
0 likes
---