SYMPATHY QUOTES
quotations about sympathy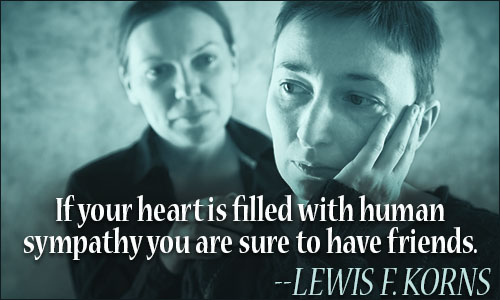 Sympathy is two hearts tugging at one load.
CHARLES H. PARKHURST, "The Good Samaritan", The Pattern in the Mount and Other Sermons
3 likes
---
To be without sympathy is to be alone in the world--without friends or country, home or kindred.
CHRISTIAN NESTELL BOVEE, Intuitions and Summaries of Thought
2 likes
---
Sympathy is a currency, and I'm shaking a cup!
ISAAC OLIVER, attributed, "My Most Memorable Cultural Moments of 2016", The New Yorker, December 7, 2016
2 likes
---
Though sympathy can't alter facts, it can help to make them more bearable.
BRAM STOKER, Dracula
1 likes
---
Yet, taught by time, my heart has learned to glow
For other's good, and melt at other's woe.
HOMER, The Odyssey
1 likes
---
When we fully understand the brevity of life, its fleeting joys and unavoidable pains; when we accept the facts that all men and women are approaching an inevitable doom: the consciousness of it should make us more kindly and considerate of each other. This feeling should make men and women use their best efforts to help their fellow travelers on the road, to make the path brighter and easier as we journey on. It should bring a closer kinship, a better understanding, and a deeper sympathy for the wayfarers who must live a common life and die a common death.
CLARENCE DARROW, The Essential Writings of Clarence Darrow
1 likes
---
There is poetry and there is beauty in real sympathy; but there is more -- there is action. The noblest and most powerful form of sympathy is not merely the responsive tear, the echoed sigh, the answering look; it is the embodiment of the sentiment in actual help.
OCTAVIUS WINSLOW, attributed, Dictionary of Burning Words of Brilliant Writers
1 likes
---
There's nothing like your mother's sympathetic voice to make you want to burst into tears.
SOPHIE KINSELLA, Confessions of a Shopaholic
1 likes
---
I don't need your sympathy, unless it comes in the form of a check or cash. I also accept money orders.
JAROD KINTZ, This Book is Not For Sale
1 likes
---
We pine for kindred natures
To mingle with our own.
FELICIA HEMANS, Psyche borne by Zephyrs to the Island of Pleasure
1 likes
---
Man is shut out from Heaven and Peace and Truth only in so far as he shuts out others from his sympathy. Where his sympathy ends his darkness and torment and turmoils begin.
JAMES ALLEN, Byways to Blessedness
1 likes
---
Surely, surely the only one true knowledge of our fellow man is that which enables us to feel with him--which gives us a fine ear for the heart-pulses that are beating under the mere clothes of circumstance and opinion.
GEORGE ELIOT, Janet's Repentance
0 likes
---
If your heart is filled with human sympathy you are sure to have friends.
LEWIS F. KORNS, Thoughts
0 likes
---
A kind, sympathizing word from the lips falls like oil upon the ruffled waters of the human breast.
NICIAS BALLARD COOKSEY, Helps to Happiness
0 likes
---
One advantage gained by calamities, is to know how to sympathize with others in the like troubles.
WELLINS CALCOTT, Thoughts Moral and Divine
0 likes
---
There are some men and women whose sympathies for others' pains are as quick as the consciousness of their own; who feel a personal relief from suffering when others are relieved; and to whose ear the song of the captive ransomed from guilt is sweeter than a thousand-voiced chorus, pealing their own praises. These are the god-like.
HORACE MANN, Thoughts
0 likes
---
Men are more helped by sympathy than by service.
JOHN LUBBOCK, The Use of Life
0 likes
---
SYMPATHY, akin to pity, may be styled one of the passions or deep feelings of the human heart, the inmost soul. Without sympathy we are without all that is Godlike in our nature, and more fit to be classed with "fiends" than with our fellow mortals. The heart that cannot be touched by the sight of human woe and suffering, must indeed be a hard heart. I should pick out as a truly courageous and brave man, and one likely to be foremost in any danger, he who could first shed the tear of sympathy for a brother or sister in distress. A hard heart is never really a brave heart. It is in the power of everyone to give sympathy in distress, if they cannot give assistance. A kind word to one in distress is like helping to hold up a falling heart, or like a push behind when going up a steep hill. The beasts of the field, and the birds of the air, often feel deep sympathy for one another when in pain or suffering. I have seen it made apparent in many ways. Then remembering your immortal and never-dying souls, and Christ's great sympathy for you, be not worse than the beasts of the earth, but sympathise one with the other when in pain, mental or bodily.
T. AUGUSTUS FORBES LEITH, "On Sympathy", Short Essays
0 likes
---
Sympathy is bliss; in it is revealed the highest, purest blessedness. It is divine, for in its reciprocal light all thought of self is lost, and there remains only the pure joy of oneness with others.
JAMES ALLEN, Byways to Blessedness
0 likes
---
The man who melts
With social sympathy, though not allied,
Is of more worth than a thousand kinsmen.
EURIPIDES, Orestes
0 likes
---