TAXES QUOTES
quotations about taxes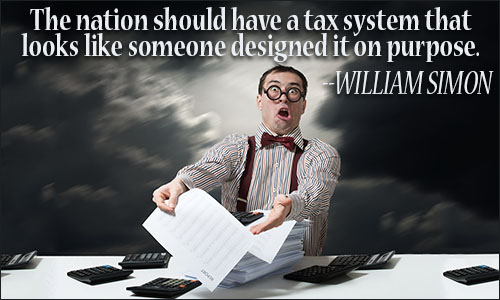 Anyone may arrange his affairs so that his taxes shall be as low as possible; he is not bound to choose that pattern which best pays the treasury. There is not even a patriotic duty to increase one's taxes. Over and over again the Courts have said that there is nothing sinister in so arranging affairs as to keep taxes as low as possible. Everyone does it, rich and poor alike and all do right, for nobody owes any public duty to pay more than the law demands.
LEARNED HAND, The Art and Craft of Judging: the decisions of Judge Learned Hand
3 likes
---
The legal right of a taxpayer to decrease the amount of what otherwise would be his taxes, or altogether to avoid them, by means which the law permits, cannot be doubted.
GEORGE SUTHERLAND, Gregory v. Helvering, 1934
2 likes
---
In this world nothing can be said to be certain, except death and taxes.
BENJAMIN FRANKLIN, letter to Jean Baptiste Le Roy, November 13, 1789
1 likes
---
Taxes are how we pool our money for public health and safety, infrastructure, research, and services--from the development of vaccines and the Internet to public schools and universities, transportation, courts, police, parks, and safe drinking water.
HOLLY SKLAR, Common Dreams, April 17, 2006
1 likes
---
Even Albert Einstein reportedly needed help on his 1040 form.
RONALD REAGAN, Congressional Quarterly Weekly Report, 1985
1 likes
---
Read my lips: no new taxes.
GEORGE H. W. BUSH, RNC acceptance speech, August 18, 1988
1 likes
---
The avoidance of taxes is the only intellectual pursuit that still carries any reward.
JOHN MAYNARD KEYNES, attributed, The Harvest of a Quiet Eye
1 likes
---
At tax time, it helps to remember that if your tax obligation has increased from the previous year, it's usually because you're enjoying more income. That's a situation to which most of us aspire. Higher taxes are a price that we pay for greater success.
RICHARD CARLSON, The Don't Sweat Guide to Taxes
1 likes
---
Taxes are the lifeblood of government and no taxpayer should be permitted to escape the payment of his just share of the burden of contributing thereto.
ARTHUR T. VANDERBILT, "Appeal of N.Y. State Realty & Terminal Company", 1956
1 likes
---
If you master your destiny, you will find out there is a destiny tax.
JOSEPH BONKOWSKI, Quote Me
1 likes
---
Taxes are simply contributions demanded of citizens as their share of the expenses of government.
PAUL LEROY-BEAULIEU, "Traité de la Science des Finances"
1 likes
---
Many people believe that where taxes are concerned, they are victims, held hostage by an inevitable process that allows them no input, no control. This passive approach becomes something of a self-fulfilling prophecy; where people believe that they lack control, they seldom try to assert control.
RICHARD CARLSON, The Don't Sweat Guide to Taxes
1 likes
---
Some taxpayers close their eyes, some stop their ears, some shut their mouths, but all pay through the nose.
EVAN ESAR, 20,000 Quips & Quotes
1 likes
---
The difference between tax avoidance and tax evasion is the thickness of a prison wall.
DENIS HEALEY, attributed, British Tax Review, 1989
1 likes
---
A government which robs Peter to pay Paul can always depend on the support of Paul.
GEORGE BERNARD SHAW, Everybody's Political What's What?
1 likes
---
Income tax has made more liars out of the American people than golf.
WILL ROGERS, Sanity Is Where You Find It
0 likes
---
There is one difference between a tax collector and a taxidermist--the taxidermist leaves the hide.
MORTIMER CAPLAN, attributed, Taxes: The Tax Magazine, 1970
0 likes
---
Nothing is so well calculated to produce a death-like torpor in the country as an extended system of taxation and a great national debt.
WILLIAM COBBETT, letter, February 10, 1804
0 likes
---
We've got a tax code that is encouraging flight of jobs and outsourcing. And that's why we've specifically recommended ... that Congress change our tax code so that we stop giving tax breaks to companies that are moving to Mexico and China and other places, and start putting those tax breaks into companies that are investing here in the United States.
BARACK OBAMA, debate, October 12, 2004
0 likes
---
The art of taxation consists in so plucking the goose as to obtain the largest amount of feathers with the least possible amount of squawking.
JEAN BAPTISTE COLBERT, attributed, The Theory and Practice of Taxation
0 likes
---