TEA QUOTES
quotations about tea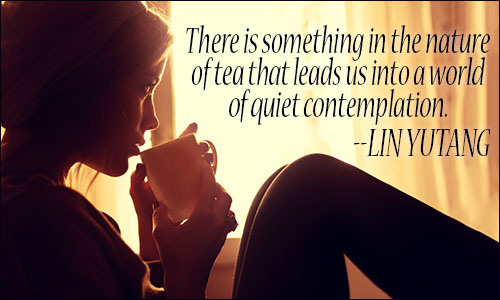 Tea is a work of art and needs a master hand to bring out its noblest qualities. We have good and bad teas, as we have good and bad paintings -- generally the latter.
KAKUZO OKAKURA, Book of Tea
2 likes
---
When you sit in a café, with a lot of music in the background and a lot of projects in your head, you're not really drinking your coffee or your tea. You're drinking your projects, you're drinking your worries. You are not real, and the coffee is not real either. Your coffee can only reveal itself to you as a reality when you go back to your self and produce your true presence, freeing yourself from the past, the future, and from your worries. When you are real, the tea also becomes real and the encounter between you and the tea is real. This is genuine tea drinking.
THICH NHAT HANH, Anger: Wisdom for Cooling the Flames
2 likes
---
I am Chinese. Tea is in my very bones.
KIT CHOW, All the Tea in China
2 likes
---
Drink your tea slowly and reverently, as if it is the axis on which the world earth revolves -- slowly, evenly, without rushing toward the future.
THICH NHAT HANH, The Miracle of Mindfulness
2 likes
---
Tea is hot and getting hotter. From iced to spiced, from austere black tea to sweetened and milky chai, from a flowery pick-me-up to a healing herbal, no other beverage has such a place in the heart of every civilization. No wonder it is the most popular beverage in the world, next to water.
SARA PERRY, The New Tea Book
1 likes
---
Tea is more than an idealization of the form of drinking, it is a religion of the art of life.
KAKUZO OKAKURA, Book of Tea
1 likes
---
Now, there is no harm in a teapot, even if it contains tea, if it is let alone.
BRIGHAM YOUNG, Journal of Discourses
1 likes
---
The scattered tea goes with the leaves and every day a sunset dies.
WILLIAM FAULKNER, Intruder in the Dust
1 likes
---
As far as her mom was concerned, tea fixed everything. Have a cold? Have some tea. Broken bones? There's a tea for that too. Somewhere in her mother's pantry, Laurel suspected, was a box of tea that said, 'In case of Armageddon, steep three to five minutes.'
APRILYNNE PIKE, Illusions
1 likes
---
If you have one teapot
And can brew your tea in it
That will do quite well.
How much does he lack himself
Who must have a lot of things?
SEN NO RIKYU, attributed, Tea: A Miscellany Steeped with Trivia, History and Recipes
1 likes
---
When tea becomes ritual, it takes its place at the heart of our ability to see greatness in small things. Where is beauty to be found? In great things that, like everything else, are doomed to die, or in small things that aspire to nothing, yet know how to set a jewel of infinity in a single moment?
MURIEL BARBERY, The Elegance of the Hedgehog
1 likes
---
Tea began as a medicine and grew into a beverage.
KAKUZO OKAKURA, Book of Tea
0 likes
---
Tea ... is one of those rare treasures, enjoyed throughout the world, that actually benefits health.
KIT CHOW, All the Tea in China
0 likes
---
Ever since tea was first discovered, its cultivation and consumption have been encouraged because of its apparent ability to ward off disease, strengthen powers of concentration, cleanse the body, and aid digestion. Legends of its medicinal properties reached Europe and the New World from China, intriguing the Western consumer, and now, centuries later, modern research has begun to confirm many of those early beliefs.
JANE PETTIGREW, foreword, New Tastes in Green Tea
0 likes
---
Tea beckons us to enjoy quality time with friends and loved ones, and especially to rediscover the art of relaxed conversation.
DOROTHEA JOHNSON, Tea & Etiquette
0 likes
---
Tea is the most popular beverage, after water, throughout the world.
LESTER MITSCHER, The Green Tea Book
0 likes
---
Drinking tea ... punctuates our day with precious and refreshing pauses, whether it is after a satisfying meal or when taking a much-needed break in our busy schedule.
MUTSUKO TOKUNAGA, New Tastes in Green Tea
0 likes
---
The Philosophy of Tea is not mere aestheticism ... for it expresses conjointly with ethics and religion our whole point of view about man and nature. It is hygiene, for it enforces cleanliness; it is economics, for it shows comfort in simplicity rather than in the complex and costly; it is moral geometry, inasmuch as it defines our sense of proportion to the universe.
KAKUZO OKAKURA, Book of Tea
0 likes
---
In an age when everyone is constantly busy and short of time, what could be more enjoyable than taking time to indulge in what was once part of everyday life, but has now become a luxury -- afternoon tea.
LESLEY MACKLEY, The Book of Afternoon Tea
0 likes
---
There is something in the nature of tea that leads us into a world of quiet contemplation of life.
LIN YUTANG, The Importance of Living
0 likes
---