TEARS QUOTES
quotations about tears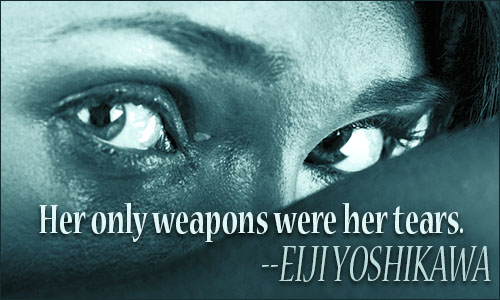 For every laugh, there should be a tear.
WALT DISNEY, attributed, The New York Times, November 2, 2001
3 likes
---
Nothing dries sooner than a tear.
BENJAMIN FRANKLIN, Poor Richard's Almanack, 1757
2 likes
---
The grief and tears didn't wash me away. They gave me my life back! They cleansed me, baptized me, hydrated the earth at my feet.
ANNE LAMOTT, Salon, November 3, 2014
2 likes
---
Tears do not burn except in solitude.
EMIL CIORAN, On the Heights of Despair
1 likes
---
Don't ever discount the wonder of your tears. They can be healing waters and a stream of joy. Sometimes they are the best words the heart can speak.
WM. PAUL YOUNG, The Shack
1 likes
---
Tears are the Soul's baptism of cleansing.
EDWIN LEIBFREED, "The Song of the Soul"
1 likes
---
Mermaids have no tears, and so they suffer all the more.
HANS CHRISTIAN ANDERSEN, "The Little Mermaid"
1 likes
---
Her only weapons were her tears.
EIJI YOSHIKAWA, Taiko
1 likes
---
Oh! think not that my eyes are dry,
Because you mark no falling tears:
There flows a river deep and dark,
Whose waters ebb not with the years.
ALBERT LAIGHTON, "The Veiled Grief"
1 likes
---
There she shook
The holy water from her heavenly eyes,
And clamour moisten'd.
WILLIAM SHAKESPEARE, King Lear
1 likes
---
There never was a mask so gay, but some tears where shed behind it.
LETITIA ELIZABETH LANDON, The Complete Works of L. E. Landon
1 likes
---
There you go ... let it all slide out. Unhappiness can't stick in a person's soul when it's slick with tears.
SHANNON HALE, Princess Academy
1 likes
---
What I should say
My tears gainsay; for every word I speak,
Ye see, I drink the water of mine eyes.
WILLIAM SHAKESPEARE, Henry VI, Part III
1 likes
---
I sincerely believe our tears are the needle and thread that God gives us to do the mending in our lives.
LESLIE BAILEY, "I Love Life: Iowa Mom Reaches Out to Parents Suffering Loss Of Children", KSOO, June 6, 2017
1 likes
---
Tears are Nature's lotion for the eyes. The eyes see better for being washed with them.
CHRISTIAN NESTELL BOVEE, Intuitions and Summaries of Thought
0 likes
---
God washes the eyes by tears until they can behold the invisible land where tears shall come no more.
HENRY WARD BEECHER, Proverbs from Plymouth Pulpit
0 likes
---
Who can refrain from tears, whose eye of reason hath snatched but a cursory glance of mankind's numerous woes? Who but he whose heart is made of stone, and is lost to every impression of benevolence.
WILLIAM MCEWEN, "On Man's Extreme Misery By Sin", Select Essays, Doctrinal & Practical on a Variety of the Most Important and Interesting Subjects in Divinity
0 likes
---
Intelligence forbids tears.
DORIS LESSING, A Man and Two Women
0 likes
---
Scripture talks about life as a "valley of tears," and so it often is. But it is in the midst of tears and darkness that the deepest faith develops. Wherever and whenever miracles don't happen, we have an opportunity to allow faith to take root in our souls, and it is precisely this faith that has the power to work the deepest miracle of all, the one that happens quietly inside our own hearts.
ANN SPANGLER, When You Need a Miracle
0 likes
---
The tears of the compassionate are sweeter than dewdrops falling from roses on the bosom of the earth. Shut not thine ear, therefore, against the cries of the poor, neither harden thine heart against the calamities of the innocent.
ROBERT DODSLEY, The Economy of Human Life
0 likes
---