TEARS QUOTES
quotations about tears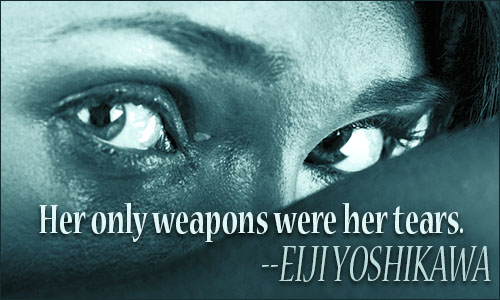 Tears are the Soul's baptism of cleansing.
EDWIN LEIBFREED, "The Song of the Soul"
1 likes
---
Nothing dries sooner than a tear.
BENJAMIN FRANKLIN, Poor Richard's Almanack, 1757
1 likes
---
Tears are Nature's lotion for the eyes. The eyes see better for being washed with them.
CHRISTIAN NESTELL BOVEE, Intuitions and Summaries of Thought
0 likes
---
Tears do not burn except in solitude.
EMIL CIORAN, On the Heights of Despair
0 likes
---
Don't ever discount the wonder of your tears. They can be healing waters and a stream of joy. Sometimes they are the best words the heart can speak.
WM. PAUL YOUNG, The Shack
0 likes
---
God washes the eyes by tears until they can behold the invisible land where tears shall come no more.
HENRY WARD BEECHER, Proverbs from Plymouth Pulpit
0 likes
---
Who can refrain from tears, whose eye of reason hath snatched but a cursory glance of mankind's numerous woes? Who but he whose heart is made of stone, and is lost to every impression of benevolence.
WILLIAM MCEWEN, "On Man's Extreme Misery By Sin", Select Essays, Doctrinal & Practical on a Variety of the Most Important and Interesting Subjects in Divinity
0 likes
---
Intelligence forbids tears.
DORIS LESSING, A Man and Two Women
0 likes
---
Scripture talks about life as a "valley of tears," and so it often is. But it is in the midst of tears and darkness that the deepest faith develops. Wherever and whenever miracles don't happen, we have an opportunity to allow faith to take root in our souls, and it is precisely this faith that has the power to work the deepest miracle of all, the one that happens quietly inside our own hearts.
ANN SPANGLER, When You Need a Miracle
0 likes
---
The tears of the compassionate are sweeter than dewdrops falling from roses on the bosom of the earth. Shut not thine ear, therefore, against the cries of the poor, neither harden thine heart against the calamities of the innocent.
ROBERT DODSLEY, The Economy of Human Life
0 likes
---
One cannot weep for the entire world. It is beyond human strength. One must choose.
JEAN ANOUILH, Cecile
0 likes
---
Waste not fresh tears over old griefs.
EURIPIDES, fragment, Alexander
0 likes
---
I will not say, do not weep, for not all tears are an evil.
J. R. R. TOLKIEN, The Return of the King
0 likes
---
A tear that trembles for a little while
Upon the trembling eyelid, till the world
Wavers within its circle like a dream,
Holds more of meaning in its narrow orb
Than all the distant landscape that it blurs.
HENRY VAN DYKE, "Dulciora"
0 likes
---
Our tears are precious, necessary, and part of what make us such endearing creatures.
DAVID RICHO, The Five Things We Cannot Change: And the Happiness We Find by Embracing Them
0 likes
---
One may guess the why and wherefore of a tear and yet find it too subtle to give any account of. A tear may be the poetical resume of so many simultaneous impressions, the quintessence of so many opposing thoughts! It is like a drop of one of those precious elixirs of the East which contain the life of twenty plants fused into a single aroma.
HENRI-FREDERIC AMIEL, Journal Intime
0 likes
---
Mermaids have no tears, and so they suffer all the more.
HANS CHRISTIAN ANDERSEN, "The Little Mermaid"
0 likes
---
Her only weapons were her tears.
EIJI YOSHIKAWA, Taiko
0 likes
---
Sometimes there are more tears than laughter, and sometimes there is more laughter than tears, and sometimes you feel so choked you can neither weep nor laugh. For tears and laughter there will always be so long as there is human life. When our tear wells have run dry and the voice of laughter is silenced, the world will be truly dead.
LIN YUTANG, Between Tears and Laughter
0 likes
---
The grief and tears didn't wash me away. They gave me my life back! They cleansed me, baptized me, hydrated the earth at my feet.
ANNE LAMOTT, Salon, November 3, 2014
0 likes
---