TECHNOLOGY QUOTES
quotations about technology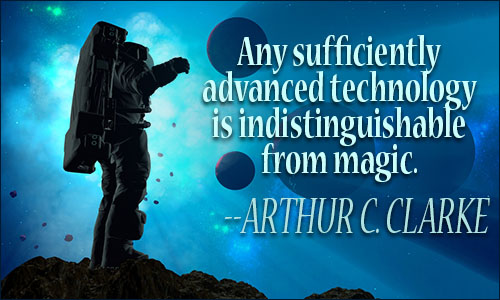 Technology feeds on itself. Technology makes more technology possible.
ALVIN TOFFLER, Future Shock
17 likes
---
The most important thing about a technology is how it changes people.
JARON LANIER, You Are Not a Gadget: A Manifesto
16 likes
---
Technology should have freed mankind from the burdens of life. Instead, it created new ones.
BRIAN HERBERT & KEVIN J. ANDERSON, The Butlerian Jihad
15 likes
---
R2-D2, you know better than to trust a strange computer.
C-3PO, Star Wars Episode V: The Empire Strikes Back
14 likes
---
Can you avoid knowledge? You cannot! Can you avoid technology? You cannot! Things are going to go ahead in spite of ethics, in spite of your personal beliefs, in spite of everything.
JOSE M. R. DELGADO, Scientific American, October 2005
14 likes
---
I've come up with a set of rules that describe our reactions to technologies:

1. Anything that is in the world when you're born is normal and ordinary and is just a natural part of the way the world works.

2. Anything that's invented between when you're fifteen and thirty-five is new and exciting and revolutionary and you can probably get a career in it.

3. Anything invented after you're thirty-five is against the natural order of things.
DOUGLAS ADAMS, The Salmon of Doubt
13 likes
---
We are stuck with technology when what we really want is just stuff that works.
DOUGLAS ADAMS, The Salmon of Doubt
12 likes
---
That's something that tends to happen with new technologies generally: The most interesting applications turn up on a battlefield, or in a gallery.
WILLIAM GIBSON, Spook Country
11 likes
---
Computers are like Old Testament gods; lots of rules and no mercy.
JOSEPH CAMPBELL, The Power of Myth
11 likes
---
Our entire much-praised technological progress, and civilization generally, could be compared to an axe in the hand of a pathological criminal.
ALBERT EINSTEIN, letter to H. Zangger, 1917
11 likes
---
Machines are worshipped because they are beautiful and valued because they confer power; they are hated because they are hideous and loathed because they impose slavery.
BERTRAND RUSSELL, Sceptical Essays
10 likes
---
I discovered, to my amazement, that all through history there had been resistance ... and bitter, exaggerated, last-stitch resistance ... to every significant technological change that had taken place on earth. Usually the resistance came from those groups who stood to lose influence, status, money...as a result of the change. Although they never advanced this as their reason for resisting it. It was always the good of humanity that rested upon their hearts.
ISAAC ASIMOV, lecture at Newark College of Engineering, November 8, 1974
10 likes
---
Every generation's breakthroughs are proven false by the next generation's technology.
DAN BROWN, The Lost Symbol
10 likes
---
The thing with high-tech is that you always end up using scissors.
DAVID HOCKNEY, Observer, July 10, 1994
10 likes
---
The ultimate goal of technology, the telos of techne, is to replace a natural world that's indifferent to our wishes--a world of hurricanes and hardships and breakable hearts; a world of resistance--with a world so responsive to our wishes as to be, effectively, a mere extension of the self.
JONATHAN FRANZEN, Farther Away: Essays
9 likes
---
Technology is dominated by two types of people: those who understand what they do not manage and those who manage what they do not understand.
ARCHIBALD PUTT, Putt's Law and the Successful Technocrat
9 likes
---
It has become appallingly obvious that our technology has exceeded our humanity.
ALBERT EINSTEIN, attributed, Quote Unquote
8 likes
---
History demonstrates that the advancement of technology is not a steady upward curve. There are flat periods, upwards spurts, and even reversals.
BRIAN HERBERT & KEVIN J. ANDERSON, Dune: House Atreides
8 likes
---
Most of the time spent wrestling with technologies that don't quite work yet is just not worth it for end users, however much fun it is for nerds.
DOUGLAS ADAMS, The Salmon of Doubt
8 likes
---
Any sufficiently advanced technology is indistinguishable from magic.
ARTHUR C. CLARKE, Profiles of the Future
8 likes
---