TOLERANCE QUOTES
quotations about tolerance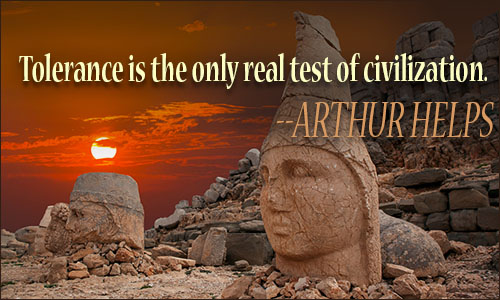 Tolerance is the only real test of civilization.
ARTHUR HELPS, Thoughts in the Cloister and the Crowd
4 likes
---
It is not for me to judge another man's life. I must judge, I must choose, I must spurn, purely for myself. For myself, alone.
HERMANN HESSE, Siddhartha
3 likes
---
Tolerance is giving to every other human being every right that you claim for yourself.
ROBERT GREEN INGERSOLL, attributed, Be Reasonable: Selected Quotations for Inquiring Minds
3 likes
---
The responsibility of tolerance lies with those who have the wider vision.
GEORGE ELIOT, The Mill on the Floss
2 likes
---
Intolerance is the first sign of an inadequate education.
ALEXANDER SOLZHENITSYN, August 1914
2 likes
---
We should therefore claim, in the name of tolerance, the right not to tolerate the intolerant. We should claim that any movement preaching intolerance places itself outside the law, and we should consider incitement to intolerance and persecution as criminal, in the same way as we should consider incitement to murder, or to kidnapping, or to the revival of the slave trade, as criminal.
KARL R. POPPER, The Open Society and Its Enemies
2 likes
---
It is necessary to be tolerant, in order to be tolerated.
NORMAN MACDONALD, Maxims and Moral Reflections
1 likes
---
Tolerance becomes a crime when applied to evil.
THOMAS MANN, The Magic Mountain
1 likes
---
In a republic, to be successful we must learn to combine intensity of conviction with a broad tolerance of difference of conviction. Wide differences of opinion in matters of religious, political, and social belief must exist if conscience and intellect alike are not to be stunted, if there is to be room for healthy growth. Bitter internecine hatreds, based on such differences, are signs, not of earnestness of belief, but of that fanaticism which, whether religious or anti-religious, democratic or anti-democratic, is itself but a manifestation of the gloomy bigotry which has been the chief factor in the downfall of so many, many nations.
THEODORE ROOSEVELT, address delivered at the Sorbonne, Paris, April 23, 1910
1 likes
---
Toleration is being wise enough to have no difference with those who differ from us.
PAUL CHATFIELD, attributed, Day's Collacon
1 likes
---
Discord is the great ill of mankind; and tolerance is the only remedy for it.
VOLTAIRE, Philosophical Dictionary
1 likes
---
Tolerance is key in unlocking all closed doors.
MARINA FINCI, "Open air exhibition 'Tolerance' kick starts Europe Day celebration in BiH", European Western Balkans, May 9, 2017
1 likes
---
Tolerance is for cowards. Being tolerant requires nothing from you but to be quiet and to not make waves, holding tightly to your views and judgments without being challenged. Do not tolerate each other. Work hard, move into uncomfortable territory and understand each other.
RANDALL STEPHENSON, "AT&T CEO doubles down on 'tolerance is for cowards' comments", Dallas Business Journal, May 17, 2017
1 likes
---
Tolerance should, strictly speaking, be only a passing mood; it ought to lead to acknowledgment and appreciation. To tolerate a person is to affront him.
JOHANN WOLFGANG VON GOETHE, The Maxims and Reflections of Goethe
0 likes
---
To tolerate is to insult.
BRUCE LEE, Jeet Kune Do: Bruce Lee's Commentaries on the Martial Way
0 likes
---
An intolerant sect has no right to complain when it is denied an equal liberty.... A person's right to complain is limited to principles he acknowledges himself.
JOHN RAWLS, "Toleration of the Intolerant", A Theory of Justice
0 likes
---
Toleration is in itself the essence of Christianity, and the very point which the founder of it most peculiarly enjoined.
WALTER SAVAGE LANDOR, Dialogues of Sovereigns and Statesmen
0 likes
---
I am a lover of truth, a worshipper of freedom, a celebrant at the altar of language and purity and tolerance. That is my religion, and every day I am sorely, grossly, heinously and deeply offended, wounded, mortified and injured by a thousand different blasphemies against it. When the fundamental canons of truth, honesty, compassion and decency are hourly assaulted by fatuous bishops, pompous, illiberal and ignorant priests, politicians and prelates, sanctimonious censors, self-appointed moralists and busy-bodies, what recourse of ancient laws have I? None whatever. Nor would I ask for any. For unlike these blistering imbeciles my belief in my religion is strong and I know that lies will always fail and indecency and intolerance will always perish.
STEPHEN FRY, "Trefusis Blasphemes", Paperweight
0 likes
---
The doctrine of toleration requires a positive as well as a negative statement. It is not only wrong to burn a man on account of his creed, but it is right to encourage the open avowal and defence of every opinion sincerely maintained. Every man who says frankly and fully what he thinks is so far doing a public service. We should be grateful to him for attacking most unsparingly our most cherished opinions.
LESLIE STEPHEN, The Nineteenth Century
0 likes
---
Toleration befits fallible beings.
ARTHUR O'LEARY, attributed, Day's Collacon
0 likes
---