TORTURE QUOTES
quotations about torture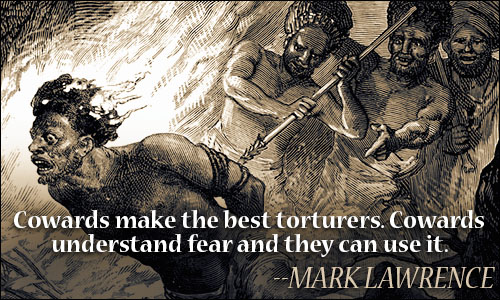 Wild animals never kill for sport. Man is the only one to whom the torture and death of his fellow creatures is amusing in itself.
JAMES ANTHONY FROUDE, Oceana
2 likes
---
Torture is a poor support for any theology.
JOHN FELLOWS, attributed, Day's Collacon
2 likes
---
Man torturing man is a fiend beyond description. You turn a corner in the dark and there he is. You congeal into a bundle of inanimate fear. You become the very soul of anesthesia. But there is no escaping him. It is your turn now.
HENRY MILLER, The Air-Conditioned Nightmare
2 likes
---
The people who make wars, the people who reduce their fellows to slavery, the people who kill and torture and tell lies in the name of their sacred causes, the really evil people in a word--these are never the publicans and the sinners. No, they're the virtuous, respectable men, who have the finest feelings, the best brains, the noblest ideals.
ALDOUS HUXLEY, After Many a Summer Dies the Swan
1 likes
---
Torture is senseless violence, born in fear.... We would almost be too lucky if these crimes were the work of savages: the truth is that torture makes torturers.
JEAN-PAUL SARTRE, "A Victory"
1 likes
---
Once you have been tortured, you can never belong in this world. There is no place that can ever be your home.
ROMA TEARNE, Mosquito
1 likes
---
You give me a water board, Dick Cheney and one hour, and I'll have him confess to the Sharon Tate murders.
JESSE VENTURA, Larry King Live, May 11, 2009
1 likes
---
The object of torture is torture.
GEORGE ORWELL, 1984
1 likes
---
Torture persists -- and so do the arguments in its favor. Torture is nevertheless nearly universally regarded as abhorrent, unlike so many other moral issues. The arguments offered in its favor are nearly all arguments from exception -- arguments that defend torture as the lesser of two evils, but an evil all the same.
JEREMY WISNEWSKI, Understanding Torture
1 likes
---
Torturing the terrorist is unconstitutional? Probably. But millions of lives surely outweigh constitutionality. Torture is barbaric? Mass murder is far more barbaric. Indeed, letting millions of innocents die in deference to one who flaunts his guilt is moral cowardice, an unwillingness to dirty one's hands. If you caught the terrorist, could you sleep nights knowing that millions died because you couldn't bring yourself to apply the electrodes?
MICHAEL LEVIN, "The Case for Torture", The Phenomenon of Torture: Readings and Commentary
1 likes
---
If, it was natural to reason, God punishes men with eternal torment, it is surely lawful for men to use doses of it in a good cause.
JOSEPH MCCABE, A History of Torture
0 likes
---
Personally I didn't believe God had a private torture chamber. Hell was being cut off from God, cut off from his power, his energy, Him.
LAURELL K. HAMILTON, Burnt Offerings
0 likes
---
Torture, as the art of discovering the truth, is barbaric nonsense; it is the application of a material means to a spiritual end.
CHARLES BAUDELAIRE, My Heart Laid Bare
0 likes
---
It's sort of like hazing, a fraternity prank. Sort of like that kind of fun.
RUSH LIMBAUGH, statement about abuse of Iraqi prisoners at Abu Ghraib by U. S. soldiers, They Said What?: Astonishing Quotes on American Democracy, Power, and Dissent
0 likes
---
The advocate for torture, would wish to see the strongest hand joined to the basest heart, and the weakest head. Engendered in intellectual, and carried on in artificial darkness, torture is a trial, not of guilt, but of nerve, not of innocence, but of endurance; it perverts the whole order of things, for it compels the weak, to affirm that which is false, and determines the strong, to deny that which is true; it converts the criminal into the evidence, the judge into the executioner, and makes a direr punishment than would follow guilt, precede it.
CHARLES CALEB COLTON, Lacon
0 likes
---
Cowards make the best torturers. Cowards understand fear and they can use it.
MARK LAWRENCE, Prince of Thorns
0 likes
---
The one thing we know about torture is that it was never designed in the first place to get at the actual truth of anything; it was designed in the darkest days of human history to produce false confessions in order to annihilate political and religious dissidents. And that is how it always works: it gets confessions regardless of their accuracy.
ANDREW SULLIVAN, "Imaginationland", The Daily Dish, October 25, 2007
0 likes
---
Under torture you are as if under the dominion of those grasses that produce visions. Everything you have heard told, everything you have read returns to your mind, as if you were being transported, not toward heaven, but toward hell. Under torture you say not only what the inquisitor wants, but also what you imagine might please him, because a bond (this, truly, diabolical) is established between you and him.
UMBERTO ECO, The Name of the Rose
0 likes
---
REPORTER: Thank you, sir. A simple question.
GEORGE W. BUSH: Yes. It may require a simple answer.
REPORTER: What's your definition of the word "torture"?
GEORGE W. BUSH: Of what?
REPORTER: The word "torture." What's your definition?
GEORGE W. BUSH: That's defined in U.S. law, and we don't torture.
REPORTER: Can you give me your version of it, sir?
GEORGE W. BUSH: Whatever the law says.
GEORGE W. BUSH, press conference, October 18, 2007
0 likes
---
Anyone who has been tortured remains tortured. Anyone who has suffered torture will never again be at ease in the world, the abomination of the annihilation is never extinguished. Faith in humanity, already cracked with the first slap in the face, then demolished by torture, is never acquired again.
JEAN AMERY, attributed, The Drowned and the Saved
0 likes
---