TOYS QUOTES
quotations about toys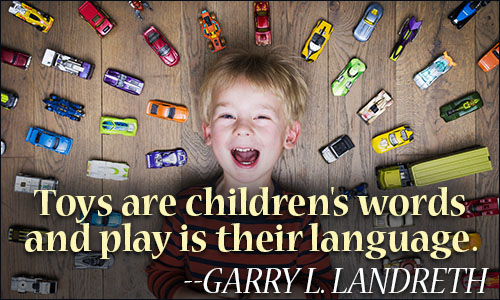 Toys are children's words and play is their language.
GARRY L. LANDRETH, Play Therapy: The Art of the Relationship
6 likes
---
Attic toys in great profusion
Lying here in strange confusion
Cut into the memory like a knife
Smiling dolls and faded cotton
Dusty world I had forgotten
Tell again the story of my life
NANA MOUSKOURI, "Attic Toys"
3 likes
---
The best toys are like unicorns. They include enough horse to seem real, but enough horn to become magical.
AMBER & ANDY ANKOWSKI, "Anatomy of the Perfect Toy", PBS Parents, May 25, 2016
3 likes
---
The difference between a human being ten years of age and one fifty years of age lies altogether in the matter of toys.
AUSTIN O'MALLEY, Keystones of Thought
2 likes
---
Men deal with life as children with their play,
Who first misuse, then cast their toys away.
WILLIAM COWPER, Hope
2 likes
---
Father never approved of my toys
Saw them as child's playthings
I was a child
They were my world
I ruled there
And he stepped on them
T. P. LOUISE, Complete World War Robot
2 likes
---
No one ever forgets a toy that made him or her supremely happy as a child, even if that toy is replaced by one like it that is much nicer.
STEPHEN KING, The Eyes of the Dragon
1 likes
---
The play therapist's toys are every bit as important as the surgeon's knife in assisting children to leave the hospital healthier than when they arrived.
GARRY L. LANDRETH, Play Therapy: The Art of the Relationship
1 likes
---
We must not forget that the most enduring modifications in toys are never the work of adults, whether they be educators, manufacturers or writers, but are the result of children at play.
WALTER BENJAMIN, "Old Toys", Walter Benjamin: Selected Writings: Part 1 1927-1930
1 likes
---
The difference between men and boys is the price of their toys.
WILLIAM B. MCDONALD, attributed, The Dictionary of Modern Proverbs
1 likes
---
When I bring to you coloured toys, my child, I understand why there is such a play of colours on clouds, on water, and why flowers are painted in tints.
RABINDRANATH TAGORE, Gitanjali
1 likes
---
What most youngsters would like for Christmas is something to separate the men from the toys.
EVAN ESAR, 20,000 Quips & Quotes
1 likes
---
Toys. They're everywhere these days. Although their natural habitat is a well-organized chest in your child's room, they frequently migrate to places like the living room, kitchen table, the car, your bed, and of course, directly under your feet in a dark hallway in the middle of the night.
AMBER & ANDY ANKOWSKI, "Anatomy of the Perfect Toy", PBS Parents, May 25, 2016
1 likes
---
The toys are back, life is back, we are free.
HASSAN, "Dolls, teddy bears return to eastern Mosul after Islamic State ouster", Daily News & Analysis, April 24, 2017
1 likes
---
I think all toys should be invisible. Not only would they improve children's imaginations, but they'd also be really affordable.
JAROD KINTZ, $3.33
0 likes
---
The best education in the world for a youngster is the right sort of toys. The boy or girl who has toys which are strictly up-to-date, will be an up-to-date person. The child that is forced to play with antiquated toys will be quite apt to be an antiquated youth and man.
ANONYMOUS, "Toys and Novelties", Toys, May 1921
0 likes
---
Parents (and some teachers, too) often think that purchased toys are always superior to found or created items for young children. However, they might find that their young child prefers the box or even the wrapping paper to the gift that came in the box. Boxes are wonderful toys for stacking, carrying, nesting, filling, dumping, and matching. Children love climbing into and out of boxes, and very large boxes make great playhouses.
LINDA G. MILLER & MARY JO GIBBS, Making Toys for Preschool Children: Using Ordinary Stuff for Extraordinary Play
0 likes
---
Toys are important, formative components in children's lives. They entertain as well as teach, and they may do both with positive and negative consequences.
MARGE CAMBRE & MARK HAWKES, Toys, Tools & Teachers: The Challenges of Technology
0 likes
---
With all of the new toys available, old favorites are sometimes forgotten. But basic toys are important because they lose neither style nor value. The child needs quiet time to dig and play in dirt, sand, or water. A pail enables the child to carry this important stuff from place to place. The shovel gives him the tool to load or unload cargo.
STEVANNE AUERBACH, Smart Play Smart Toys: How to Raise a Child with a High Pq
0 likes
---
If there is a species which is more maltreated than children, then it must be their toys, which they handle in an incredibly off-hand manner.... Toys are thus the end point in that long chain in which all the conditions of despotic high-handedness are in play which enchain beings one to another, from one species to another--cruel divinities to their sacrificial victims, from masters to slaves, from adults to children, and from children to their objects.
JEAN BAUDRILLARD, Cool Memories
0 likes
---