TREES QUOTES
quotations about trees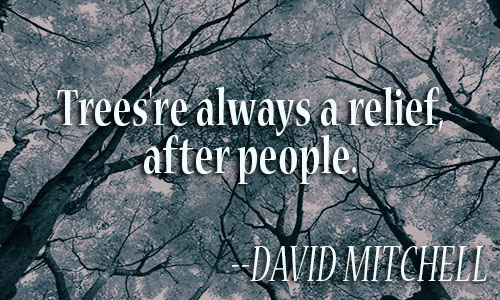 I think that I shall never see
A poem lovely as a tree.
A tree whose hungry mouth is prest
Against the earth's sweet flowing breast;
A tree that looks at God all day,
And lifts her leafy arms to pray;
A tree that may in Summer wear
A nest of robins in her hair;
Upon whose bosom snow has lain;
Who intimately lives with rain.
Poems are made by fools like me,
But only God can make a tree.
JOYCE KILMER, "Trees"
5 likes
---
The best time to plant a tree is 25 years ago. The next best time is this weekend.
DENNY MCKEOWN, "The best time to plant a tree is 25 years ago", Cincinnati, April 18, 2017
4 likes
---
For me, trees have always been the most penetrating preachers. I revere them when they live in tribes and families, in forests and groves. And even more I revere them when they stand alone. They are like lonely persons. Not like hermits who have stolen away out of some weakness, but like great, solitary men, like Beethoven and Nietzsche. In their highest boughs the world rustles, their roots rest in infinity; but they do not lose themselves there, they struggle with all the force of their lives for one thing only: to fulfil themselves according to their own laws, to build up their own form, to represent themselves. Nothing is holier, nothing is more exemplary than a beautiful, strong tree.
HERMANN HESSE, Bäume: Betrachtungen und Gedichte
3 likes
---
The creation of a thousand forests is in one acorn.
RALPH WALDO EMERSON, Essays
2 likes
---
He that planteth a tree is the servant of God,
He provideth a kindness for many generations,
And faces that he hath not seen shall bless him.
HENRY VAN DYKE, "The Friendly Trees"
1 likes
---
The most beautiful thing about a tree is what you do with it after you cut it down.
RUSH LIMBAUGH, "35 Undeniable Truths of Life"
1 likes
---
Trees are sanctuaries. Whoever knows how to speak to them, whoever knows how to listen to them, can learn the truth. They do not preach learning and precepts, they preach, undeterred by particulars, the ancient law of life.
HERMANN HESSE, Bäume: Betrachtungen und Gedichte
1 likes
---
A cold wind was blowing from the north, and it made the trees rustle like living things.
GEORGE R. R. MARTIN, A Game of Thrones
1 likes
---
Under the greenwood tree
Who loves to lie with me,
And tune his merry note
Unto the sweet bird's throat,
Come hither, come hither, come hither:
No enemy here shall he see,
But winter and rough weather.
WILLIAM SHAKESPEARE, As You Like It
1 likes
---
I like trees because they seem more resigned to the way they have to live than other things do.
WILLA CATHER, O Pioneers
1 likes
---
A tree says: A kernel is hidden in me, a spark, a thought, I am life from eternal life. The attempt and the risk that the eternal mother took with me is unique, unique the form and veins of my skin, unique the smallest play of leaves in my branches and the smallest scar on my bark. I was made to form and reveal the eternal in my smallest special detail.
HERMANN HESSE, Bäume: Betrachtungen und Gedichte
1 likes
---
It is curious to what a degree one may become attached to a fine tree, especially when it is placed where trees are rare.
CHRISTIAN NESTELL BOVEE
0 likes
---
The trees that bud and blossom forth,
Throughout the world from south to north,
Are tokens that a life will bloom
When manhood's passed beyond the tomb.
T. AUGUSTUS FORBES LEITH, "On Flowers"
0 likes
---
Look at a tree, a flower, a plant. Let your awareness rest upon it. How still they are, how deeply rooted in Being. Allow nature to teach you stillness.
ECKHART TOLLE, Stillness Speaks
0 likes
---
As the twig is bent the tree is inclined.
GEORGE ADE, "The Fable of the Kid Who Shifted His Ideal", Fables in Slang
0 likes
---
There is new life in the soil for every man. There is healing in the trees for tired minds and for our overburdened spirits, there is strength in the hills, if only we will lift up our eyes. Remember that nature is your great restorer.
CALVIN COOLIDGE, speech, July 25, 1924
0 likes
---
The tree which moves some to tears of joy is in the eyes of others only a green thing that stands in the way. Some see Nature all Ridicule & Deformity & by these I shall not regulate my proportions, & some scarce see Nature at all, but to the eyes of a man of Imagination, Nature is Imagination itself.
WILLIAM BLAKE, letter to Rev. Dr. Trusler, August 23, 1799
0 likes
---
The trees are birds, beasts and man
striving interspecies
between animal and moss.
Like the cursed sexes
seeking union if they can,
they lift up: send love through space:
and, standing, move and speak.
They know no loss.
JESSE BIER, "Tropic Trees", Don't Tell Me Trees Don't Talk and Other Poems
0 likes
---
When great trees fall,
rocks on distant hills shudder,
lions hunker down
in tall grasses,
and even elephants
lumber after safety.
MAYA ANGELOU, "When Great Trees Fall"
0 likes
---
Trees're always a relief, after people.
DAVID MITCHELL, Black Swan Green
0 likes
---