TREES QUOTES
quotations about trees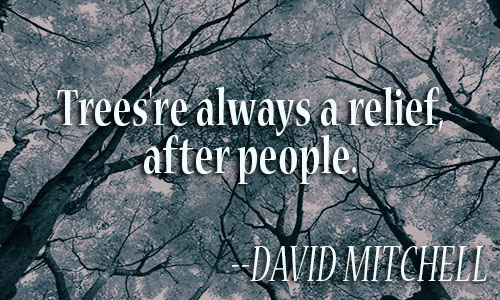 He that planteth a tree is the servant of God,
He provideth a kindness for many generations,
And faces that he hath not seen shall bless him.
HENRY VAN DYKE, "The Friendly Trees"
1 likes
---
Under the greenwood tree
Who loves to lie with me,
And tune his merry note
Unto the sweet bird's throat,
Come hither, come hither, come hither:
No enemy here shall he see,
But winter and rough weather.
WILLIAM SHAKESPEARE, As You Like It
1 likes
---
It is curious to what a degree one may become attached to a fine tree, especially when it is placed where trees are rare.
CHRISTIAN NESTELL BOVEE
0 likes
---
The trees that bud and blossom forth,
Throughout the world from south to north,
Are tokens that a life will bloom
When manhood's passed beyond the tomb.
T. AUGUSTUS FORBES LEITH, "On Flowers"
0 likes
---
Look at a tree, a flower, a plant. Let your awareness rest upon it. How still they are, how deeply rooted in Being. Allow nature to teach you stillness.
ECKHART TOLLE, Stillness Speaks
0 likes
---
As the twig is bent the tree is inclined.
GEORGE ADE, "The Fable of the Kid Who Shifted His Ideal", Fables in Slang
0 likes
---
The most beautiful thing about a tree is what you do with it after you cut it down.
RUSH LIMBAUGH, "35 Undeniable Truths of Life"
0 likes
---
There is new life in the soil for every man. There is healing in the trees for tired minds and for our overburdened spirits, there is strength in the hills, if only we will lift up our eyes. Remember that nature is your great restorer.
CALVIN COOLIDGE, speech, July 25, 1924
0 likes
---
Trees are sanctuaries. Whoever knows how to speak to them, whoever knows how to listen to them, can learn the truth. They do not preach learning and precepts, they preach, undeterred by particulars, the ancient law of life.
HERMANN HESSE, Bäume: Betrachtungen und Gedichte
0 likes
---
A cold wind was blowing from the north, and it made the trees rustle like living things.
GEORGE R. R. MARTIN, A Game of Thrones
0 likes
---
The tree which moves some to tears of joy is in the eyes of others only a green thing that stands in the way. Some see Nature all Ridicule & Deformity & by these I shall not regulate my proportions, & some scarce see Nature at all, but to the eyes of a man of Imagination, Nature is Imagination itself.
WILLIAM BLAKE, letter to Rev. Dr. Trusler, August 23, 1799
0 likes
---
The trees are birds, beasts and man
striving interspecies
between animal and moss.
Like the cursed sexes
seeking union if they can,
they lift up: send love through space:
and, standing, move and speak.
They know no loss.
JESSE BIER, "Tropic Trees", Don't Tell Me Trees Don't Talk and Other Poems
0 likes
---
When great trees fall,
rocks on distant hills shudder,
lions hunker down
in tall grasses,
and even elephants
lumber after safety.
MAYA ANGELOU, "When Great Trees Fall"
0 likes
---
Trees're always a relief, after people.
DAVID MITCHELL, Black Swan Green
0 likes
---
The trees are green in Maxwell Square,
And year by year they shed their leaves
To make a softer carpet where
The children shout on Summer eves;
And year by year the change goes on
Through which the world's great age hath gone.
FRANCIS REGINALD STATHAM, "Maxwell Square (East London)", Poems and Sonnets
0 likes
---
Love the trees until their leaves fall off, then encourage them to try again next year.
CHAD SUGG, Waking Up in Black and White
0 likes
---
To dwellers in a wood, almost every species of tree has its voice as well as its feature.
THOMAS HARDY, Under the Greenwood Tree
0 likes
---
Thus trees of nature, and each common bush,
Uncultivated thrive, and with red berries blush;
Vile shrubs are shorn for browse; the tow'ring height,
Of unctuous trees are torches for the night.
And shall we doubt (indulging easy sloth)
To sow, to set, and to reform their growth?
JOHN DRYDEN, Georgics
0 likes
---
For me, trees have always been the most penetrating preachers. I revere them when they live in tribes and families, in forests and groves. And even more I revere them when they stand alone.
HERMANN HESSE, Bäume: Betrachtungen und Gedichte
0 likes
---
To be poor and be without trees, is to be the most starved human being in the world. To be poor and have trees, is to be completely rich in ways that money can never buy.
CLARISSA PINKOLA ESTÉS, The Faithful Gardener: A Wise Tale About That Which Can Never Die
0 likes
---