TRUST QUOTES
quotations about trust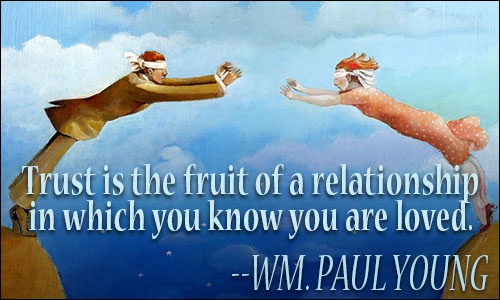 Each betrayal begins with trust.
PHISH, Farmhouse
3 likes
---
As soon as you trust yourself, you will know how to live.
JOHANN WOLFGANG VON GOETHE, Faust
2 likes
---
Trust men and they will be true to you; treat them greatly and they will show themselves great.
RALPH WALDO EMERSON, "Prudence", Essays
2 likes
---
Trust in God alone, and lean not on the needs of human help. Be not surprised when friends fail you; it is a failing world. Never reckon upon immutability in man: inconstancy you may reckon upon without fear of disappointment.
CHARLES SPURGEON, "The Minister's Fainting Fits", Lectures to My Students
2 likes
---
Trust him with little who, without proofs, trusts you with everything.
ELIZA COOK, Diamond Dust
2 likes
---
He who trusts everybody is a fool; he who trusts nobody is a bigger one.
POPE PIUS II, attributed, Day's Collacon
2 likes
---
The trust of the innocent is the liar's most useful tool.
STEPHEN KING, Needful Things
1 likes
---
Trust becomes solidified when words consistently back up by deeds.
GEORGE DAVID MILLER, Negotiating Toward Truth
1 likes
---
Trust him little who praises all, him less who censures all, and him least who is indifferent about all.
JOHANN KASPAR LAVATER, attributed, Wise Words and Quotes
1 likes
---
Honest people are never touchy about the matter of being trusted.
AYN RAND, Atlas Shrugged
1 likes
---
Self-trust is the first secret of success.
RALPH WALDO EMERSON, "Success", Society and Solitude
1 likes
---
Trust dies but mistrust blossoms.
SOPHOCLES, Oedipus Colonus
1 likes
---
Put not your trust in princes.
BIBLE, Psalms 146:3
1 likes
---
Never trust the advice of a man in difficulties.
AESOP, "The Fox and the Goat", Fables
1 likes
---
It is risky to trust. I may give someone my heart, and they may leave town with it.
MACRINA WIEDERKEHR, The Song of the Seed
1 likes
---
Never trust a man whom you know to have acted like a scoundrel to others, whatever friendliness he may profess to feel towards yourself, however plausible he may be, or however kindly he may behave; be sure that, the moment he has anything to gain by so doing, he will "throw you over."
CHARLES WILLIAM DAY, The Maxims, Experiences, and Observations of Agogos
1 likes
---
Trust No One.
CHRIS CARTER, The X-Files
0 likes
---
Trust everybody, but cut the cards.
FINLEY PETER DUNNE, "Casual Observations", Mr. Dooley's Philosophy
0 likes
---
Put not your trust in money, but put your money in trust.
OLIVER WENDELL HOLMES, SR., The Autocrat of the Breakfast Table
0 likes
---
The fact is there is nothing that you can trust; and that is a terrible fact, whether you like it or not. Psychologically there is nothing in the world, that you can put your faith, your trust, or your belief in. Neither your gods, nor your science can save you, can bring you psychological certainty; and you have to accept that you can trust in absolutely nothing. That is a scientific fact, as well as a psychological fact. Because, your leaders -- religious and political -- and your books -- sacred and profane -- have all failed, and you are still confused, in misery, in conflict. So, that is an absolute, undeniable fact.
JIDDU KRISHNAMURTI, Psychological Revolution
0 likes
---