TRUST QUOTES
quotations about trust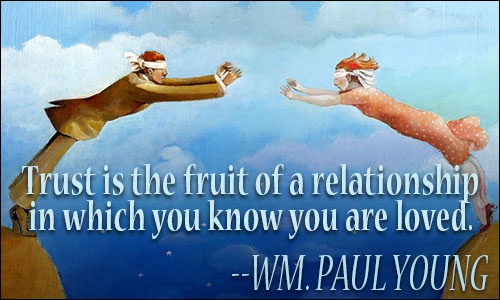 Each betrayal begins with trust.
PHISH, Farmhouse
7 likes
---
Trust men and they will be true to you; treat them greatly and they will show themselves great.
RALPH WALDO EMERSON, "Prudence", Essays
4 likes
---
Trust in God alone, and lean not on the needs of human help. Be not surprised when friends fail you; it is a failing world. Never reckon upon immutability in man: inconstancy you may reckon upon without fear of disappointment.
CHARLES SPURGEON, "The Minister's Fainting Fits", Lectures to My Students
4 likes
---
It is impossible to go through life without trust: that is to be imprisoned in the worst cell of all, oneself.
GRAHAM GREENE, The Ministry of Fear
4 likes
---
Trust everybody, but cut the cards.
FINLEY PETER DUNNE, "Casual Observations", Mr. Dooley's Philosophy
3 likes
---
Trust him with little who, without proofs, trusts you with everything.
ELIZA COOK, Diamond Dust
3 likes
---
He who trusts everybody is a fool; he who trusts nobody is a bigger one.
POPE PIUS II, attributed, Day's Collacon
3 likes
---
As soon as you trust yourself, you will know how to live.
JOHANN WOLFGANG VON GOETHE, Faust
2 likes
---
Trust dies but mistrust blossoms.
SOPHOCLES, Oedipus Colonus
2 likes
---
It is risky to trust. I may give someone my heart, and they may leave town with it.
MACRINA WIEDERKEHR, The Song of the Seed
2 likes
---
Trust is the fruit of a relationship in which you know you are loved.
WM. PAUL YOUNG, The Shack
2 likes
---
The best security? Have zero trust.
MATT ASAY, "The best security? Have Zero Trust, says expert", Tech Republic, May 11, 2017
2 likes
---
Trust is the key to clean sheets.
NEIL MCCANN, "Dundee Gaffer Neil McCann Says Trust Is The Key To Keeping Clean Sheets", Evening Telegraph, May 11, 2017
2 likes
---
The trust of the innocent is the liar's most useful tool.
STEPHEN KING, Needful Things
1 likes
---
Trust becomes solidified when words consistently back up by deeds.
GEORGE DAVID MILLER, Negotiating Toward Truth
1 likes
---
Trust him little who praises all, him less who censures all, and him least who is indifferent about all.
JOHANN KASPAR LAVATER, attributed, Wise Words and Quotes
1 likes
---
Trust No One.
CHRIS CARTER, The X-Files
1 likes
---
Put not your trust in money, but put your money in trust.
OLIVER WENDELL HOLMES, SR., The Autocrat of the Breakfast Table
1 likes
---
Honest people are never touchy about the matter of being trusted.
AYN RAND, Atlas Shrugged
1 likes
---
Self-trust is the first secret of success.
RALPH WALDO EMERSON, "Success", Society and Solitude
1 likes
---