TYRANNY QUOTES
quotations about tyrants and tyranny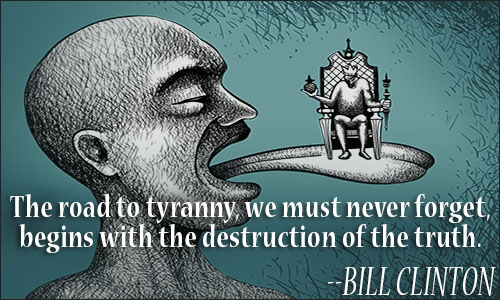 In every age it has been the tyrant, the oppressor and the exploiter who has wrapped himself in the cloak of patriotism, or religion, or both to deceive and overawe the People.
EUGENE V. DEBS, speech in Canton, Ohio, June 16, 1918
7 likes
---
The people have always some champion whom they set over them and nurse into greatness.... This and no other is the root from which a tyrant springs; when he first appears he is a protector.
PLATO, The Republic
6 likes
---
The tyrant will always find a pretext for his tyranny.
AESOP, "The Wolf and the Lamb", Aesop's Fables
6 likes
---
Rebellion to tyrants is obedience to God.
JOHN BRADSHAW, inscription on his tombstone
4 likes
---
When a people shall have become incapable of governing themselves, and fit for a master, it is of little consequence from what quarter he comes.
GEORGE WASHINGTON, letter to the Marquis de Lafayette, April 28, 1788
4 likes
---
Of all tyrannies, a tyranny sincerely exercised for the good of its victims may be the most oppressive.
C. S. LEWIS, God in the Dock
4 likes
---
The tree of liberty must be refreshed from time to time with the blood of patriots and tyrants. It is its natural manure.
THOMAS JEFFERSON, letter to W. S. Smith, November 13, 1787
3 likes
---
Make men large and strong, and tyranny will bankrupt itself in making shackles for them.
HENRY WARD BEECHER, Proverbs from Plymouth Pulpit
3 likes
---
The right of a nation to kill a tyrant, in cases of necessity, can no more be doubted, than to hang a robber, or kill a flea. But killing one tyrant only makes way for worse, unless the people have sense, spirit and honesty enough to establish and support a constitution guarded at all points against the tyranny of the one, the few, and the many.
JOHN ADAMS, A Defence of the Constitutions of Government
3 likes
---
Freedom is sloppy. But since tyranny's the only guaranteed byproduct of those who insist on a perfect world, freedom will have to do.
BILL WILLINGHAM, Fables: Werewolves of the Heartland
3 likes
---
Necessity is the plea for every infringement of human freedom. It is the argument of tyrants; it is the creed of slaves.
WILLIAM PITT, speech, November 18, 1783
2 likes
---
If tyranny and oppression come to this land, it will be in the guise of fighting a foreign enemy.
JAMES MADISON, attributed, Founders V. Bush
2 likes
---
When the shepherd is a wolf, the flock becomes only so much meat.
BRIAN HERBERT & KEVEN J. ANDERSON, Dune: House Corrino
2 likes
---
The tyranny that now exists is actual. That which may exist in the future is potential. If we are always to draw back from change with the thought that the change may be for the worse, then there is no hope at all of ever escaping injustice.
ISAAC ASIMOV, Prelude to Foundation
2 likes
---
The road to tyranny, we must never forget, begins with the destruction of the truth.
BILL CLINTON, remarks at the dedication of the Thomas J. Dodd Archives and Research Center in Storrs, Connecticut, October 15, 1995
2 likes
---
Under a tyranny, most friends are a liability. One quarter of them turn "reasonable" and become your enemies, one quarter are afraid to speak, and one quarter are killed and you die with them. But the blessed final quarter keep you alive.
SINCLAIR LEWIS, It Can't Happen Here
2 likes
---
When one with honeyed words but evil mind
Persuades the mob, great woes befall the state.
EURIPIDES, Orestes
2 likes
---
The man dies in all who keep silent in the face of tyranny.
WOLE SOYINKA, The Man Died
2 likes
---
No matter in what shape it comes, whether from the mouth of a king who seeks to bestride the people of his own nation and live by the fruit of their labor, or from one race of men as an apology for enslaving another race, it is the same tyrannical principle.
ABRAHAM LINCOLN, debate with Stephen Douglas, October 15, 1858
2 likes
---
What is needed for really good tyranny is an unquestionable idea or authority. Political disagreement is political disagreement. But political disagreement with a theocracy is heresy.
MARGARET ATWOOD, Moving Targets: Writing with Intent
2 likes
---