VACATION QUOTES
quotations about vacations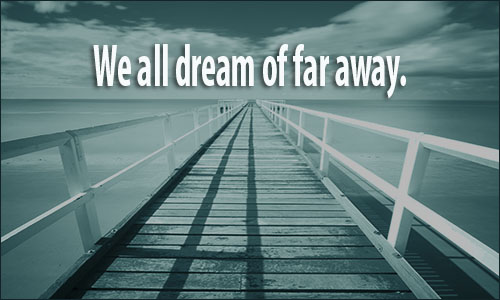 A vacation is like love: anticipated with pleasure, experienced with discomfort, and remembered with nostalgia.
EVAN ESAR, 20,000 Quips and Quotes
20 likes
---
Vacations are seen as an antidote to work. They are medicine, a remedy for counteracting the effects of labor.... Vacations allow us to be away from the job, to change the patterns of our day, to alter our routine, to reconfigure our actions and habits, to rediscover ourselves.
AL GINI, The Importance of Being Lazy
15 likes
---
Vacations are necessities, not luxuries.
LINDA BLOOM, 101 Things I Wish I Knew When I Got Married
11 likes
---
A vacation is what you take when you can no longer take what you've been taking.
EARL WILSON, attributed, America's Vacation Deficit Disorder
11 likes
---
A vacation is having nothing to do and all day to do it.
ROBERT ORBEN, attributed, Reader's Digest, 1993
9 likes
---
A man doesn't have vacation problems: his boss tells him when to take them, and his wife tells him where.
EVAN ESAR, 20,000 Quips and Quotes
8 likes
---
No man needs a vacation so much as the man who has just had one.
ELBERT HUBBARD, Philistine: A Periodical of Protest, 1905
5 likes
---
A vacation should be just long enough for the boss to miss you, and not long enough for him to discover how well he can get along without you.
JACOB MORTON BRAUDE, Complete Speaker's and Toastmaster's Library
5 likes
---
Few vacations are as gratifying as those devoted to personal growth.
PAT KOCH THALER, New York Magazine, April 24, 1978
4 likes
---
Vacations are your best chance in the year to get in some real living, to get out of the job-as-life box, off automatic pilot, and rediscover your passions, enthusiasms, friends, family, and the vitality of partaking in the world outside career brainlock. Social scientists have found that leisure experiences increase positive mood, act as a buffer against life's setbacks, and open the door to the best times of our lives.
JOHN DE GRAAF, Take Back Your Time
4 likes
---
The best thing about a vacation is planning it.
ANDREW A. ROONEY, Years of Minutes
3 likes
---
I have never believed that vacations are luxuries. They are our necessities--just like shelter, clothes, and food, they make us feel like humans and not like animals that care only for survival.
ALEXANDER BABINETS, Gym Bag Books: Prevail Over Yourself Achieving a Balanced and Healthy Life
3 likes
---
Vacations are fine, for a while. But they aren't real living. To be put into a facility where you have no purpose for being is completely unnatural and deadly to the spirit and body.
ANTHONY GIFFORD, letter to the editor, The Kingston Whig-Standard, April 20, 2017
3 likes
---
Vacations interfere with momentum.
DANIEL KIRSCHENBAUM, The 9 Truths About Weight Loss
2 likes
---
Laughter is an instant vacation.
MILTON BERLE, attributed, The Educator's Book of Quotes
2 likes
---
Using a camera appeases the anxiety which the work-driven feel about not working when they are on vacation and supposed to be having fun. They have something to do that is like a friendly imitation of work: they can take pictures.
SUSAN SONTAG, On Photography
2 likes
---
A good vacation is over when you begin to yearn for your work.
MORRIS FISHBEIN, attributed, The Little Blue Book of Travel Wisdom
2 likes
---
We all dream of far away.
ANONYMOUS
2 likes
---
Blessed be the man who invented vacations! Deeply as I am interested in education, much as I am attached to the young men whom Providence places under my instruction, and much as I find of interest in the sciences which it falls to my lot to teach, yet the annual return of the Summer vacation is always expected with pleasure and hailed with welcome.
LAWRENCE LARRABEE, The Ladies' Repository, December 1851
2 likes
---
If you have lost your clarity and purpose, a vacation is a great way to find it again.
DAVID FULLER, "Five reasons why you need to schedule your summer holiday now", Prince George Citizen, April 20, 2017
2 likes
---