VANITY QUOTES
quotations about vanity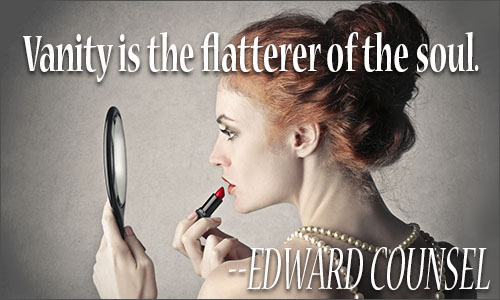 Vanity and pride are different things, though the words are often used synonymously. A person may be proud without being vain. Pride relates more to our opinion of ourselves, vanity to what we would have others think of us.
JANE AUSTEN, Pride and Prejudice
7 likes
---
There is nothing which vanity does not desecrate.
HENRY WARD BEECHER, Proverbs from Plymouth Pulpit
5 likes
---
Vanity is a desire of personal glory, the wish to be appreciated, honoured, and run after, not because of one's personal qualities, merits, and achievements, but because of one's individual existence. At best, therefore, it is a frivolous beauty whim it befits.
JOHANN WOLFGANG VON GOETHE, The Maxims and Reflections of Goethe
5 likes
---
The vain man is like a painter who continually draws but his own picture.
EDWARD COUNSEL, Maxims
3 likes
---
Pride that dines on vanity, sups on contempt.
BENJAMIN FRANKLIN, "The Way to Wealth", The Life and Essays of Dr. Benjamin Franklin
3 likes
---
This is vanity: living to pretend, living to seem, living to appear. And this makes the soul restless.
POPE FRANCIS, Vatican Radio, September 22, 2016
3 likes
---
Vanity has many outlets in conversation, but great I is the front door.
JOHN THORNTON, Maxims and Directions for Youth
2 likes
---
Vanity is the flatterer of the soul.
EDWARD COUNSEL, Maxims
2 likes
---
A vain man is a nauseous creature: he is so full of himself that he has no room for anything else, be it never so good or deserving.
WILLIAM PENN, Some Fruits of Solitude
2 likes
---
Vain is equivalent to empty; thus vanity is so miserable a thing, that one cannot give it a worse name than its own. It proclaims itself for what it is.
CHAMFORT, The Cynic's Breviary
1 likes
---
There is nothing so agonizing to the fine skin of vanity as the application of a rough truth.
EDWARD BULWER LYTTON, Devereux
1 likes
---
There is no limit to the vanity of this world, each spoke in the wheel thinks the whole strength of the wheel depends upon it.
H. W. SHAW, attributed, Day's Collacon
1 likes
---
I am vain, or once was, and one of my vanities was to feign that I was not.
LIONEL SHRIVER, We Need to Talk About Kevin
1 likes
---
Our vanity is the constant enemy of our dignity.
MADAME SWETCHINE, "Airelles", The Writings of Madame Swetchine
1 likes
---
Light vanity, insatiate cormorant,
Consuming means, soon preys upon itself.
WILLIAM SHAKESPEARE, Richard II
1 likes
---
Vanity plagues us all. From lowly selfie-takers pouting at their phones and zapping their images out into the cold infinity of cyberspace, all the way to those occupying the highest offices in the land. It's unseemly, this desperate campaign to control how we are seen by the world. But it's also deeply human, something that unifies us all, this lonely pettiness, this struggling against our forever-thwarted egos.
RICHARD LAWSON, "Donald Trump's Official Photographer Reportedly Obliges This Vain Request", Vanity Fair, April 4, 2017
1 likes
---
Vanity is always running a campaign to canonize itself. It works tirelessly to prove its legitimacy and takes on the disguise of noble intentions or results. Beyond the games it plays, however, the reality is that vanity is a cancer within the human heart. It's a "nothing" that eats away the human soul, feeding on a failed attempt to self-heal insecurity on the one hand or nourish self-absorption on the other.
JEFFREY F. KIRBY, "In Lent, beware of vanity that always tries to canonize itself", CRUX, March 19, 2017
1 likes
---
Vanity is easily forgiven, for we are all vain, and even as we laugh at the weakness of others we feel that their vanity has touched the responding chord of our own.
ARTHUR LYNCH, Moods of Life
0 likes
---
Vanity finds in self-love so powerful an ally, that it storms, as it were by a coup de main, the citadel of our heads, where, having blinded the two watchmen, it readily descends into the heart.
CHARLES CALEB COLTON, Lacon
0 likes
---
To say that a man is vain means merely that he is pleased with the effect he produces on other people. A conceited man is satisfied with the effect he produces on himself.
MAX BEERBOHM, Quia Imperfectum
0 likes
---