VANITY QUOTES
quotations about vanity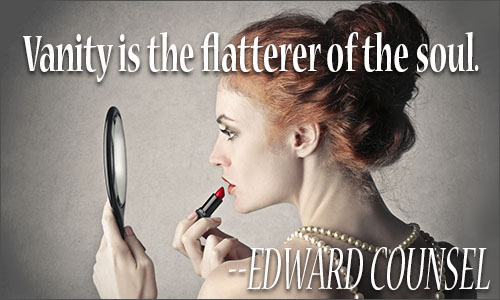 Vanity and pride are different things, though the words are often used synonymously. A person may be proud without being vain. Pride relates more to our opinion of ourselves, vanity to what we would have others think of us.
JANE AUSTEN, Pride and Prejudice
10 likes
---
There is nothing which vanity does not desecrate.
HENRY WARD BEECHER, Proverbs from Plymouth Pulpit
7 likes
---
Vanity is a desire of personal glory, the wish to be appreciated, honoured, and run after, not because of one's personal qualities, merits, and achievements, but because of one's individual existence. At best, therefore, it is a frivolous beauty whim it befits.
JOHANN WOLFGANG VON GOETHE, The Maxims and Reflections of Goethe
6 likes
---
The vain man is like a painter who continually draws but his own picture.
EDWARD COUNSEL, Maxims
5 likes
---
Pride that dines on vanity, sups on contempt.
BENJAMIN FRANKLIN, "The Way to Wealth", The Life and Essays of Dr. Benjamin Franklin
5 likes
---
A vain man is a nauseous creature: he is so full of himself that he has no room for anything else, be it never so good or deserving.
WILLIAM PENN, Some Fruits of Solitude
4 likes
---
This is vanity: living to pretend, living to seem, living to appear. And this makes the soul restless.
POPE FRANCIS, Vatican Radio, September 22, 2016
4 likes
---
Vanity has many outlets in conversation, but great I is the front door.
JOHN THORNTON, Maxims and Directions for Youth
3 likes
---
There is no limit to the vanity of this world, each spoke in the wheel thinks the whole strength of the wheel depends upon it.
H. W. SHAW, attributed, Day's Collacon
3 likes
---
Vanity is the flatterer of the soul.
EDWARD COUNSEL, Maxims
2 likes
---
Vanity is the fruit of ignorance; it thrives most in subterranean places, never reached by the air of heaven and the light of the sun.
J. W. ROSS, attributed, Day's Collacon
2 likes
---
Vanity is always running a campaign to canonize itself. It works tirelessly to prove its legitimacy and takes on the disguise of noble intentions or results. Beyond the games it plays, however, the reality is that vanity is a cancer within the human heart. It's a "nothing" that eats away the human soul, feeding on a failed attempt to self-heal insecurity on the one hand or nourish self-absorption on the other.
JEFFREY F. KIRBY, "In Lent, beware of vanity that always tries to canonize itself", CRUX, March 19, 2017
2 likes
---
Vain is equivalent to empty; thus vanity is so miserable a thing, that one cannot give it a worse name than its own. It proclaims itself for what it is.
CHAMFORT, The Cynic's Breviary
1 likes
---
There is nothing so agonizing to the fine skin of vanity as the application of a rough truth.
EDWARD BULWER LYTTON, Devereux
1 likes
---
I am vain, or once was, and one of my vanities was to feign that I was not.
LIONEL SHRIVER, We Need to Talk About Kevin
1 likes
---
Our vanity is the constant enemy of our dignity.
MADAME SWETCHINE, "Airelles", The Writings of Madame Swetchine
1 likes
---
You're so vain, you probably think this song is about you You're so vain, I'll bet you think this song is about you Don't you? Don't you?
CARLY SIMON, "You're So Vain"
1 likes
---
Light vanity, insatiate cormorant,
Consuming means, soon preys upon itself.
WILLIAM SHAKESPEARE, Richard II
1 likes
---
Deception, flattering, lying, deluding, talking behind the back, putting up a false front, living in borrowed splendor, wearing a mask, hiding behind convention, playing a role for others and for oneself -- in short, a continuous fluttering around the solitary flame of vanity -- is so much the rule and the law among men that there is almost nothing which is less comprehensible than how an honest and pure drive for truth could have arisen among them.
FRIEDRICH NIETZSCHE, On Truth and Lies in a Nonmoral Sense
1 likes
---
Let us thank God for imparting unto us poor weak mortals the inestimable blessing of vanity; how many half-witted votaries of the arts--poets, painters, actors, musicians--live upon this food, and scarcely any other.
WILLIAM MAKEPEACE THACKERAY, attributed, Day's Collacon
1 likes
---