VAUDEVILLE QUOTES
quotations about vaudeville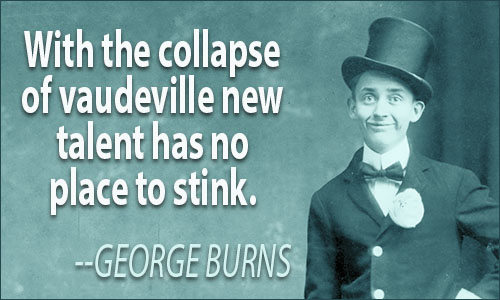 Vaudeville established itself firmly on the map of popular amusements in three concrete ways: the devolopment of commercial circuits, the stabilization of a programming mode, and the establishment of permanent vaudeville houses in the big-city centers. Vaudeville's centrality and dispersal over a vast territory was a means of disseminating entertainment. The infrastructure for the movie industry was laid out with the early vaudeville shows.
JOANNE STOBER, "Vaudeville", Residual Media
2 likes
---
Vaudeville is dead. The acrobats, the animal acts, the dancers, the singers, and the old-time comedians have taken their final bows and disappeared into the wings of obscurity. For fifty years--from 1875 to 1925--vaudeville was the popular entertainment of the masses. Nomadic tribes of nondescript players roamed the land. The vaudeville actor was part gypsy and part suitcase. With his brash manner, flashy clothes, capes and cane, and accompanied by his gaudy womenfolk, the vaudevillian brought happiness and excitement to the communities he visited.
FRED ALLEN, Much Ado About Me
1 likes
---
With the collapse of vaudeville new talent has no place to stink.
GEORGE BURNS, attributed, The Mammoth Book of Humor
1 likes
---
During its pinnacle, Vaudeville was both the king and queen of entertainment.
MAUREEN MCCABE, Moon Over Vaudeville
1 likes
---
If vaudeville had died, television was the box they put it in.
LARRY GELBART, "Gelbart Holds Seminars on Comedy at Museum", New York Times, October 3, 1984
1 likes
---
Vaudeville could not vouch for the honesty, the integrity, or the mentality of the individuals who collectively made up the horde the medium embraced. All the human race demands of its members is that they be born. That is all vaudeville demanded. You just had to be born. You could be ignorant and be a star. You could be a moron and be wealthy. The elements that went to make up vaudeville were combed from the jungles, the four corners of the world, the intelligentsia and the subnormal.
FRED ALLEN, Much Ado About Me
0 likes
---
Vaudeville was the theatre of the people, its brassy assurance a dig in the nation's ribs, its simplicity as naïve as a circus.
DOUGLAS GILBERT, American Vaudeville: Its Life and Times
0 likes
---
Vaudeville was a symptom of ... a time and a year when there was place for boyish fun and simple nonsense and engaging unconcern. It was a kid game for men in their kid moments. And men don't seem to have such moments any more.
GEORGE JEAN NATHAN, "On Vaudeville", The World of George Jean Nathan: Essays, Reviews, & Commentary
0 likes
---
Vaudeville was not about telling stories; it was about putting on a show, and more than that, it was about each performer's individual attempt to stop the show and steal the applause.
HENRY JENKINS, The Wow Climax: Tracing the Emotional Impact of Popular Culture
0 likes
---
When vaudeville was over ... who'd hire an inept but buxom contortionist?
ELIZABETH MCCRACKEN, Niagara Falls All Over Again
0 likes
---
On those occasions when old-time vaudeville was exhumed for revival, in the main it was as a sugarcoated piece of nostalgia, an amateur event trotted out as a happy-time revue for a wholesome family or a cozy remembrance for senior citizens. Equipped with faux straw boaters, striped blazers, feather boas and canes, the young performers, who had little idea of the spice and bite of real vaudeville, sported wide smiles and mustered a golly-gee-whiz attitude that was sad in its artificiality. Vaudeville was theatrical, but it was not fake. It was corny, sophisticated, sarcastic, sentimental, melodramatic, subtle, sly, raucous, intimate, flamboyant, rude, exotic, hilarious, sad, lovely and, on occasion, boring. Until it faltered, it was real, as real as the people who pulled something out of themselves--their spirit, their talent, their personality, their fear and their courage--and put it onstage.
FRANK CULLEN, Vaudeville Old & New
0 likes
---
Vaudeville was to variety what "darn" is to "damn."
CHANNING POLLOCK, attributed, Silent Film Sound
0 likes
---
Vaudeville was the only thing I knew so I tried to break in. Unfortunately for me, vaudeville was already dead and gone.
LUCILLE BALL, interview, "Kicking Back with Lucy", September 1980
0 likes
---
Vaudeville was among the first forms of staged amusement in the United States to emerge as, quite simply, a mass-scale product. Unlike earlier entertainments, which involved small groups not acting in concert with one another, vaudeville developed as a hierarchically arranged, centrally controlled, large-scale commercial entity.
ANDREW L. ERDMAN, Blue Vaudeville: Sex, Morals and the Mass Marketing of Amusement, 1895-1915
0 likes
---
Everybody's going to the clockwork vaudeville
Everybody wants to see the show
People crowd the door and scream and shout for more
While music and song fill the air
DAVID BENNETT, "Clockwork Vaudeville"
0 likes
---
Like the Yiddish theater and the circus, vaudeville was a family affair -- singing sisters, dancing brothers, and flying families.
ANONYMOUS, "Vaudeville: About Vaudeville", PBS, October 8, 1999
0 likes
---
I was raised never to carp about things and never to moan, because in vaudeville, which is my background, you just got on with it through all kinds of adversities.
JULIE ANDREWS, The Telegraph, May 4, 2010
0 likes
---
Vaudeville was a people's culture. What has remained of vaudeville is the act -- a distillation of a performer's best material into a near-perfect performance piece: the product of personality, talent and skill -- the vaudevillian's reason for living.
FRANK CULLEN, attributed, Moon Over Vaudeville
0 likes
---
The audience was always willing to be entertained, to celebrate the king of the day, thus unexpectedly modifying the course of the performance. By definition the vaude had no rigid pattern of development; it always allowed for the possibility of a dialogue between those who were in the house and those who were on the stage.
NICOLE VIGOUROUX-FREY, "Charlie Chaplin or the Vaudeville Dispossessed", Charlie Chaplin: His Reflection in Modern Times
0 likes
---
Vaudeville was once about as big in American life as baseball. It was killed by talking pictures, the radio and the greed of its management. TV, we keep hearing, has brought about a vaudeville renaissance, but those of us who knew vaudeville in its great days doubt this. The pace of TV is too fast, its consumption of material too insatiable: perhaps the outstanding feature of the best vaudeville was the superb assurance of its performers. By the time an act had reached that vaudeville Mecca, the Palace Theater in New York, it was perfect of its kind. There is neither time nor loving care enough in TV to attain such perfection.
EDITORS, "From Honky-Tonk to Palace", Life Magazine, December 7, 1953
0 likes
---