VEGETARIANISM QUOTES
quotations about vegetarianism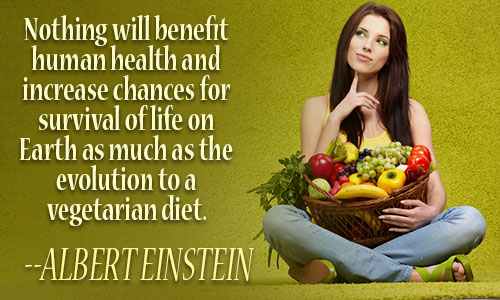 With lentils, tomatoes and rice, olives and nuts and bread, Why does a man care to gnaw a slice of something bleeding and dead?
HENRY BAILEY STEVENS, Rhymes for Meat-Eaters
12 likes
---
Nothing will benefit human health and increase chances for survival of life on Earth as much as the evolution to a vegetarian diet.
ALBERT EINSTEIN, attributed, Sinfully Vegan
11 likes
---
In the last fifteen years, I have seen vegetarianism go from fringe to fashion to fact of life because it's a healthy and worthy way to live. The hippie connotation, which kept many people away, is a thing of the past. Today the American vegetarian is not just the health nut, it's the stay-at-home mom, the computer engineer, the veterinarian, the nurse, the store clerk, the neighbor across the street, and the teenager next door. They are familiar, individuals, and students. They live in urban areas and in suburbia, and together they represent 16 million people. You can see how health-conscious our culture has become just by taking a trip to the local grocery store where the words "natural," "organic," and "meatless" jump out at you in every aisle.
KATHY FARRELL-KINGSLEY, The Big Book of Vegetarian
4 likes
---
Then God said, "I give you every seed-bearing plant on the face of the whole earth and every tree that has fruit with seed in it. They will be yours for food. And to all the beasts of the earth and all the birds of the air and all the creatures that move on the ground--everything that has the breath of life in it--I give every green plant for food."
BIBLE, Genesis 1:29-30
4 likes
---
Man is the only animal that can remain on friendly terms with the victims he intends to eat until he eats them.
SAMUEL BUTLER, Notebooks
4 likes
---
If slaughterhouses had glass walls, everyone would be a vegetarian.
PAUL MCCARTNEY, attributed, The Vegetarian Manifesto
3 likes
---
You have just dined, and however scrupulously the slaughterhouse is concealed in the graceful distance of miles, there is complicity.
RALPH WALDO EMERSON, "Fate", Essays and Lectures
2 likes
---
The biblical case for vegetarianism does not rest on the view that killing may never be allowable in the eyes of God, rather on the view that killing is always a grave matter. When we have to kill to live we may do so, but when we do not, we should live otherwise.
ANDREW LINZEY, "Vegetarianism as a Biblical Ideal", Religious Vegetarianism
2 likes
---
Fundamental Christian values include preserving one's own health, feeding the hungry, preventing animal abuse, and protecting the environment. Vegetarianism effectively promotes these values.
STEPHEN R. KAUFMAN, Good News for All Creation
2 likes
---
I do feel that spiritual progress does demand, at some stage, that we should cease to kill our fellow creatures for the satisfaction of our bodily wants.
MAHATMA GANDHI, attributed, Food As Medicine
2 likes
---
A mind of the calibre of mine cannot derive its nutriment from cows.
GEORGE BERNARD SHAW, The Star, April 5, 1890
2 likes
---
Vegetarianism preserves life, health, peace, the ecology, creates a more equitable distribution of resources, helps to feed the hungry, encourages nonviolence for the animal and human members of the planet, and is a powerful aid for the spiritual transformation of the body, emotions, mind, and spirit.
GABRIEL COUSENS, Conscious Eating
2 likes
---
A vegetarian in Texas. You're a long way from home.
LEE CHILD, Echo Burning
2 likes
---
The Animals, you say, were "sent" For man's free use and nutriment. Pray, then, inform me, and be candid, Why came they aeons before man did, To spend long centuries on earth Awaiting their Devourer's birth? Those ill-timed chattels, sent from Heaven, Were, sure, the maddest gift e'er given -- "Sent" for man's use (can man believe it?) When there was no man to receive it!
HENRY STEPHENS SALT, The Sending of the Animals
2 likes
---
I did not become a vegetarian for my health, I did it for the health of the chickens.
ISAAC BASHEVIS SINGER, attributed, Main Street Vegan
2 likes
---
Give up animal foods for two months, or even for a week, and I promise you will look and feel better, and you'll want to do it forever!
ALICIA SILVERSTONE, Animal Times, spring 2008
2 likes
---
If we each had to butcher our own meat, there would be a great increase in the number of vegetarians.
ERNEST HOWARD CROSBY, Tolstoy and His Message
2 likes
---
Don't kid yourself, Jimmy. If a cow ever got the chance, he'd eat you and everyone you care about!
TROY MCCLURE, "Lisa the Vegetarian", The Simpsons
2 likes
---
I have no doubt that it is a part of the destiny of the human race, in its gradual improvement, to leave off eating animals, as surely as the savage tribes have left off eating each other when they came in contact with the more civilized.
HENRY DAVID THOREAU, Walden
1 likes
---
When a man of normal habits is ill, everyone hastens to assure him that he is going to recover. When a vegetarian is ill (which fortunately very seldom happens), everyone assures him that he is going to die, and that they told him so, and that it serves him right. They implore him to take at least a little gravy, so as to give himself a chance of lasting out the night.
GEORGE BERNARD SHAW, Saturday Review, May 21, 1898
1 likes
---