VIOLENCE QUOTES
quotations about violence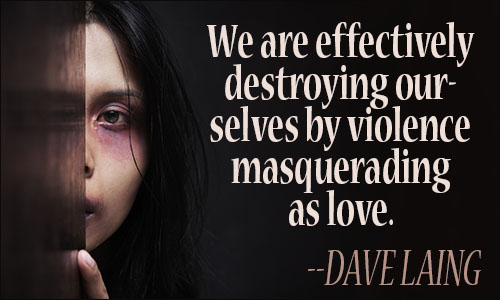 The ultimate weakness of violence is that it is a descending spiral, begetting the very thing it seeks to destroy. Instead of diminishing evil, it multiplies it. Through violence you may murder the liar, but you cannot murder the lie, nor establish the truth. Through violence you may murder the hater, but you do not murder hate. In fact, violence merely increases hate. So it goes. Returning violence for violence multiplies violence, adding deeper darkness to a night already devoid of stars.
MARTIN LUTHER KING, JR., "Where do we go from here: Chaos or Community?", 1967
39 likes
---
There are only three kinds of people. LEADERS. Those who take charge, build, inspire, and create. FOLLOWERS. Those who support leaders and work to achieve mutually beneficial goals.... [and] DESTROYERS. Destroyers cannot find it within themselves to follow anyone, their hatred and insecurity is too pure to see strength in any OTHER being. They utterly lack the ability to inspire or create, so they do the only thing left to them -- they tear down all they come in contact with.
RICK REMENDER, Uncanny X-Force, No. 19, February 2012
33 likes
---
Violence is never the answer, until it's the only answer.
DEREK LANDY, The Dying of the Light
17 likes
---
As long as people use violence to combat violence, we will always have violence.
MICHAEL BERG, interview, CNN, June 8, 2006
12 likes
---
Violence is the last refuge of the incompetent.
ISAAC ASIMOV, Astounding Science Fiction, May 1942
9 likes
---
Violence is not a catalyst but a diversion.
JOSEPH CONRAD, The Secret Agent
8 likes
---
You treat violence as an aberration ... when in truth it is the norm. It is the very essence of the human condition.
DAN SIMMONS, Carrion Comfort
8 likes
---
He that breaks a thing to find out what it is has left the path of wisdom.
J. R. R. TOLKIEN, The Fellowship of the Ring
7 likes
---
Victory attained by violence is tantamount to a defeat, for it is momentary.
MAHATMA GANDHI, Satyagraha Leaflet No. 13, May 3, 1919
7 likes
---
You can no more eradicate violence than you could eradicate love or hate or laughter.... The love of violence is an aspect of our humanity. Even the weak wish to be strong primarily so they can wield the whip.
DAN SIMMONS, Carrion Comfort
6 likes
---
All violence flows from the same source ... the need for power. Power is the only true morality ... the only deathless god, and the appetite for violence is its only commandment.
DAN SIMMONS, Carrion Comfort
6 likes
---
We pay for the violence of our ancestors.
FRANK HERBERT, Dune
5 likes
---
There's no such thing as life without bloodshed. I think the notion that the species can be improved in some way, that everyone could live in harmony, is a really dangerous idea. Those who are afflicted with this notion are the first ones to give up their souls, their freedom. Your desire that it be that way will enslave you and make your life vacuous.
CORMAC MCCARTHY, The New York Times, April 19, 1992
5 likes
---
I despair at the rise of modern violence. I truly give in to despair at times, that deep, futureless pit of despair.... I watch the American slaughterhouse, the casual attacks on popes, presidents, and uncounted others, and I wonder if there are many more out there with the Ability or if butchery has simply become the modern way of life.
DAN SIMMONS, Carrion Comfort
5 likes
---
The threat of violence can be almost as stressful as actually suffering or witnessing violence.
L. EUGENE ARNOLD, Childhood Stress
5 likes
---
Violent delights have violent ends,
And in their triumph die; like fire and powder,
Which, as they kiss, consume.
WILLIAM SHAKESPEARE, Romeo and Juliet
5 likes
---
A society that presumes a norm of violence and celebrates aggression, whether in the subway, on the football field, or in the conduct of its business, cannot help making celebrities of the people who would destroy it.
LEWIS H. LAPHAM, Harper's Magazine, March 1985
4 likes
---
The sight of blood to crowds begets the thirst of more,
As the first wine-cup leads to the long revel.
LORD BYRON, Marino Faliero
4 likes
---
One simply cannot engage in barbarous action without becoming a barbarian ... one cannot defend human values by calculated and unprovoked violence without doing mortal damage to the values one is trying to defend.
J. WILLIAM FULBRIGHT, The Arrogance of Power
3 likes
---
The blade itself incites to deeds of violence.
HOMER, The Odyssey
3 likes
---