WAITING QUOTES
quotations about waiting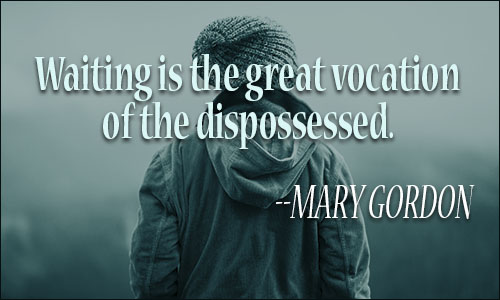 We're like so many puppets hung on the wall, waiting for someone to come and move us or make us talk.
LUIGI PIRANDELLO, Henry IV
4 likes
---
Misfortune always comes to those who wait. The trick is to find happiness in the brief gaps between disasters.
CHRISTOPHER PAOLINI, Brisingr
3 likes
---
You have to imagine
a waiting that is not impatient
because it is timeless.
R. S. THOMAS, The Echoes Return Slow
3 likes
---
Waiting [is] the great vocation of the dispossessed.
MARY GORDON, New York Times, November 3, 1985
2 likes
---
We are not born to wait. We are born to do.
DEAN KOONTZ, Your Heart Belongs to Me
2 likes
---
I had tended to view waiting as mere passivity. When I looked it up in my dictionary however, I found that the words passive and passion come from the same Latin root, pati, which means "to endure." Waiting is thus both passive and passionate. It's a vibrant, contemplative work. It means descending into self, into God, into the deeper labyrinths of prayer. It involves listening to disinherited voices within, facing the wounded holes in the soul, the denied and undiscovered, the places one lives falsely. It means struggling with the vision of who we really are in God and molding the courage to live that vision.
SUE MONK KIDD, When the Heart Waits
2 likes
---
Waiting is such a pervasive phenomenon in social life that it can be seen, and indeed has been seen, as almost synonymous to social being. Pascal sees the very small moments in which we are waiting "for this or that" as an indication that our life is worth living. Waiting indicates that we are engaged in, and have expectations from, life; that we are on the lookout for what life is going to throw our way.
GHASSAN HAGE, Waiting
2 likes
---
Waiting is a means of acquiring patience.
ADRIAN THATCHER, God, Sex, and Gender: An Introduction
2 likes
---
Waiting is the rust of the soul.
CARLOS RUIZ ZAFON, The Shadow of the Wind
1 likes
---
Waiting is still an occupation. It is having nothing to wait for that is terrible.
CESARE PAVESE, This Business of Living, September 15, 1946
1 likes
---
The fact that we wait for something is evidence that in some way we already possess it.
HERBERT ANDERSON, Living Alone
1 likes
---
Now we play the waiting game. [long pause] Ah, the waiting game sucks. Let's play Hungry Hungry Hippos!
HOMER SIMPSON, "Mr. Plow", The Simpsons
1 likes
---
What if the waiting was the good stuff that lead to the piece of pie. But once we eat the pie, we realize maybe it wasn't as good as we thought. Maybe it was the laughing while mixing the dough, the taste testing of the cherries, the checking of the oven, the wonder in the science of baking that was actually the real prize. Pie for thought, anyway.
ANNA LIND THOMAS, "Life is lived in the waiting, so make the best of it", Omaha World-Herald, February 3, 2017
1 likes
---
When our waiting is intentional, when it signifies surrender to a better plan, a better timeline, a higher calling, then we are waiting with purpose.
MARK & JILL HERRINGSHAW, "When the Going Gets Tough, The Tough Wait", beliefnet, April 11, 2017
1 likes
---
The waiting time, my brothers,
Is the hardest time of all.
SARAH DOUDNEY, The Hardest Time of All
0 likes
---
When you are waiting for a train, don't keep perpetually looking to see if it is coming. The time of its arrival is the business of the conductor, not yours. It will not come any sooner for all your nervous glances and your impatient pacing, and you will save strength if you will keep quiet. After we discover that the people who sit still on a long railroad journey reach that journey's end at precisely the same time as those who "fuss" continually, we have a valuable piece of information which we should not fail to put to practical use.
ANNA C. BRACKETT, The Technique of Rest
0 likes
---
Waiting was a sin against both the time that was still to come and the moments one was currently disregarding.
NEIL GAIMAN, Neverwhere
0 likes
---
If you wait, you grow old, nothing more.
WALTER BARGEN, "Map to the Party"
0 likes
---
There is an army of waiters in this world.
HENRY WARD BEECHER, Proverbs from Plymouth Pulpit
0 likes
---
Delay is a bitter tonic, but it increases appetite.
AUSTIN O'MALLEY, Keystones of Thought
0 likes
---