WAR QUOTES
quotations about war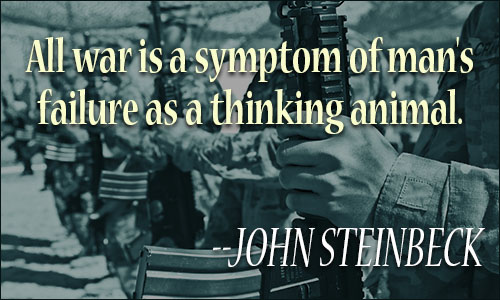 It's funny how those who are most pro-war are almost always the guys who never had to fight in one.
JEROME P. CRABB, War Quotes and Quibbles
126 likes
---
I do not know with what weapons World War III will be fought, but I do know that World War IV will be fought with rocks.
ALBERT EINSTEIN, attributed, Congressional Record, 1968
121 likes
---
War may sometimes be a necessary evil. But no matter how necessary, it is always an evil, never a good. We will not learn how to live together in peace by killing each other's children.
JIMMY CARTER, Nobel Lecture, December 10, 2002
108 likes
---
There never was a good war, or a bad peace.
BENJAMIN FRANKLIN, Poor Richard's Almanac
93 likes
---
When the rich wage war, it is the poor who die.
JEAN-PAUL SARTRE, The Devil and the Good Lord
58 likes
---
The true soldier fights not because he hates what is in front of him, but because he loves what is behind him.
G. K. CHESTERTON, The New Jerusalem
56 likes
---
War is like love, it always finds a way.
BERTOLT BRECHT, Mother Courage and Her Children
47 likes
---
Wars of pen and ink often lead to wars of cannon and bayonets.
EDWARD COUNSEL, Maxims
47 likes
---
War is only a cowardly escape from the problems of peace.
THOMAS MANN, attributed, This I Believe
44 likes
---
I hate war as only a soldier who has lived it can, only as one who has seen its brutality, its stupidity.
DWIGHT D. EISENHOWER, speech, January 10, 1946
37 likes
---
Come you masters of war
You that build all the guns
You that build the death planes
You that build the big bombs
You that hide behind walls
You that hide behind desks....
I think you will find
When your death takes its toll
All the money you made
Will never buy back your soul
BOB DYLAN, "Masters of War"
34 likes
---
History teaches that wars begin when governments believe the price of aggression is cheap.
RONALD REAGAN, speech, January 16, 1984
30 likes
---
War: first, one hopes to win; then one expects the enemy to lose; then, one is satisfied that he too is suffering; in the end, one is surprised that everyone has lost.
KARL KRAUS, Die Fackel, October 19, 1917
30 likes
---
I think a curse should rest on me -- because I love this war. I know it's smashing and shattering the lives of thousands every moment -- and yet -- I can't help it -- I enjoy every second of it.
WINSTON CHURCHILL, letter to a friend, 1916
28 likes
---
War makes rattling good history; but Peace is poor reading.
THOMAS HARDY, The Dynasts
27 likes
---
War is like crack for presidents. It confers instant gravitas, catapulting them to respectability, bypassing all station stops. They get to make macho pronouncements on a topic where every utterance is seen as august.
ANN COULTER, "Lassie, Come Home", Breitbart News, April 12, 2017
26 likes
---
All war represents a failure of diplomacy.
TONY BENN, speech, February 28, 1991
25 likes
---
A mind at peace does not engender wars.
SOPHOCLES, Oedipus Rex
24 likes
---
Vietnam was the first war ever fought without any censorship. Without censorship, things can get terribly confused in the public mind.
WILLIAM WESTMORELAND, Time Magazine, April 5, 1982
22 likes
---
War is the trade of kings.
JOHN DRYDEN, King Arthur
20 likes
---