WEDDING QUOTES
quotations about weddings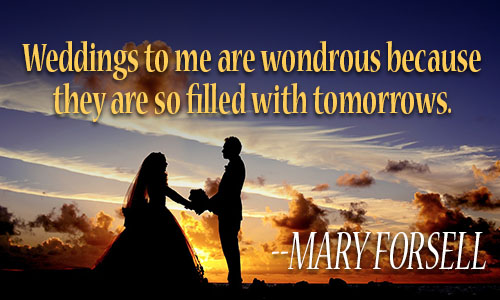 Weddings to me are wondrous because they are so filled with tomorrows.
MARY FORSELL, Romantic Weddings
3 likes
---
What woman, however old, has not the bridal-favours and raiment stowed away, and packed in lavender, in the inmost cupboards of her heart.
WILLIAM MAKEPEACE THACKERAY, The Virginians
3 likes
---
I'll meet you at the altar. I'll be the one in white.
STEPHENIE MEYER, Breaking Dawn
3 likes
---
Music played at weddings always reminds me of the music played for soldiers before they go into battle.
HEINRICH HEINE, Book of Songs
1 likes
---
Weddings are the biggest relationship killers out there. If you can survive the wedding, they say, the rest is a piece of cake.
NOAH HAWLEY, Other People's Weddings
1 likes
---
I have always considered marriage as the most interesting event of one's life, the foundation of happiness or misery.
GEORGE WASHINGTON, letter to Burwell Bassett, May 23, 1785
1 likes
---
Weddings are a great excuse to get dressed up, and, let's face it enjoy free glasses of wine.
RENEE OLIVER, "What to wear to a wedding", Yahoo, April 14, 2017
1 likes
---
Weddings are completely focused on the couple, and couples have to decide which elements of tradition to keep, which to jettison and, because tradition is always evolving.
PETER MCGUIRE, "Good Friday: Why are so many of us still Catholic?", Irish Times, April 13, 2017
1 likes
---
Fair weather weddings make fair weather lives.
RICHARD HOVEY, The Marriage of Guenevere
0 likes
---
Weddings can get so bogged down in the endless exigencies of organizing and planning that the experience itself, when it finally occurs, can seem as though it has very little to do with the love that inspired it in the first place.
DAPHNE ROSE KINGMA, Weddings from the Heart
0 likes
---
Weddings take months to organize, and there are fittings and invitation lists and old aunts being coy about the honeymoon, and having to have somebody's perfectly hideous cousin for a bridesmaid. And then hundreds of appalling wedding presents. Toast-racks and Japanese vases and pictures that never, in a million years, would you want to hang on the wall. And you spend all your time writing insincere thank-you letters with your fingers crossed, and everybody gets tense and miserable and there's lots of bursting into tears. The miracle is that anybody ever gets married at all, but I bet most girls have nervous breakdowns on their honeymoons.
ROSAMUNDE PILCHER, Coming Home
0 likes
---
Single people are precious fodder at weddings.
REBECCA GREGSON, Eggshell Days
0 likes
---
Las Vegas weddings are a phenomenon not quite like any other. The industry attracts cheers and jeers, but it touches a couple of hundred thousand people annually on the most important day of their lives.
SUSAN MARG, Las Vegas Weddings
0 likes
---
I never did, nor do I believe I ever shall, give advice to a woman who is setting out on a matrimonial voyage; first, because I never could advise one to marry without her own consent; and, secondly, I know it is to no purpose to advise her to refrain when she has obtained it. A woman very rarely asks an opinion or requires advice on such an occasion, till her resolution is formed; and then it is with the hope and expectation of obtaining a sanction, not that she means to be governed by your disapprobation, that she applies.
GEORGE WASHINGTON, letter to Lund Washington, September 20, 1783
0 likes
---
Everything ends this way in France. Weddings, christenings, duels, burials, swindlings, affairs of state -- everything is a pretext for a good dinner.
JEAN ANOUILH, Cécile
0 likes
---
Weddings remind us that our lives have meaning and that love is the strongest bond, the happiest joy, and the loveliest healing we can ever experience.
DAPHNE ROSE KINGMA, Weddings from the Heart
0 likes
---
A wedding in haste is worth two at leisure.
GELETT BURGESS, The Maxims of Methuselah
0 likes
---
Always man needs woman for his friend. He needs her clearer vision, her subtler insight, her softer thought, her winged soul, her pure and tender heart. Always woman needs man to be her friend. She needs the vigor of his purpose, the ardor of his will, his calmer judgment, his braver force of action, his reverence and his devotion.
MARY CLEMMER AMES, Outlines of Men, Women, and Things
0 likes
---
The sight of a wedding always has a disturbing effect on young girls; at such moments a mysterious sense of solidarity with their own sex takes possession of them.
STEFAN ZWEIG, Beware of Pity
0 likes
---
Weddings are not over until they are sealed with a kiss.
SUSAN MARG, Las Vegas Weddings
0 likes
---