WINE QUOTES
quotations about wine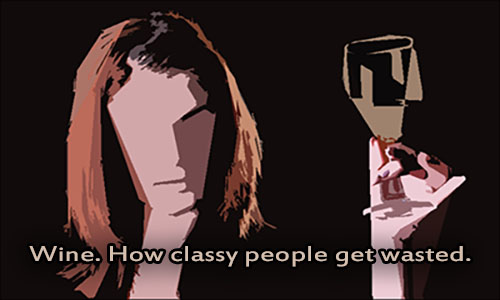 Pop. Glug, glug, glug. Chink. Ahhh. These are a few of my favourite noises, marking as they do the most sacred of my nightly rituals. Wine O'Clock.
HELEN MCGINN, "How giving up booze for just one month banished our wine critic's wrinkles", The Daily Mail, February 5, 2016
3 likes
---
If you hold a premium bottle for years, there is great reluctance to part with something so embedded in your wine fantasies. The joy of seeing that special bottle in your stash may be greater than drinking it. You are not a bad person if you leave it there.
GUS CLEMENS, "Almost all wine you buy today is good to drink today", Lubbock Online, April 11, 2017
3 likes
---
Wine. How classy people get wasted.
ANONYMOUS
2 likes
---
Dandelion wine. The words were summer on the tongue. The wine was summer caught and stoppered.
RAY BRADBURY, Dandelion Wine
2 likes
---
Wine ... changing even as we taste it, delivers a message with meaning only in our response. If we are in the right key when we receive it, our eyes will shine and we shall radiate pleasure.
GERALD ASHER, The Pleasures of Wine
2 likes
---
Our experience of a wine, any wine, is richly colored by context: our companions, the time of day, the effect of accompanying food, the shape and size of the glass, the wine's temperature and the ambiance of where we are drinking. Not least is our receptivity, which is strongly affected by the tidal pull of our mood and psychological need of the moment. ("Tough day at the office, dear?")
MATT KRAMER, "What You Bring to It", Wine Spectator, March 21, 2017
2 likes
---
In Europe then we thought of wine as something as healthy and normal as food and also as a great giver of happiness and well-being and delight. Drinking wine was not a snobbism nor a sign of sophistication nor a cult; it was as natural as eating and to me as necessary.
ERNEST HEMINGWAY, A Moveable Feast
1 likes
---
If the wine is good, a bad match will not destroy dinner.
HARVEY STEIMAN, Wine Spectator's
1 likes
---
There's a new wine I want to try. I heard about it through the grapevine.
JAROD KINTZ, How to Construct a Coffin with Six Karate Chops
1 likes
---
I like to have a glass of wine when I come off stage, after three hours of frenzy it brings me back down to earth, it takes me back to the soil.
STING, "Sting: I make good wine as revenge", The Drinks Business, April 12, 2017
1 likes
---
As a material object, wine exists independently of us. But as an experience, we are essential.
MATT KRAMER, "What You Bring to It", Wine Spectator, March 21, 2017
1 likes
---
It needs only a good bottle of wine for a roast chicken to be transformed into a banquet.
GERALD ASHER, The Pleasures of Wine
0 likes
---
The more I have learned about wine ... the more I have realized that it weaves in with human history from its very beginning as few, if any, other products do. Textiles, pottery, bread ... there are other objects of daily use that we can also trace back to the Stone Age. Yet wine alone is charged with sacramental meaning, with healing powers; indeed with a life of its own.
HUGH JOHNSON, Hugh Johnson's Story of Wine
0 likes
---
Great wines taste like they come from somewhere. Lesser wines taste interchangeable; they could come from anywhere. You can't fake somewhereness. You can't manufacture it ... but when you taste a wine that has it, you know.
MATT KRAMER, Making Sense of Wine
0 likes
---
Wine is a highly personal experience. You may like something your neighbor hates, just as with food. Your bitter is the next person's sweet.
CATHERINE FALLIS, Wine: Grape Goddess Guides to Good Living
0 likes
---
I may not here omit those two main plagues, and common dotages of human kind, wine and women, which have infatuated and besotted myriads of people. They go commonly together.
ROBERT BURTON, Anatomy of Melancholy
0 likes
---
The pairing of food and wine is a complex and highly inexact science. It is fraught with out-moded rules and a propensity for generalizations.
SID GOLDSTEIN, The Wine Lover's Cookbook
0 likes
---
If a man rejoice not in his drinking, he is mad; for in drinking it's possible ... to fondle breasts, and to caress well tended locks, and there is dancing withal, and oblivion of woe.
EURIPIDES, The Cyclops
0 likes
---
Wine is valued by its price, not its flavour.
ANTHONY TROLLOPE, The Belton Estate
0 likes
---
Wine gives a man nothing. It neither gives him knowledge nor wit; it only animates a man, and enables him to bring out what a dread of the company has repressed. It only puts in motion what had been locked up in frost.
SAMUEL JOHNSON, attributed, Life of Samuel Johnson
0 likes
---