WINE QUOTES
quotations about wine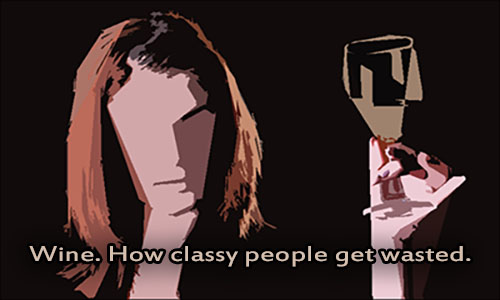 Dandelion wine. The words were summer on the tongue. The wine was summer caught and stoppered.
RAY BRADBURY, Dandelion Wine
4 likes
---
Now is the time for drinking, now the time to dance footloose upon the earth.
HORACE, Odes
4 likes
---
Pop. Glug, glug, glug. Chink. Ahhh. These are a few of my favourite noises, marking as they do the most sacred of my nightly rituals. Wine O'Clock.
HELEN MCGINN, "How giving up booze for just one month banished our wine critic's wrinkles", The Daily Mail, February 5, 2016
4 likes
---
Wine. How classy people get wasted.
ANONYMOUS
3 likes
---
Wine ... changing even as we taste it, delivers a message with meaning only in our response. If we are in the right key when we receive it, our eyes will shine and we shall radiate pleasure.
GERALD ASHER, The Pleasures of Wine
3 likes
---
If you hold a premium bottle for years, there is great reluctance to part with something so embedded in your wine fantasies. The joy of seeing that special bottle in your stash may be greater than drinking it. You are not a bad person if you leave it there.
GUS CLEMENS, "Almost all wine you buy today is good to drink today", Lubbock Online, April 11, 2017
3 likes
---
Wine hath drowned more men than the sea.
THOMAS FULLER, Gnomologia
2 likes
---
Our experience of a wine, any wine, is richly colored by context: our companions, the time of day, the effect of accompanying food, the shape and size of the glass, the wine's temperature and the ambiance of where we are drinking. Not least is our receptivity, which is strongly affected by the tidal pull of our mood and psychological need of the moment. ("Tough day at the office, dear?")
MATT KRAMER, "What You Bring to It", Wine Spectator, March 21, 2017
2 likes
---
It needs only a good bottle of wine for a roast chicken to be transformed into a banquet.
GERALD ASHER, The Pleasures of Wine
1 likes
---
The more I have learned about wine ... the more I have realized that it weaves in with human history from its very beginning as few, if any, other products do. Textiles, pottery, bread ... there are other objects of daily use that we can also trace back to the Stone Age. Yet wine alone is charged with sacramental meaning, with healing powers; indeed with a life of its own.
HUGH JOHNSON, Hugh Johnson's Story of Wine
1 likes
---
Great wines taste like they come from somewhere. Lesser wines taste interchangeable; they could come from anywhere. You can't fake somewhereness. You can't manufacture it ... but when you taste a wine that has it, you know.
MATT KRAMER, Making Sense of Wine
1 likes
---
If a man rejoice not in his drinking, he is mad; for in drinking it's possible ... to fondle breasts, and to caress well tended locks, and there is dancing withal, and oblivion of woe.
EURIPIDES, The Cyclops
1 likes
---
Wine gives a man nothing. It neither gives him knowledge nor wit; it only animates a man, and enables him to bring out what a dread of the company has repressed. It only puts in motion what had been locked up in frost.
SAMUEL JOHNSON, attributed, Life of Samuel Johnson
1 likes
---
Wine is a terrible foe, hard to wrestle with.
EURIPIDES, The Cyclops
1 likes
---
Wine is older than history. Humans didn't invent wine. We discovered it.
PHILIP SELDON, The Complete Idiot's Guide to Wine
1 likes
---
Thou wine art the friend of the friendless, though a foe to all.
HERMAN MELVILLE, Mardi
1 likes
---
Wine is a sensual pleasure. Its real value is when it splashes into the glass. It is not in the category of a Degas painting. The point is not for people to go to their cellar and stroke their bottles.
SERENA SUTCLIFFE
1 likes
---
Fumes of wine shorten the long road.
BAI JUYI, "After Passing the Examination"
1 likes
---
Who his cups can stoutly bear,
In his cups despiseth fear,
In his cups can nimbly dance,
Him Lyæus will advance:
Nectar of us mortals wine,
The glad offspring of the vine,
Screen'd with leaves, preserv'd within
The plump grape's transparent skin,
In the body all diseases,
In the soul all grief appeases.
ANACREON, "Wine the Healer"
1 likes
---
In Europe then we thought of wine as something as healthy and normal as food and also as a great giver of happiness and well-being and delight. Drinking wine was not a snobbism nor a sign of sophistication nor a cult; it was as natural as eating and to me as necessary.
ERNEST HEMINGWAY, A Moveable Feast
1 likes
---